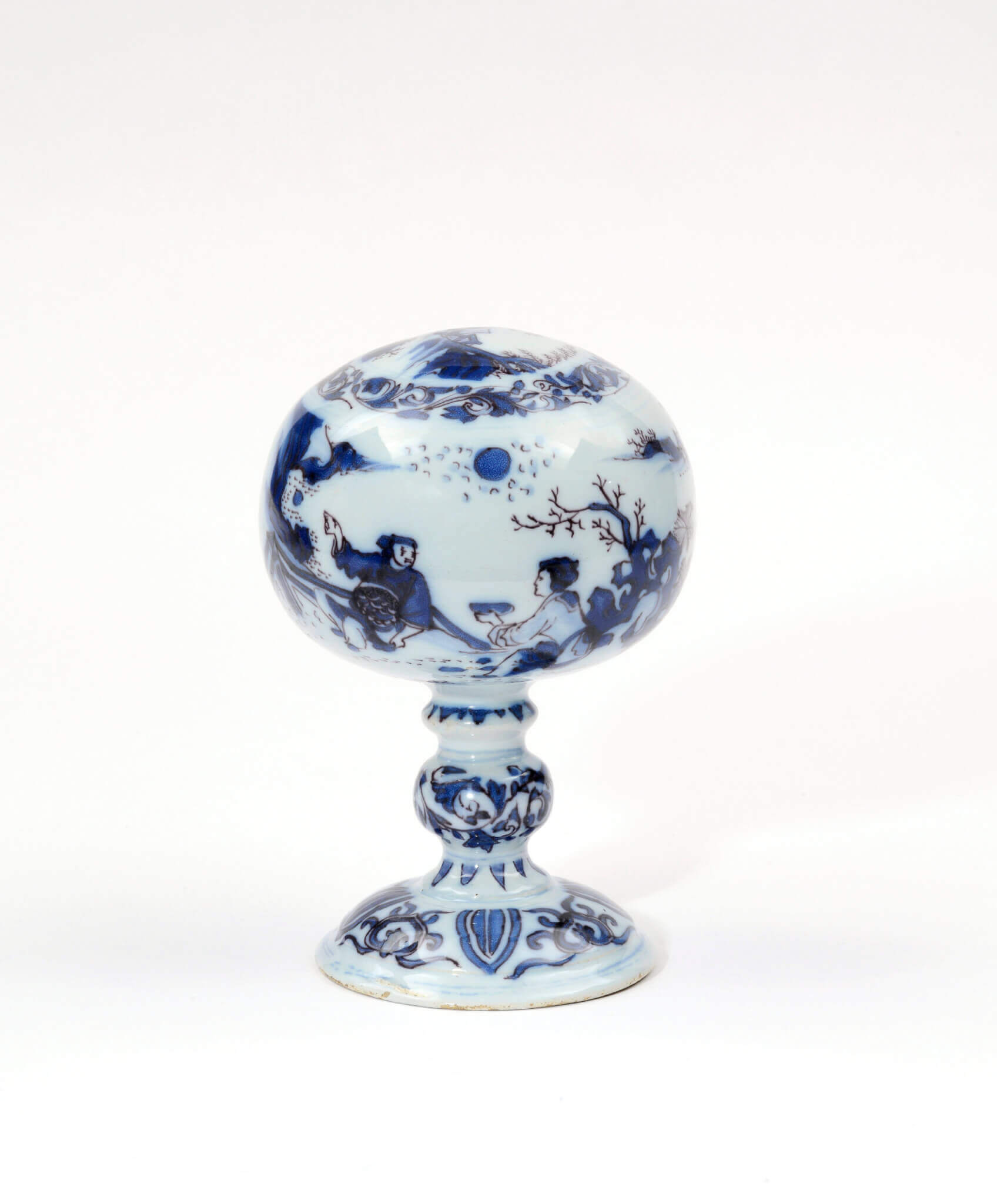 [popup_trigger id="13756″ tag="span"]

[/popup_trigger]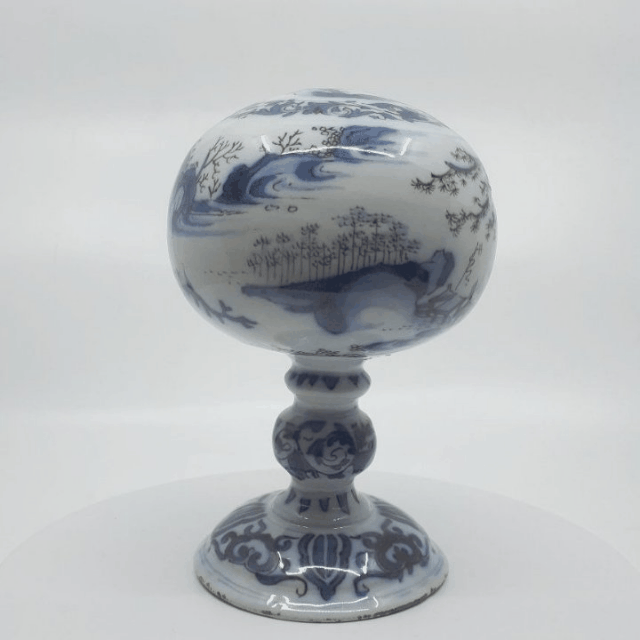 OBJECT
D2140. Blue and Manganese "Wig Stand"
Delft, circa 1685
Marked with letter G. or numeral 6. in blue, and attributed to De Grieksche A (The Greek A) factory
The large sphere supported on a knopped stem above a domed foot, and decorated in blue and manganese in Chinese transitional style, with two figures conversing in a rocky landscape setting beneath an ornamental garland border encircling a smaller garden scene on the top of the sphere, the knop of the stem with a foliate border, and the foot decorated with ruyi-head ornaments and stylized leaves.
Dimensions
Height: 18.5 cm. (7.3 in.)
Note
Wig stands were designed to help preserve a wig's shape. When not being worn, the wig could be placed on the spherical stand, imitating the shape of the human head. Seventeenth-century wig stands were a rare and luxurious item, and there are almost any surviving examples today. Scholars have argued the function of these stands, made in Delft during the seventeenth century and ranging in shape from spherical, octagonal, and many-sides. In 1984, Lunsingh Scheurleer argued that Delft potters produced ornate wig stands to compete in the luxury market. However, twenty years later in 2004, Van Dam, pp. 79-80, claimed these objects more likely graced a table or a shelf in the paneling of a room, and were not actually used as wig stands. One reason to support his argument is the varying shapes of the stands that do not match common head sizes.
Van Dam's assertion is supported by a family portrait by Hendrik Cornelis van Vliet, depicting Michiel van der Dussen and Wilhelmina van Setten in 1640. Michiel van der Dussen (1600-1681) and Wilhelmina van Setten (1605-1683) were both from wealthy families and married in 1625. To commemorate their wedding, they had their portrait painted with their two daughters and three sons. The family was Catholic, which was unusual in the mainly Protestant Holland. A small crucifix flanked by statues of Mary and John the Baptist can be seen on the cabinet in the painting. The high, narrow chimney is classical in design, and is decorated with bulbous, spherical forms that are likely made of stone. The ornaments seen in the painting are also found in architecture. They were regularly placed at the top of stairs, and along balustrades.
Similar examples
Although few wig stands survive, a similar example marked for Lambertus Cleffius, an owner of De Metaale Pot (The Metal Pot) factory from 1670 to 1691, in the Musées Royaux d'Art et d'Histoire, Brussels (inv. no. Ev. 738a, is illustrated in Dumortier 1990, no. 12); and another attributed to Lambertus Cleffius at De Metaale Pot, is in the Rijksmuseum, Amsterdam, illustrated in Van Dam 2004, p. 79, pl. 37. An example lacking its foot is in the Victoria and Albert Museum, London (inv. C671-1909); and a very similar example, attributed to Hanau, late seventeenth century, is in the Hetjens Museum, Düsseldorf (inv. no. 1934/102), illustrated in Luckhardt, Marth, op. cit., p. 130, no. 1.34. Another wigstand, painted in blue and manganese, and attributed to Samuel van Eenhoorn is illustrated in Aronson 2017, pp. 23, no. 11. An unmarked example painted in this manner is in the Legion of Honor Museum, San Francisco (inv. no. 1999.115).