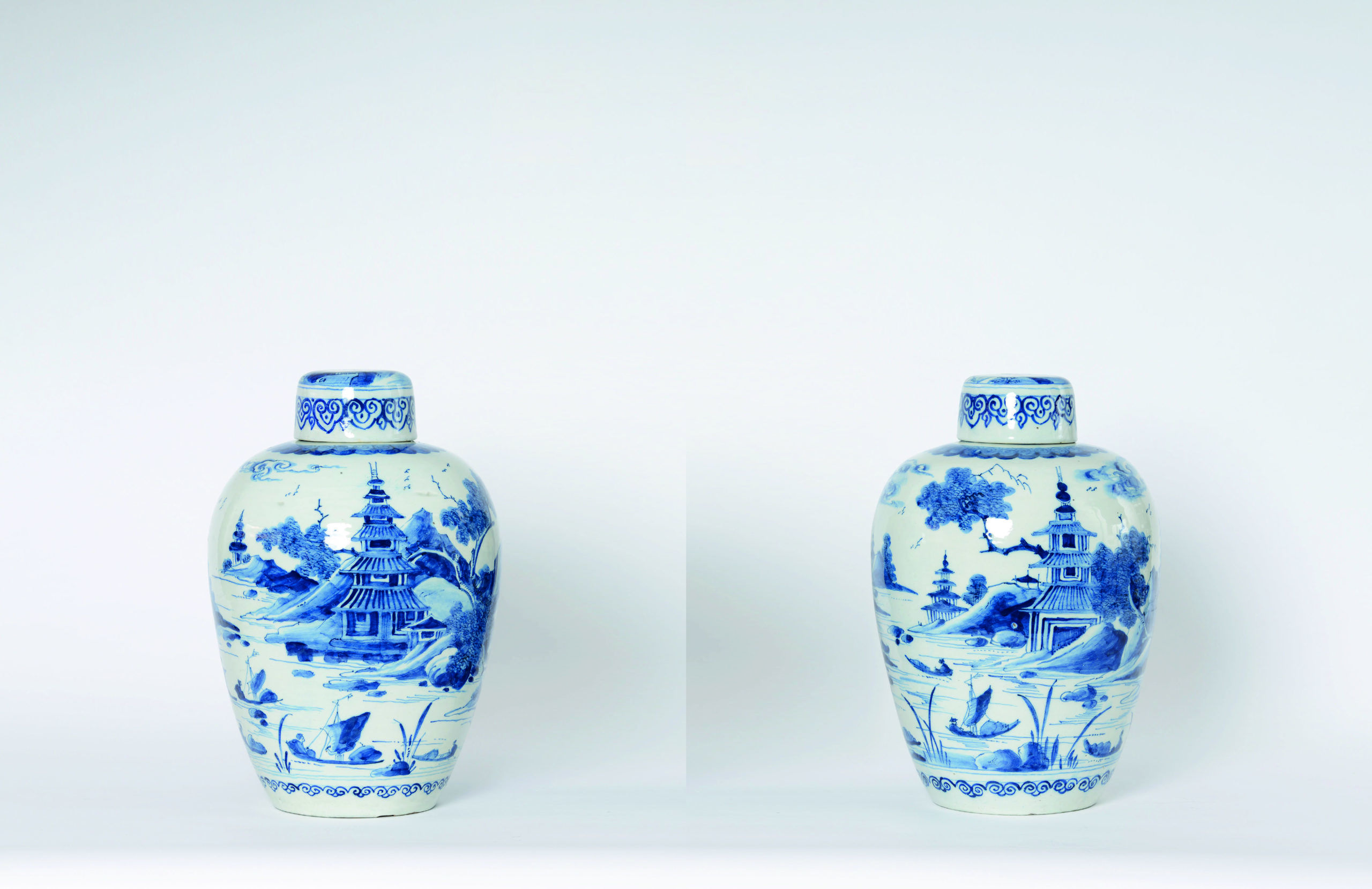 OBJECT
D2131.Pair of Blue and White Jars and Covers
Delft, circa 1725
Each unidentifiably marked with an X on the jar and the cover
Each painted on the ovoid body with a continuous scene of pagodas on a rocky shore with pine trees below stylized clouds and in the foreground Chinese figures in fishing boats amidst reed stalks, the shoulders with a border of spiral motifs, the cover with a wide border of ruyi-heads and the top with a pagoda in a landscape with rocks and pine trees.
Height: 36.3 cm. (14.3 in.)
NOTE
River landscapes were a popular decoration on both Chinese as Japanese porcelain. Landscape painting was one of the most important art forms of East Asia. However, the word "landscape" did not exist in traditional Japanese or Chinese discourse and the genre was named after the key components of depictions of nature in East Asian painting "mountain and water" (Japanese: sansui, Chinese: shanshui).
In Japan landscape painting developed by the fourteenth century, which followed the example of the monochromatic landscapes of China's Song Dynasty (960-1279). Built on a Chinese tradition, these images nonetheless feature numerous formal
innovations, including dramatically pruned pine trees and thick, swirling mists. The recognition of a spiritual element in landscape art is present from its beginnings in East Asian art, drawing on Daoism and other philosophical traditions. Landscape paintings often were meant to invite the viewer to mentally travel through the scene. A point of entry into the landscape was provided, often by means of a path or a sliver of land in the foreground. These landscapes were never intended to represent actual locations, even when named after them.