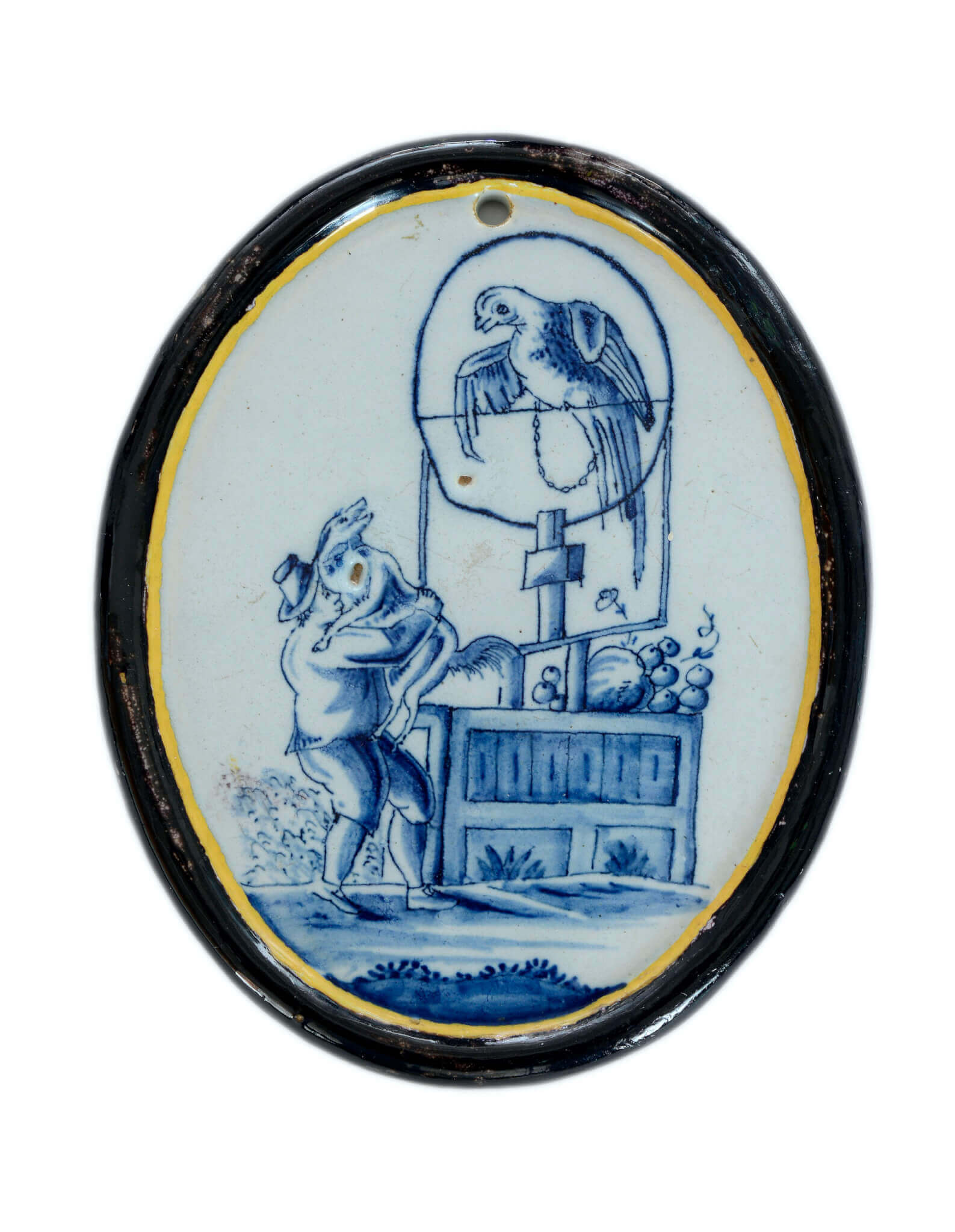 [popup_trigger id="13756″ tag="span"]

[/popup_trigger]
OBJECT
•D2066. Polychrome Small Oval Plaque
Amsterdam, circa 1780
Marked with unidentified HVDB in blue, attributed to d'Oude Prins (The Old Prince) factory on the Anjeliersstraat in Amsterdam
Painted with a man holding a dog in front of a perched parrot, the bird chained to the stoop and above a table with a variety of fruits, the top pierced with a suspension hole, and the rounded yellow-edged self-frame colored in manganese, the reverse glazed.
Dimensions
Height: 17 cm. (6.7 in.)
Width: 13.9 cm. (5.5 in.)
Note
Many objects produced at d'Oude Prins factory in Amsterdam are marked with the initials or full name of the object's painter, and sometimes include a date as well. As a group, these objects form a unity in the style of decoration and the modeling. Despite the connection to a tile factory, the present piece, according to Van Dam 1999, is well-made, nicely painted and less heavy than the average tile.
The decoration on this small plaque derives from a design by Cornelis Pronk (1691-1759), a painter,  porcelain designer and son of an Amsterdam merchant. In 1734, Pronk received a commission from the Dutch East India Company (VOC) to design a set of plates to be produced in China. Unfortunately, the production and shipping from China was too costly, and the VOC ended its collaboration with Pronk in 1740.
Attributed to Pronk, the parrot on a swing and spaniel design appear on both eighteenth century Meissen porcelain and a Chinese export tea bowl and saucer in the Victoria & Albert Museum in London. The spaniel is found on Chinese export pieces attributed to the Pronk workshop. The combination of these designs is rarely seen on Delftware and objects made in Amsterdam making the present plaque a rare example.
Similar examples
An oval plaque of this size painted with a cupid blowing bubbles within an identical manganese frame, produced in d'Oude Prins factory is illustrated by Van Dam, "'Delfts' uit de provincie," Vormen uit vuur, 168/169, 1999, p. 51, fig. 47. Another similar oval plaque, but with a gentleman strolling with his dog in a landscape, also produced at d'Oude Prins factory in the collection of the Amsterdam Museum, Amsterdam (inv. no. 4643), is illustrated in Aronson 2007, p. 79, no. 61.