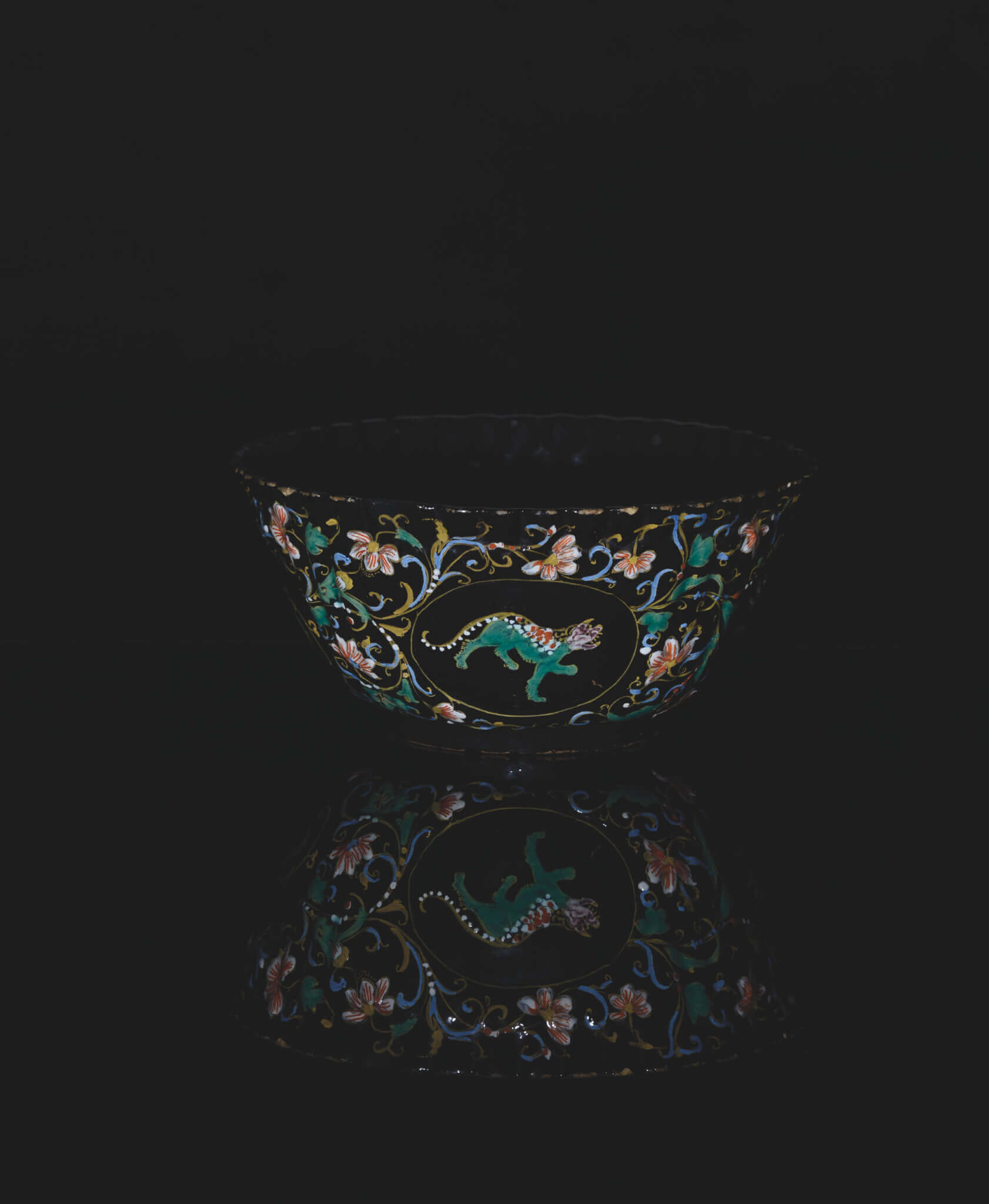 [popup_trigger id="13756″ tag="span"]

[/popup_trigger]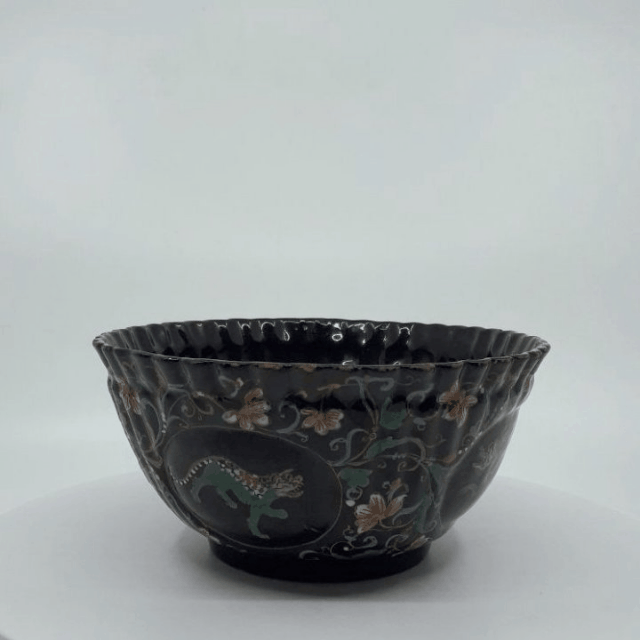 OBJECT
•D2014. 'Black Delftware' Reeded Small Bowl
Delft, circa 1705
Marked LVE 5 in yellow for Lambertus van Eenhoorn, the owner of De Metaale Pot (The Metal Pot) factory from 1691 until 1721, or his widow Margaretha Teckmann until 1724
Painted around the reeded black ground exterior in green, iron-red, blue, yellow and white with arabesques of floral and foliate sprigs and sprays, reserved with four oval medaillons, two of which with a dragon and the other two with a panter in Chinese style, and the interior with flowering shrubbery encircled by alternating flowering branches and insects on the sides.
Dimensions
Diameter: 16 cm. (6.3 in.)
Height: 7.3 cm. (2.9 in.)
Provenance
The Anton F. Philips (1874-1951) Collection, Eindhoven, and thence by family descent
Note
The technique of producing a true black colored  glaze was extremely difficult. Marion S. van Aken-Fehmers, "'Zo net als 't thans uit China ons hier werd gebracht' ('As fine as that imported from China'), A Closer Look at Dutch Black Delftware (1700-1740)", in Aronson 2006, pp. 42-44, refers to a recipe of 1679 by the German scientist Johann Kunckel (1631/34- 1703) for "Schwarze Glasur" (black glaze) used by Dutch "porcelain painters" in which he advises that "if the surface color should turn brownish-black instead of the intended black, more saffre ([zaffer or] cobalt oxide) should be added" (p. 43). Manganese oxide, the mineral used to obtain the black color, does not react well with some of the other colors.
Because of the difficulty of producing the black glaze, it is believed that very few factories either attempted it or were successful. Nearly seventy examples of Black Delftware are known, and most objects are not marked. Shapes include tea wares, such as teacups and saucers, tea canisters, coffee pots, but also brush backs and larger items as dishes and plaques. The largest assemblage of 'Black Delft' is in the Evenepoël Collection at the Musées royaux d'Art et d'Histoire, Brussels with 27 pieces.
Of the marked examples, however, two techniques of production have been identified. In the first, as with the teapot and cover illustrated above, the pieces were fired initially with a layer of white tin glaze and applied with polychrome enamels before the blank areas around the decoration were filled in with a black glaze. Most of the marked objects belonging to this category were made in De Grieksche A (The Greek A) factory during the ownership of Pieter Adriaensz. Kocx from 1701 to 1703, or his widow Johanna van der Heul from 1703 to 1722. In the second technique the pieces were covered completely in a black glaze and then the enamel decoration was applied onto the black ground itself, as can be seen in the decoration of this bowl. Marked objects from this category were produced mainly by De Metaale Pot (The Metal Pot) factory, owned by Lambertus van Eenhoorn.
Black Delftware objects are among the rarest wares that were produced in the Dutch Delft factories during the late seventeenth and early eighteenth centuries, when the taste for the exotic thrived. With its striking and elegant chinoiserie decoration, it was always designed for display.
Similar examples
With less than 70 known black decorated Delftware objects, this type of wares is considered the rarest and most refined objects produced by the ceramics factories in the city of Delft. A black Delftware bowl, also marked for Lambertus van Eenhoorn and with similar roundels with dragons, is in an American private collection.