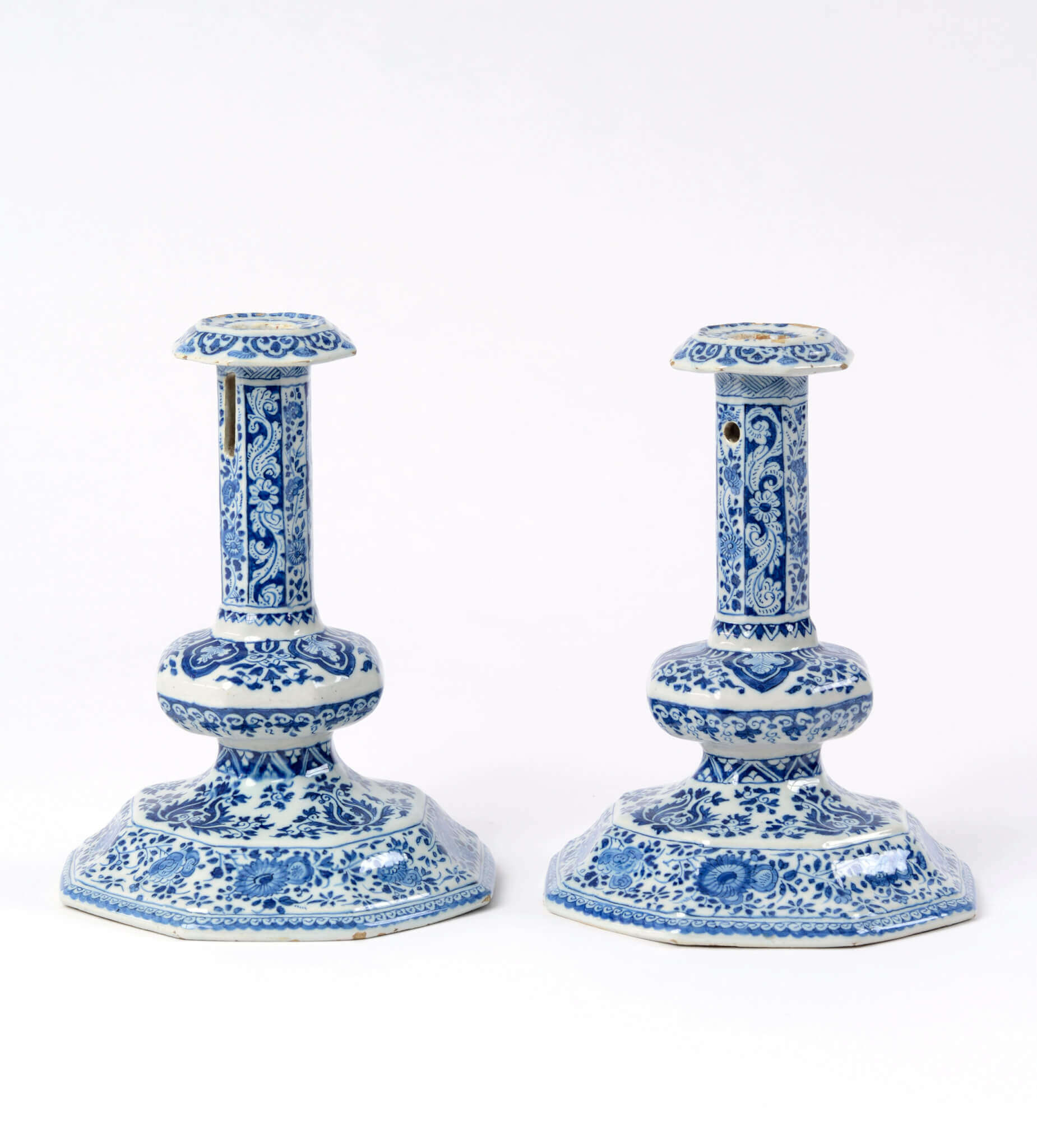 [popup_trigger id="13756″ tag="span"]

[/popup_trigger]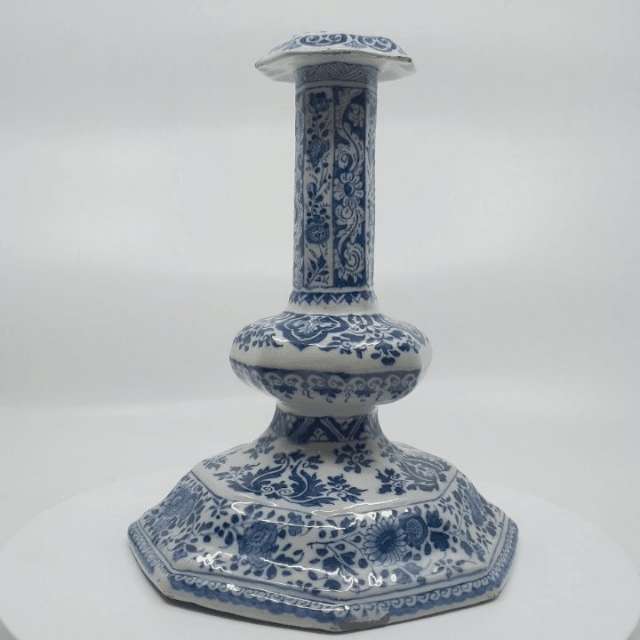 OBJECT
D2012. Pair of Blue and White Candlesticks
Delft, circa 1710
Each marked and numbered LVE G 12 and an unidentified squiggle in blue for  Lambertus van Eenhoorn, the owner of De Metaale Pot (The Metal Pot) factory from 1691 to 1721
Each of octagonal shape with a bobêche around the nozzle with a ruyi-head border, one shaft pierced at the top, and the other one with a slit for wax extraction and painted with panels with a flowering vine motif alternating blue ground panels reserved with a flowering scroll device, the central knop with a border of four ruyi-heads and blossom and scroll motifs above a flowering scroll border, the domed foot with four stylized leaf devices above a flowering vine border.
Dimensions
Heights: 20 cm. (7.9 in.)
Provenance
The Gaston de Ramaix Collection, Château de Grune, Belgium; hence by descent, and bearing the original collector's labels with numbers 220 and 221
Note
Before electrification, candles were the main source of light after dark. However, they were considered a luxury, even in the well-to-do home. Thus, the expression 'the game's not worth the candle' highlights the fact that lighting a candle was like burning money itself. Tallow candles, made of animal fat, were the most commonly used candles. They emitted a foul odor and a black vapor, and burned very quickly. An expensive alternative was the beeswax candle, which had a more pleasant perfume and burned for a longer period of time.
Like the candles, their holders were also very expensive objects. Candlesticks gave a particular splendor to the parties and ceremonies of wealthy households. For example, candlesticks were placed in front of mirrors in order to increase the intensity of the light in French King Louis XIV's Hall of Mirrors. Candlesticks of various shapes have been produced in Dutch Delftware since the 1680s. Some of the earliest examples are documented in the inventories of De Metaale Pot (The Metal Pot) and De Grieksche A (The Greek A) factories. These early candlesticks were sometimes executed in white Delftware, and of square or octagonal shape, as with the present pair.
Similar examples
A later pair of blue and white octagonal candlesticks, with different shaped shafts, is in the collection of the Kunstmuseum, The Hague (inv. no. OC(D)307-1904). Another later pair of octagonal candlesticks, but also different in model and decoration, is in the Rijksmuseum, Amsterdam (inv. no. BK-NM-9508).