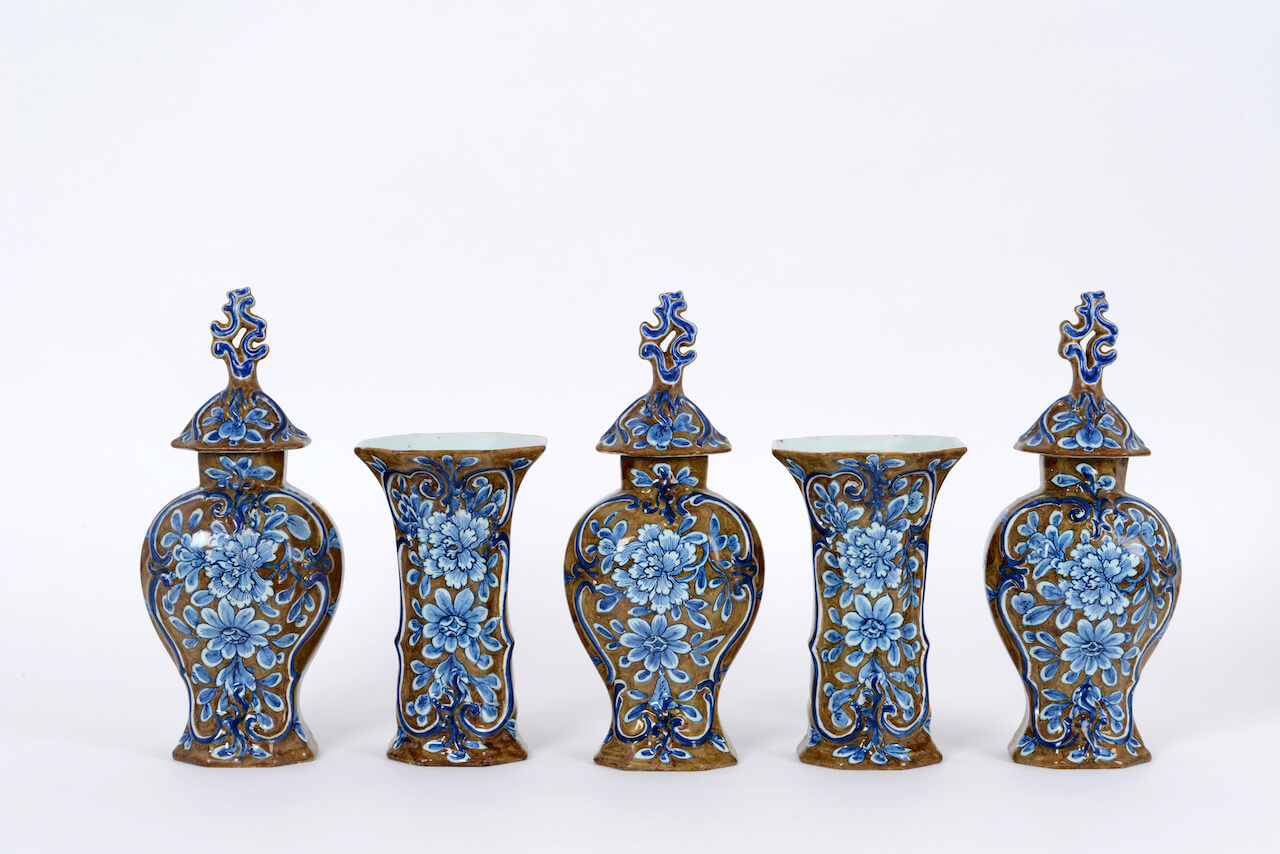 [popup_trigger id="13756″ tag="span"]

[/popup_trigger]
OBJECT
•D1972. Brown-Ground Garniture
Delft, circa 1770
Marked with an axe in blue for De Porceleyne Byl (The Porcelain Axe) factory
Comprising three baluster-form vases and covers and a pair of beaker vases; each piece octagonal and with a brown ground reserved on the front with large blue flowers and leaves, within a blue molded rococo cartouche issuing floral sprigs at the top and bottom. The reverse reserved with a leafy blue and white branch and the covers reserved within the blue molded cartouche at the front with a large blue floral motif and the reverse with a white floral sprig flanked by blue leaves, and surmounted by a blue reserved rococo scrollwork knop.
Dimensions
Heights: 19.5 to 28.5 cm. (7.7 to 11.2 in.)
Provenance
American Private Collection
Note
The garniture is painted with a brown background in which flower patterns have been saved and have been painted in a blue color. To produce such a brown background, the brown pigment is applied in the layer of tin glaze. The use of this brown background color is probably inspired on Chinese porcelain from the thirties of the eighteenth century, in which bronze, bamboo or wood was imitated. For Delftware, the color is referred to by the term chocolate or capuchin brown, but is also named Batavia brown. Already in the inventory of De Paauw (The Peacock) factory from 1725, the term capuchin is mentioned, which possibly refers to objects with a brown ground. Capucinous pots, plates and cups are mentioned which, in addition to all kinds of blue-colored goods, are part of the company's stock.
Similar examples: Although different of shape and decoration, a brown-ground garniture reserved with cartouches painted with blue bouquets is illustrated in Aronson 2005, p. 53, no. 51 and another reserved with large blue and white floral sprays in Aronson 2011, p. 71, no. 39. One beaker and one baluster-form vase with a brown ground of a five-piece garniture in the Musées royaux d'Art et d'Histoire Brussels, are illustrated in Helbig, p. 25, ill. 11. Another brown-ground beaker and baluster-form vase in the Princessehof Museum, Leeuwarden are illustrated in Lunsingh-Scheurleer, p. 315, ill. 362. A pair of brown-ground baluster-form vases in the Musée des Arts Décoratifs, Paris is illustrated in Lahaussois 1994, p. 114, ill. 140.