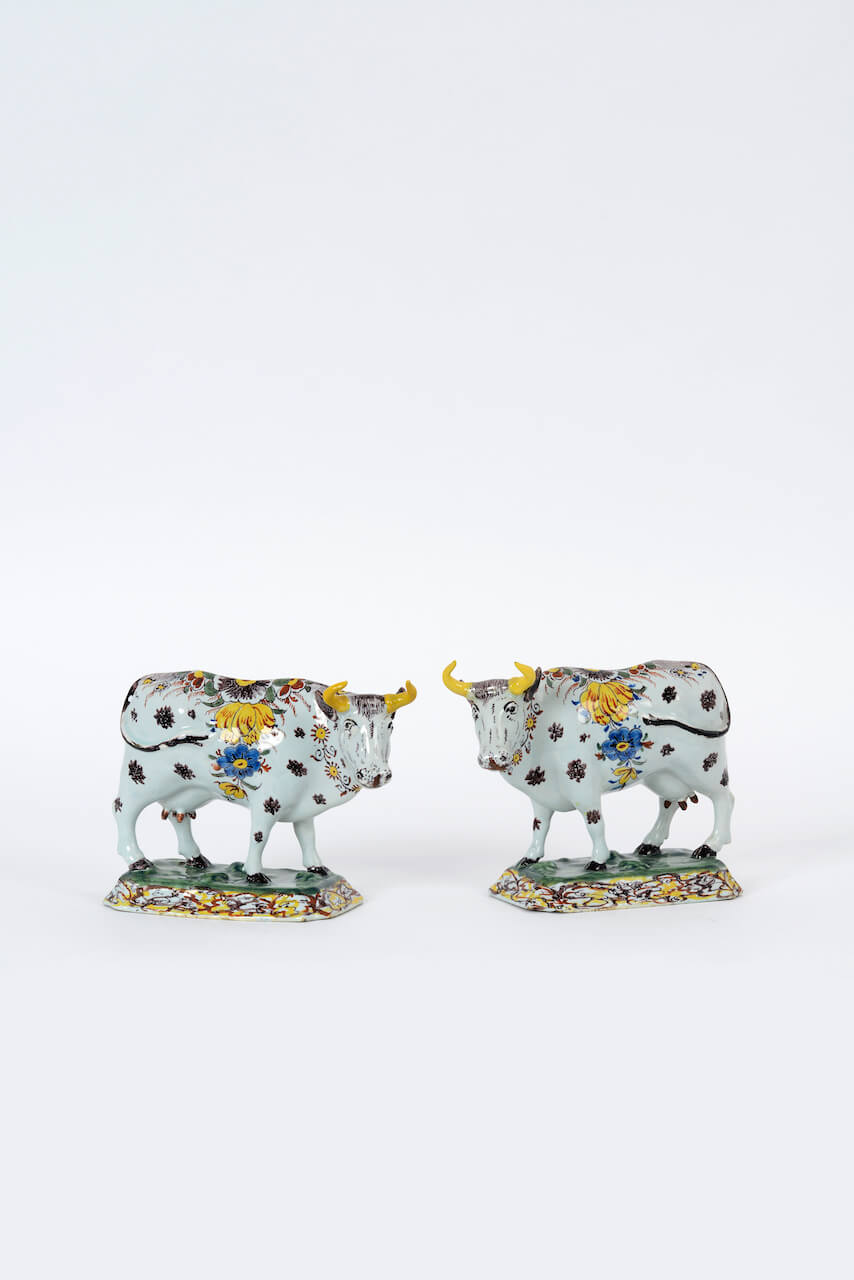 OBJECT
D1962. Pair of Polychrome Figures of Cows
Delft, circa 1765
Each marked LPK in manganese for De Lampetkan (The Porcelain Ewer) factory
Each with a manganese-spotted hide, a manganese tail, hooves, forelock, ears, eyes and muzzle with an iron-red lapping tongue and yellow horns, wearing garlands of iron-red, yellow, blue and manganese flowers and green leaves around its neck and back, and modeled affronté, walking amidst molded frogs and leaves on the rectangular green grassy top, and its canted sides marbleized in manganese, yellow and iron-red.
Lengths: 22.9 and 23.4 cm. (9 and 9.2 in.)
Note:
Typical for the decoration of Delftware cows are the flower wreathes and garlands around their necks and backs, which can be related to those on the seventeenth-century 'guild oxen'. Each year on the day of its patron saint (St. Luke, whose attribute is the apocalyptic beast, the winged ox), the Butcher's Guild would hold a parade celebrating the best-bred bull or cow from their guild. The beast would be decorated with floral wreaths and ribbons, its horns often gilded and sometimes tipped with oranges; and the festive procession was joined by musicians. The meat of that animal was intended for the subsequent guild dinner, and a portion of it was donated to the church and the poor. The expression "the guild-ox is on parade" became synonymous with "this is a feast."
The intriguing figure of a little frog or toad molded in the relief on the base of these groups appears on many of the various Delft models of cows, and it remains an elusive element. It may refer, without any particular meaning, to the famous painting from 1647 by Paulus Potter (1625-1654) of 'De Stier' or 'The Young Bull' (in the Mauritshuis, The Hague, inv. no. 136), in which Potter painted a frog or toad in the foreground. Alternatively, because the toad can be interpreted as an allegory of death, its inclusion in these bovine models perhaps emphasizes the probable brevity of this domestic beast's useful life.
Similar examples:
Cows are undoubtedly the most reproduced animal models in Delft, appearing on variously shaped bases and with an extraordinary variety of decoration. A slightly smaller pair of cows of this model with manganese decoration probably marked for De Witte Ster (The White Star) factory is illustrated in Aronson 2006, p. 96, no. 70. Others in a variety of models, but with no marks or sizes cited are illustrated in Lavino, p. 199.