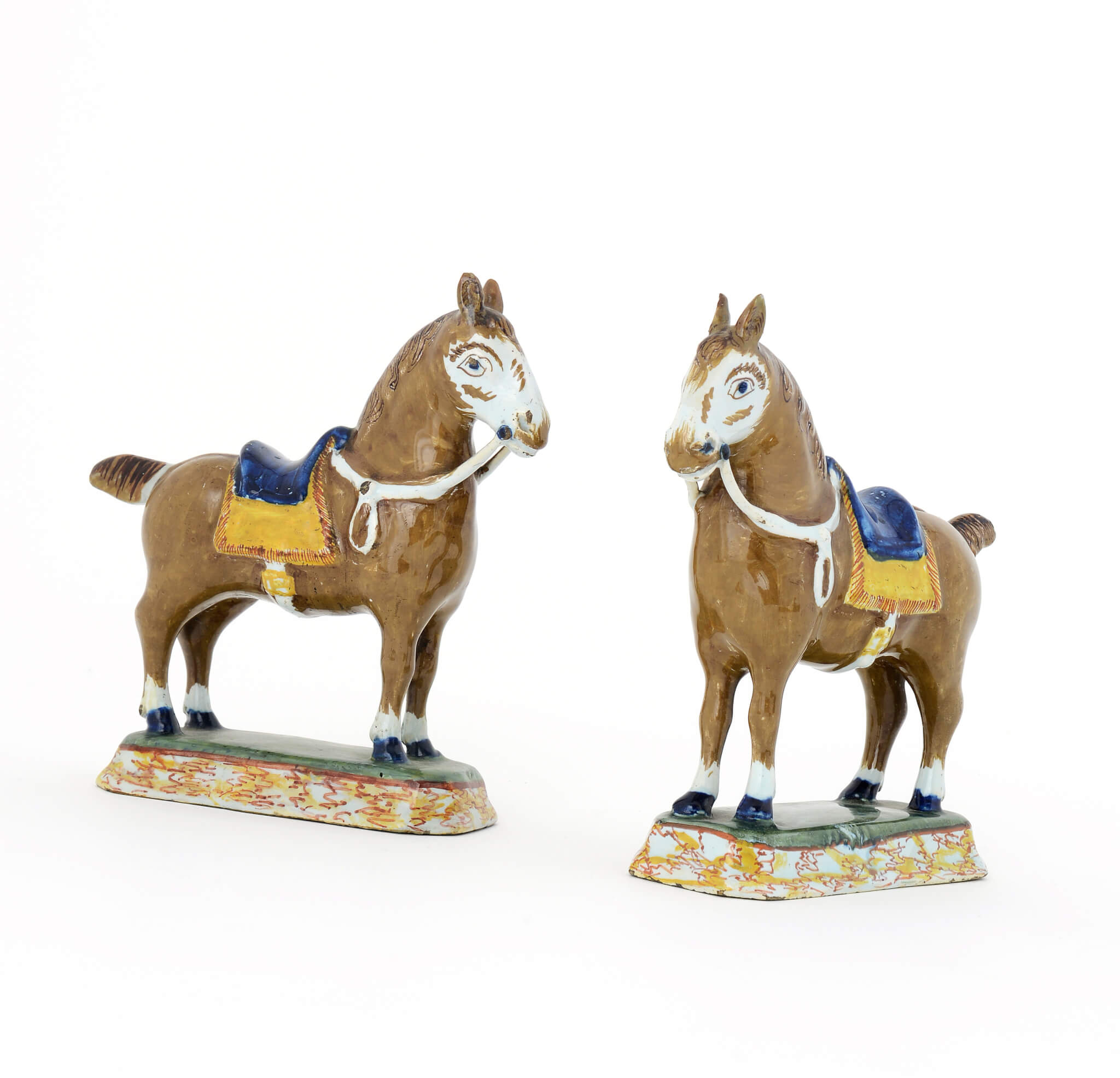 [popup_trigger id="13756″ tag="span"]

[/popup_trigger]
OBJECT
D1343. Pair of Polychrome Figures of Horses
Delft, circa 1765
One marked with an axe in iron-red for De Porceleyne Byl (The Porcelain Axe) factory
Each with a white head, a brown hide, blue eyes, nostrils and hooves, and a manganese-delineated mane and tail, wearing a blue saddle over an iron-red-fringed yellow saddle blanket, and standing foursquare on the green top of a chamfered rectangular base marbleized in yellow and iron-red around the canted edges.
Heights: 16.3 cm. (6 3/8 in.)
Provenance:
The Hans Wolbers Collection, Belgium
Aronson Antiquairs, Amsterdam, March 16, 2004
The Ivan B. Hart Collection, Monte Carlo, number 205
Similar examples:
A pair of brown horses of this model, also marked for De Porceleyne Byl, from the collection of A.Vromen, Jr., Doetinchem, was sold at Christie's in Laren on October 24, 1979, lot 2884, and is illustrated in Morley Fletcher, McIlroy 1984, p. 218, no. 5; in De Jonge 1967, no. 57; and in Aronson 2004, p. 146, no. 168. A white pair with cold decoration in the Musée de l'Hôtel Sandelin, Saint-Omer, is illustrated in Boyazoglu 1983, p. 44, no. 88. Another pair of this model and coloring is illustrated in Aronson 2008, p.100, no. 70; and a blue and white pair of the same model was in the Van Hyfte Collection, illustrated in Aronson 2003, p. 39, no. 36.