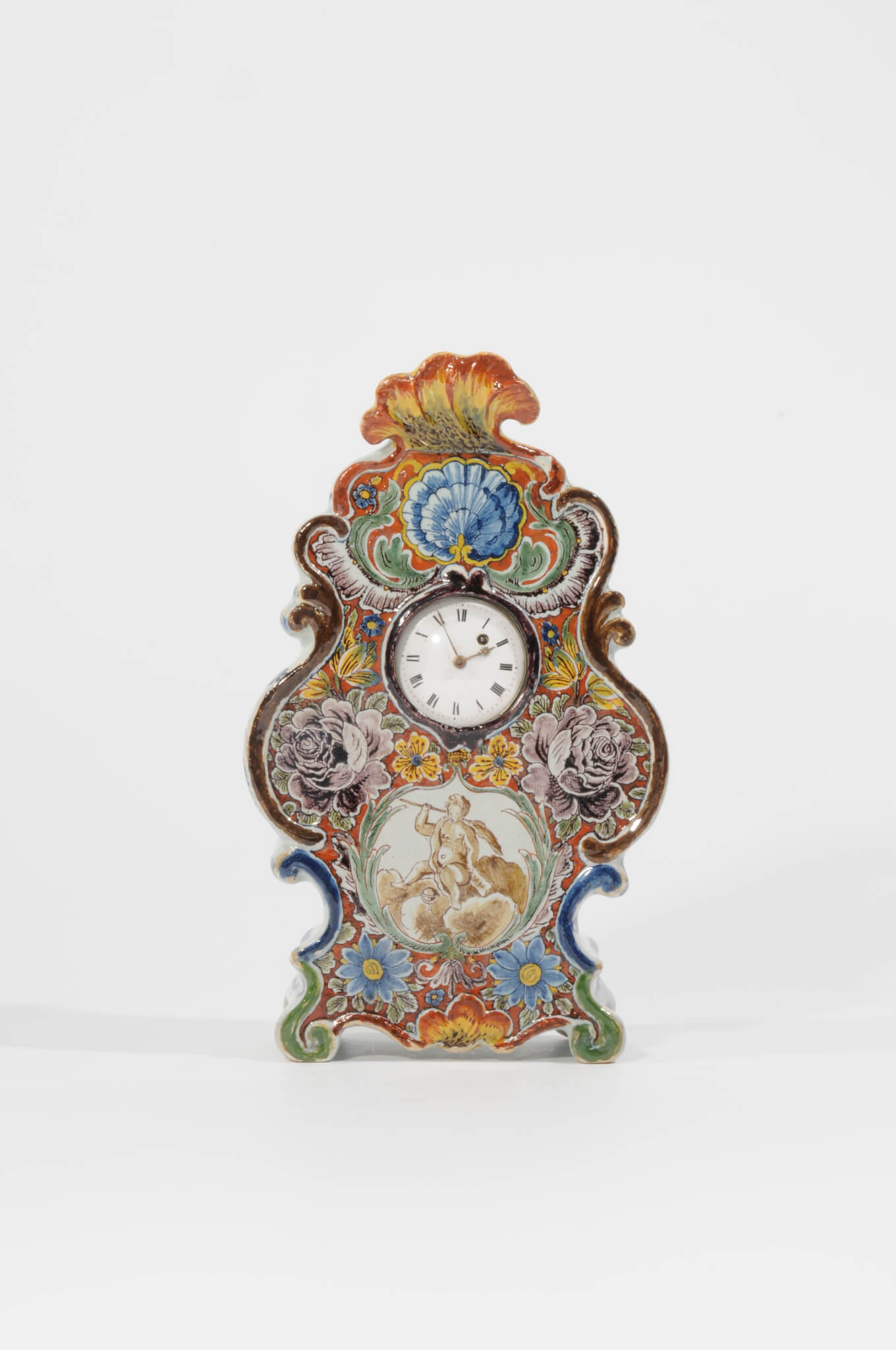 [popup_trigger id="13756″ tag="span"]

[/popup_trigger]
OBJECT
•D1073. Polychrome Rococo Pocket-Watch Stand
Delft, circa 1775
Decorated on the front with a profusion of flowers and foliage on an iron-red ground reserved with a grass- edged cartouche painted in brown monochrome with Cupid scantily-draped, seated on clouds with a small globe between his feet, holding a baton in his right hand, and a label inscribed VH in his left hand, the upper section painted with a central blue shell within elaborate rocaillerie surmounted by a molded scrollwork finial, and pierced below with a circular aperture fitted with an interior support for a pocket watch accessible from the larger opening on the reverse above blue foliate sprigs and dots, the sides with blue floral sprays and a chain border on the flaring apron between the four scroll feet. The stand is now accompanied by a nearly contemporary French pocket watch in a silver case (Ferney-Voltaire, French Jura, circa 1795, marked with initials HM in a lozenge, numbered 70458)
Height: 25.7 cm. (10 1/8 in.)
Provenance: Collection Mr. Jan Visser (d. 1985), Heemstede, and thence by descent to an heir (until 2009)
Note: The aperture of this watch stand was intended to hold a pocket watch. Since clocks were reasonably expensive and not common accoutrements for every room of a house at this time, watch stands served the purpose of transforming a portable pocket watch into a temporary clock, as the watch could be transferred from pocket to watch stand and from room to room, in this instance creating from a simple timepiece an elaborate and decorative clock. So useful was this form, that watch stands sometimes were an element of rococo inkstands, as discussed in the following entry.
This rococo watch stand is of an unusual and unrecorded form. More common is a narrow, elongated model, which, inspired by European porcelain examples, sometimes is applied with either molded garlands of flowers and foliage, as on the watch stand in the Gemeentemuseum Den Haag, illustrated in Lunsingh Scheurleer 1984, p. 235, ill. 146; or with additional modeled putti, as on the example illustrated in Aronson 1993, ill. 14; and in Agenda Oude Kunst- en Antiekbeurs Delft 1980 (Aronson Collection).
A wider model with elaborate molded scrollwork, dated 1772, is illustrated in Lunsingh Scheurleer 1984, p. 235, ill. 146a.
Another type of Delft watch stand composed of C-scrolls, and with two or three boys climbing on the case, exists in both polychrome and blue and white versions. Polychrome examples are in the Rijksmuseum, Amsterdam, illustrated in Rococo in Nederland, exh.cat., Amsterdam (Rijksmuseum) 2001, p. 253 no. 151; the Musée Royaux d'Art et d'Histoire Brussels, illlustrated in Helbig II, p. 62, fig. 46; and the Lavino Collection, illustrated in Lavino, p. 7, left. A blue and white version marked for Johannes Hermanas Frerking, owner of 't Fortuyn (The Fortune) factory from 1771 to 1784, was sold at Christie's Amsterdam, 6 May 2003, lot 242.