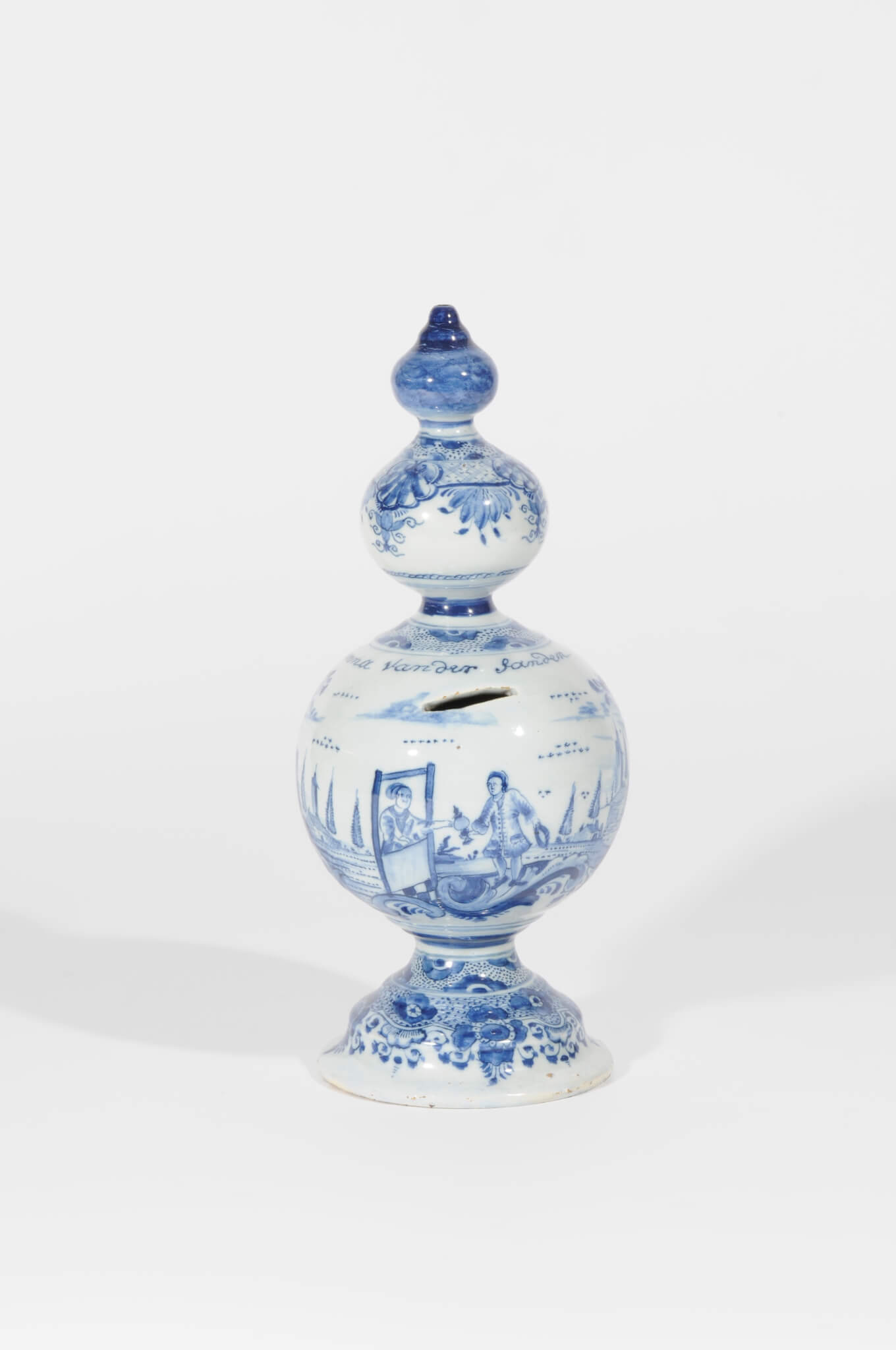 [popup_trigger id="13756″ tag="span"]

[/popup_trigger]
OBJECT
•D1072. Blue and White Triple-Sphere Money Bank
Delft, dated May 1 (or January 5), 1774
The upper sphere with a blue ground and pear-shaped pierced finial above a larger sphere decorated with a stippled band above a trellis diaper border issuing demi- chrysanthemum blossoms and interrupted by four shells, one pierced with a small coin slot, and all pendent with foliate-scroll devices; the largest sphere inscribed on the front Johanna vander Sanden above a longer pierced coin slot and painted with a gentleman handing a similar money bank to a lady standing behind a gate in a landscape with distant cottages and evergreen trees above scrollwork issuing floral sprays trailing toward the reverse beneath the date 17 5/1 74 below a stippled band of demi-flowerheads repeated around the ankle, and the ogee-domed foot with a stippled and striped border pendent with demi-flowerheads and foliate scrolls and interrupted with small and large blossoms.
Height: 30.4 cm. (11 15/16 in.)
Money banks are rare survivors, since in order to remove the money they had to be shaken or even broken. In this large and unusual shape, both spheres with a slot were intended to hold different sizes of coins. Some banks have figural finials, shaped as if throwing a coin in the slot (Aronson 2007, p. 73, no. 55), or are painted with a similar trompe l'oeil scene (Aronson 2009, pp. 66-67, no. 41; Lavino, p. 186). This money bank, however, is the first known Delft example to actually depict the money bank itself within the decoration. As many of the surviving examples are dated, they probably were intended as gifts for special occasions (for examples dated 1738, 1739 and 1744, see Aronson 2001, ill. 30; Aronson 2004, p. 123, no. 141; and Aronson 2008, pp. 84-85, no. 59, respectively). Various references to the name (Joh)anna van der Sanden are recorded in the Delft baptismal, marriage and burial archives (www. delft.digitalestamboom.nl), but a specific connection to the year 1774 has not yet been discovered.