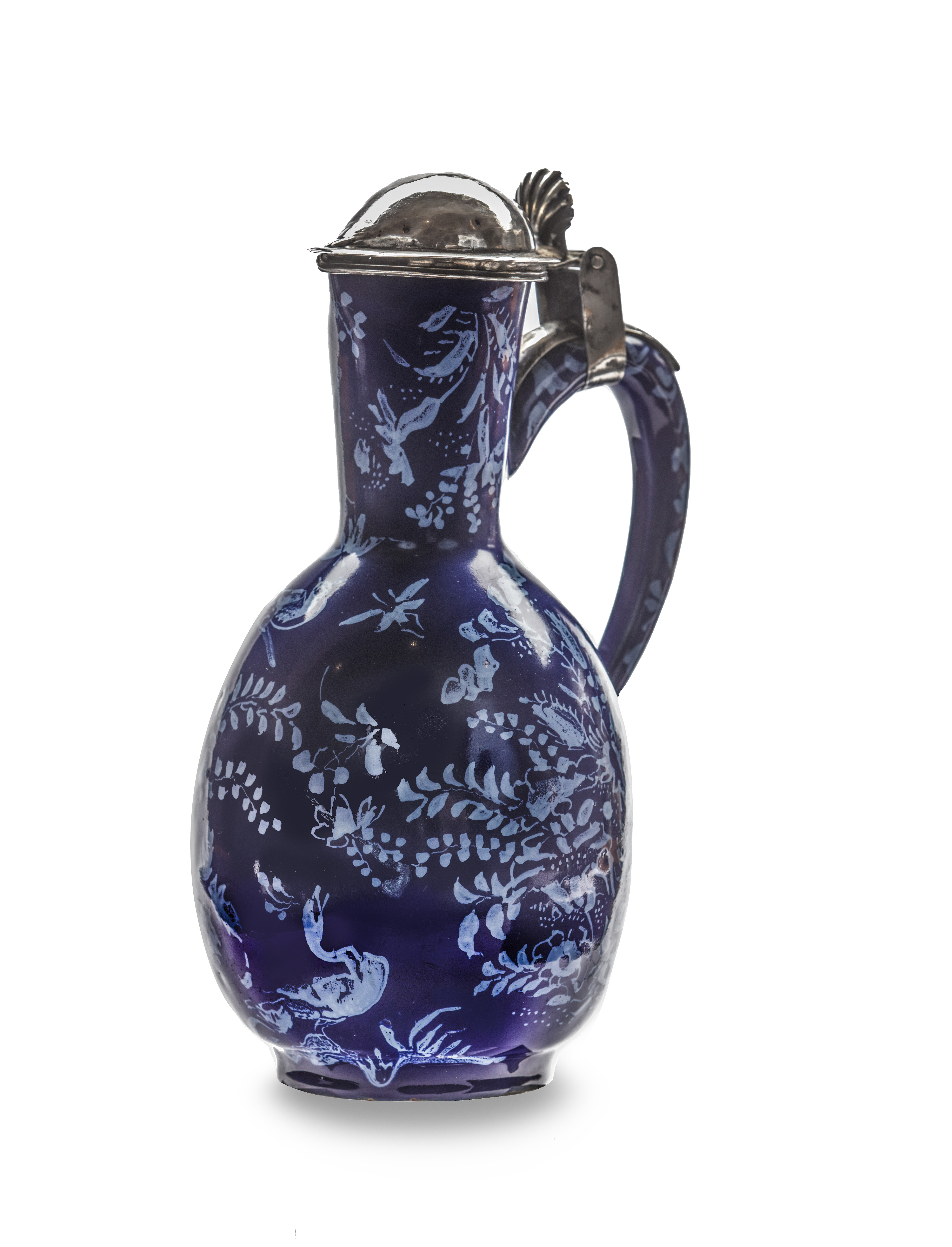 [popup_trigger id="13756″ tag="span"]

[/popup_trigger]
OBJECT
• D2210. 'Persian Blue' Silver-Mounted Ewer
Delft, circa 1700
The jug marked D – PAW in white for De Paauw (The Peacock) factory
The rich blue ground painted in white on the front of the ovoid body with a bird perched on a twig, several fluttering insects flying above it, amidst a profusion of flowering plants, another bird in flight and two waterbirds, the tall slightly tapering neck painted with floral sprays and sprigs, and the loop handle with a sinuous flowering vine; the contemporary Dutch silver cover with a shell-form thumbpiece and affixed to the handle with a hinged foliate period Dutch silver mount, possibly marked for Jan Molenaar, Haarlem (1681-1724).
DIMENSIONS
Height: 19.6 cm. (7.7 in.); Overall height: 21.6 cm. (8.5 in.)
PROVENANCE
Belgian Private Collection
NOTE
By the end of the seventeenth century, potters were so skilled in keeping the tin glaze stable during the firing, that they could experiment with decorations and started experimenting with colored grounds. At some factories, the highly shiny glaze was colored through and through blue, olive green or even black. On top of this glaze, a decoration was painted in a lighter color, such as yellow, white, red or green. The painters at De Metaale Pot (The Metal Pot) factory were very skilled in the production of colored grounds and rare black glazes, and at Het Jonge Moriaanshooft (The Young Moor's Head), Lieve van Dalen was famous for his objects with brown or olive green grounds. De Paauw (The Peacock) factory is most renowned for its blue glazes, as is shown on the present ewer.
This group of unusual Delftware had a blue glaze with a white (or sometimes yellow) Asian-style decoration with water birds, flowers, lotuses and of course the peacock. It was inspired by the French products with blue or yellow grounds from Nevers, France. During a short period between 1660-1680, faience makers in Nevers were producing wares with either an opaque yellow or blue glaze, covered with delicate lacelike decorations, what of course was the reason why this blue earthenware is also called 'Nevers bleu'. Musée National de Céramique in Sèvres has wonderful examples of this 'Nevers bleu' in its collection.
The French potters in their turn learned how to make the colored grounds from their Italian colleagues that were at work in Nevers. Since the blue grounds in Italian earthenware are called 'berettino', this word sometimes also refers to these French blue wares. Early in the sixteenth century, the local potters in Faenza, Italy, colored their tin glaze through and through, in lighter or darker shades of blue. Dishes covered in this 'berettino' blue ground would be decorated in different colors as white, light blue and yellow. These wares already inspired the majolica factories in Haarlem around 1620-1640 to cover their majolica with a glaze varying from almost turquoise to a deep cobalt blue. And, indirectly, it was the spark for the development of this so-called 'Persian blue' color pattern at the end of the seventeenth century.
It is thought that this unusual blue faience was produced originally imitating the blue-glazed Middle-Eastern wares. It was in the Iranian potters workshops, that the first opaque blue glazes were invented to give the objects the look of Chinese underglaze blue porcelain. The earthenwares created in Persia, with modern day Iran as its centre could be colored allover in blue, turquoise or green. They used opaque glazes in their decoration, but also produced earthenware with transparent glazes applied on top of underglaze decorations in black or manganese.
The Delftware that followed the style of Persian blue ceramics enjoyed a brief popularity around 1690, and examples are rare to survive. It was a difficult technique, since the decoration could 'sink' into the colored ground during firing. At De Paauw factory, they were able to improve the technique, and prevent the glaze from running. The blue ground wares produced by De Paauw factory are very close to the original ceramics from Nevers. They share a depth of color, as well as the characteristic lotus flowers and irises that decorate the bodies. Under the leadership of David Kam and his widow, De Paauw specialized in the Persian blue color scheme, and the present work fits within the factory's outstanding style. Production flourished at De Paauw factory during the twenty years of the Kam ownership. At the end of the seventeenth century, the factory produced blue and white objects designed after transitional and Kangxi porcelain. The family changed course around 1700 with the changing Delft pottery industry. With great inventiveness, the family began making the striking Delftware with a blue ground, of which this ewer illustrates the exceptional know- how of the factory at the beginning of the eighteenth century.
SIMILAR EXAMPLES
A comparable ewer, marked for De Paauw Factory, at the Musée National de Céramique, Sèvres (inv. no. MNC 5801), is illustrated by Fourest 1980, p. 137, pl. 131; and Lahaussois 1998, p. 165, no. 147. A similar pewter-covered ewer, marked for De Paauw, is in the Evenepoël Collection in the Musées Royaux d'Art et d'Histoire, Brussels (inv. no. Ev. 217), illustrated in Helbig, Vol. 1, p. 207, fig. 153; another De Paauw-marked example with a pewter cover is illustrated in Aronson 2011, p. 25, no. 14, along with a smaller unmarked and uncovered example, no. 15; and a further example with a pewter cover, in the Musée des Arts Décoratifs, Paris (inv. no. 32007), is illustrated in Lahaussois 1994, p. 84, no. 69. A comparable ewer with a marked Rotterdam silver cover, is illustrated in Aronson, 1987, no. 8; a very similar silver-covered example, marked D – PAEUW 2 and painted by what would appear to be the same hand as the present ewer, is illustrated in Aronson 2008, p. 41, no. 24; and another in the collection of the Boijmans Van Beuningen Museum, Rotterdam, is illustrated by Mees 1997, p. 105 (top). A similarly shaped and decorated ewer, but with a rope-twist handle, is in the Kunstmuseum, The Hague (inv. no. OC(D) 168-1904), illustrated in Van Aken-Fehmers 2001, p. 165, fig. 1; Van Aken- Fehmers 2012, p. 48, pl. 25 (center); and Lunsingh Scheurleer 1984, p. 312, ill. 353.