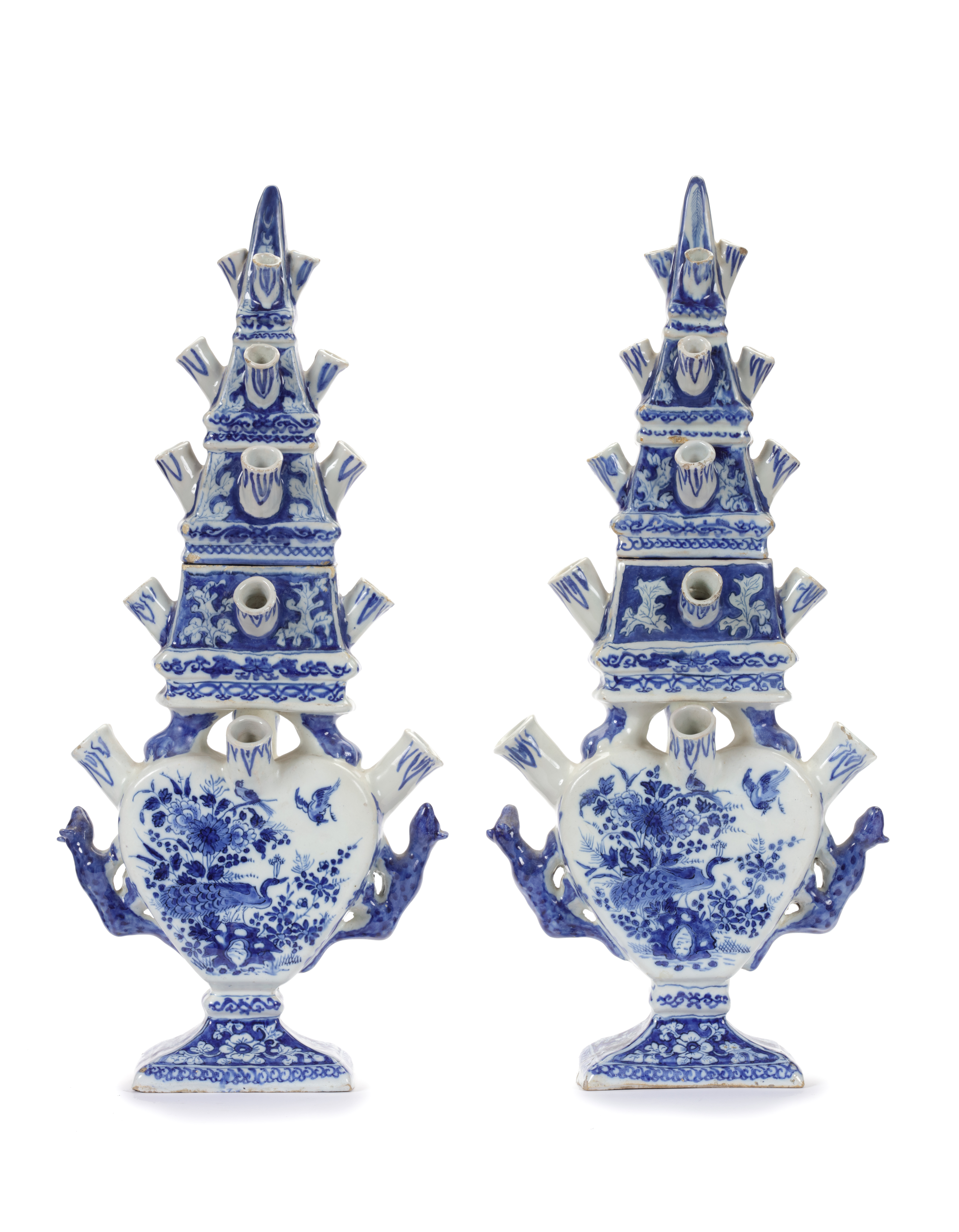 [popup_trigger id="13756″ tag="span"]

[/popup_trigger]
OBJECT
•D2208. Pair of Blue and White Flower Vases
Delft, circa 1700
Each marked LVE and the numerals 2 and 4 in blue for Lambertus van Eenhoorn, the owner of De Metaale Pot (The Metal Pot) factory from 1691 until 1721, or his widow Margaretha Teckmann until 1724
Each comprising two segments, the top formed as an obelisk issuing four spouts with a band of stiff leaves, raising above three blue ground tiers reserved with scroll work on its corners and issuing a spout on all sides, the whole raised on four blue ground claw feet on the flattened heart-shaped body painted on the front with either a bird in flight and a bird perched on a branch amidst shrubbery and one on stylized rock work amidst flowering peony and prunus branches, or with a bird in flight and one perched on a branch and a peacock amidst shrubbery, flowering peony and prunus branches, and stylized rock work, the sides affixed with salamander or squirrel-like creature handles, and issuing four flaring spouts decorated with a band of stiff leaves, and the whole raised on a knotted rectangular foot, the blue ground reserved with floral sprigs.
DIMENSIONS
Height: 44 cm. (17.3 in.)
PROVENANCE
Aronson Antiquairs, Amsterdam 1998;
Swiss Private Collection, Basel
LITERATURE
Illustrated and described in Handbook, TEFAF Basel 1998, page 197
NOTE
At the end of the seventeenth century, Delftware flower vases enjoyed immense popularity among the Royal Court and aristocratic clientele in both Holland and Great Britain. Around 1700, there were over thirty potteries in operation in Delft, of which at least five produced vases with holes and spouts, as their makers' marks indicate. Although De Grieksche A (The Greek A) factory was perhaps the earliest producer of these vases, with modestly sized objects that date to 1680, this model is closely related.
The shapes of spouted vases varied widely. The earliest Delft flower vases were based on existing objects, such as large metal coolers. From approximately 1680 onwards, flower holders with fanning rows of spouts were produced and a decade later the iconic pyramidal shapes were created. There are two kinds of monumental, pyramid- shaped flower vases. The first is a pyramid standing on a hexagonal or square pedestal, as the flower holder in the following entry. The second kind is composed of tiered sections on an oval or heart- shaped base and surmounted by a pointed finial resembling an obelisk, as the present flower vase shows.
SIMILAR EXAMPLES
A similar pair of flower vases marked for Lambertus van Eenhoorn of 44 cm. (17.3 in.) high, but painted with putti on the heart-shaped body, was sold at Mak van Waay February 25, 1969. A blue and white heart-shaped pyramidal flower vase of similar model marked for Lambertus van Eenhoorn is illustrated in Van Aken-Fehmers 2007, p. 194, no. 5.14. A polychrome example, of similar model, four tiers and marked for Lambertus van Eenhoorn, is in the collection of the Fitzwilliam Museum, Cambridge (inv. no. 2615-1928). Of slightly different model is a polychrome example marked for Lambertus van Eenhoorn in the collection of Musée royaux d'Art et d'Histoire in Brussels (inv. no. Ev. 212).