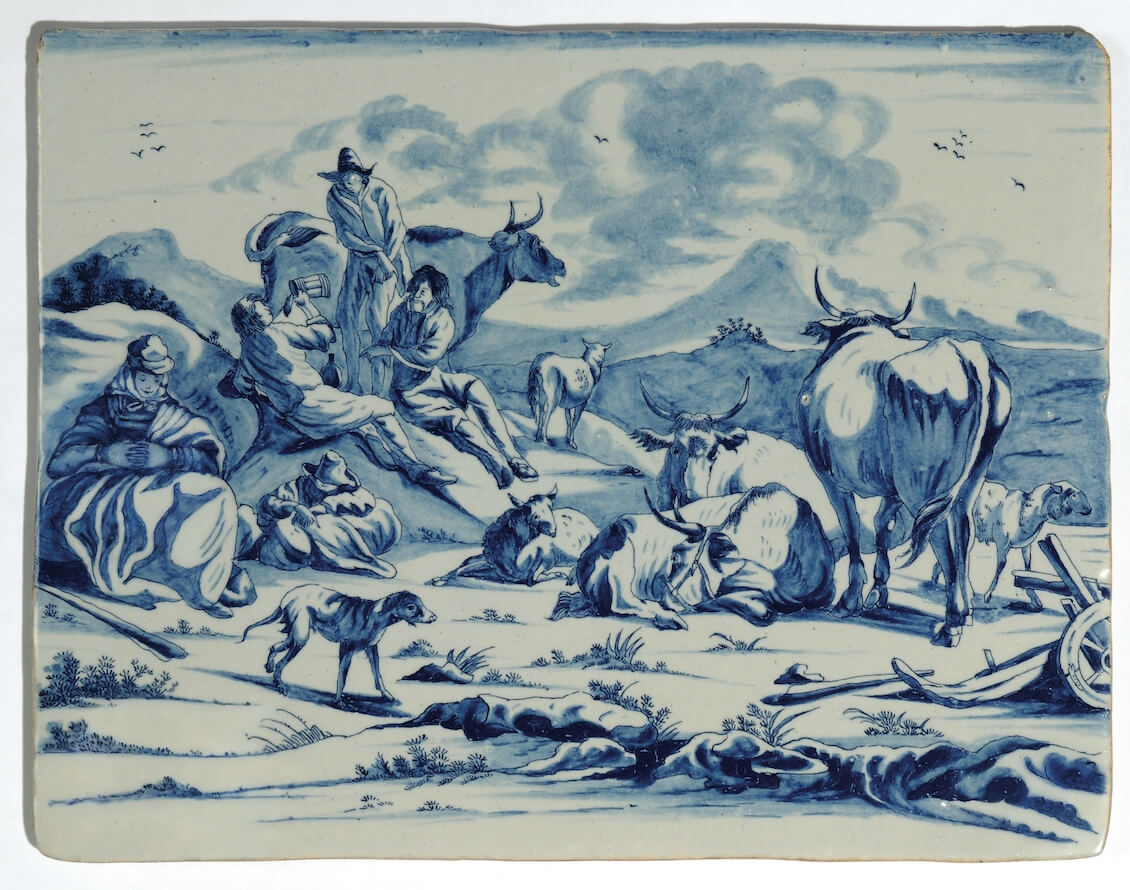 Nicolaes Pietersz. Berchem (1622-1683) was a prolific Dutch painter and draughtsman, producing over 800 paintings and at least 57 etchings.[1] His work was greatly esteemed and prints after him are numerous. These prints were used as wall decoration, were collected in books but also were used by artists as models. Undeniably, prints by or after Berchem have been among the most predominant and recognizable graphic sources for Dutch Delftware in the seventeenth and eighteenth centuries.
Originally from Haarlem, Berchem was the son of Pieter Claesz. (1596/97-1660), one of the most important still-life painter in Haarlem in the 1620s. Berchem probably received his first painting lessons from his father, and eventually specialized in elaborate landscapes. On May 6, 1642, he was registered as a master in Haarlem's guild. Berchem probably lived briefly in Amsterdam in the 1660's before moving back to his home town in 1670.
Berchem is considered a second generation Dutch Italianate landscape painter. This group of artists, who originated from the Dutch United Provinces traveled to Italy, bringing home sketchbooks full of drawings of classical ruins or pastoral imagery. Berchem's oeuvre was dominated by southern, idyllic landscapes bathed in the glow of the setting sun. Within these settings were Roman ruins, figures of peasants, usually shepherds and shepherdess' and their flocks. His oeuvre also includes religious, mythological and allegorical compositions, harbor scenes, winter landscapes and nocturnal scenes. Although Berchem's landscapes clearly reflect an Italian influence, he probably never visited southern Europe. However, he would have been familiar with the Arcadian landscapes of Claude Lorrain (1600-1682) who spent most of his life in Italy, and Dutch artists such as Pieter van Laer (1599-circa 1642), Jan Both (1618/22-1652) and Jan Asselijn (1600/22-1652).[2]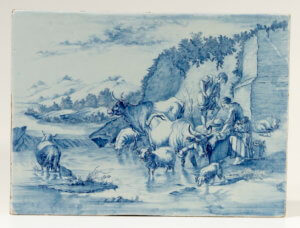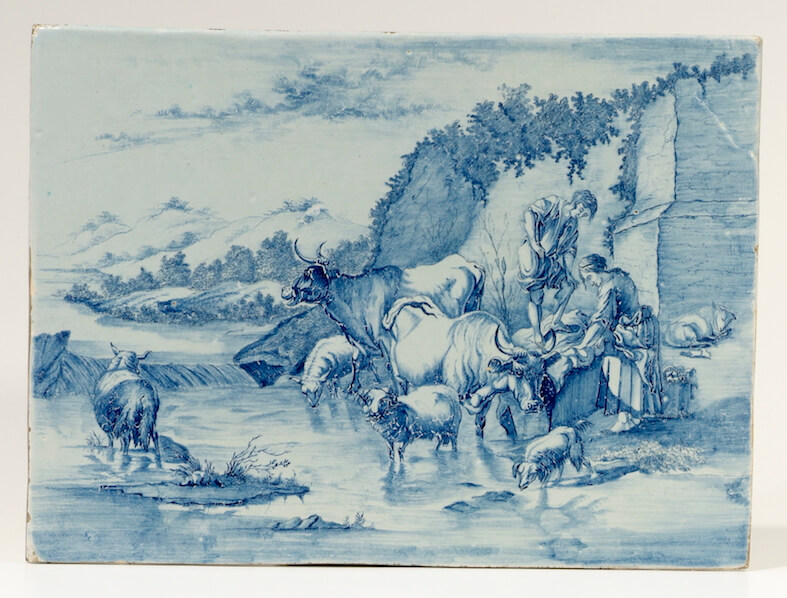 Arcadia, a mountainous region in the Peloponnesus of Greece, has become synonymous with an imaginary, idyllic Italian paradise. The Arcadian, idealized nature has a long literary tradition stretching back to Theocritus, a Greek bucolic poet of the third century BC. The literary works Eclogae (Bucolica) and Georgica, by the Italian poet Vergilius [Virgil] (70-19 BC), dating from 37 and 29 BC, evoking the Italian Arcadian landscape, were translated into Dutch by Karel van Mander and appeared in 1597 as Bucolica en Georgica, dat is, Ossenstal en landtwerck. In the second half of the seventeenth century, the honest and simple Arcadian landscape was a popular theme among the wealthy upper classes who would retreat from filthy towns to the quiet countryside during the summer.[3]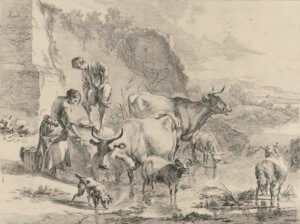 Prints and engravings greatly increased an artist's visibility and popularity, and Berchem undoubtedly benefitted from this strategy. According to the art historian Gerdien Wuestman, "There is hardly a Dutch artist whose oeuvre generated so many prints as Nicolaes Berchem."[4] First, it is important to note that he practiced a genre that was very popular amongst print makers. Further, Berchem was greatly interested in the medium itself and was himself an etcher. It is also recorded that Berchem had an important print collection. According to Wuestman, almost 190 of Berchem's designs were published as prints in Holland during his lifetime. Many drawings that were used as models for printing were made for this purpose.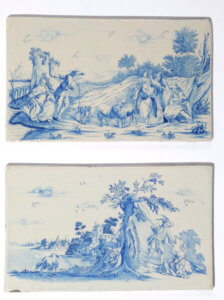 The vast majority of prints made after his work were mainly produced by three engravers: Cornelis Visscher, Johannes Visscher and Dancker Danckerts. Approximately 60 of Berchem's etchings were published as sets or series of prints. For example, the plaque above was painted from the print 'Meridies' (Midday), by Johannes Visscher (1633-after 1692), after a drawing by Berchem.[5] The print is the second from a set of four illustrating 'The Phases of the Day,' including Dawn, Midday, Evening and Night.[6] Similarly, the blue and white plaque above was painted after the print, 'Washerwoman Drying Clothes in the Sun' by Johannes Visscher (1633-after 1692) from a drawing by Berchem dated 1657.[7] The print is the second of four etchings from Visscher's famous series 'Diversa Animalia Quadrupedia,' which is considered one of the highlights of his oeuvre, due in part to the effective rendering of light.[8] With the plaque in mirror image to the Visscher print, it is possible that the Delft painter used a print that had been copied from the Visscher original as his direct source, for example that of Paulus van Somer II (circa 1649-circa 1694).[9]
By the end of the seventeenth century, tens of thousands of prints made by or after Berchem's drawings were in circulation. As we saw, these prints were a great source of inspiration for artists, and especially for Delftware painters who used them as models for their own painted work, borrowing his figures, animals, and pastoral settings. Using the prints of Berchem's drawings and paintings as a starting point, the Delftware painters would often take only a few elements from the prints rather than fully copying them. This demonstrates that painters probably leafed through their collection of prints to choose specific figures.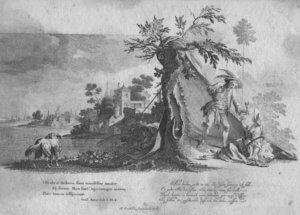 On the pair of plaques from circa 1770, the graphic source of the second plaque is a print by Johann Esaias Nilson (1721-1788), dated to circa 1760-65,[10] and the first plaque comprises elements taken from prints by Johannes Visscher (1633-after 1692) after drawings by Berchem. The nursing mother to the left is taken from the print of 'Midday', flanking 'A Shepherd Leaning on his Staff ', and to the right the bagpiper is taken from 'Shepherd Playing the Bagpipe and Girl Milking Sheep'.[11] The standing lady with a distaff is also a Berchem subject who appears, for example, on the print, 'Spinster and Shepherdess with Flock' by the Frenchman Pierre Aveline (circa 1656-1722), engraved and etched after a Berchem painting.[12]
As these plaques demonstrate, prints by or after Berchem's drawings continued to be in vogue long after his death in 1683, especially in France where they were particularly popular.
[1]  Von Sick, Nicolaes Berchem, ein Vorläufer des Rokoko, Kunstwissenschaftliche Studien Band V (Berlin, 1930), p. 39.
[2]  P. Biesboer,"Nicolaes Pietersz Berchem, meester-schilder van Haarlem" in the exhibition catalogue Nicolaes Berchem; In het licht van Italië, Haarlem 2007, pp. 19, 21, 23 and 24.
[3] M.C.C. Kersten, C. Wiethoff, "De italianiserende landschappen van Nicolaes Berchem en zijn tijdgenoten: de verbeelding van een idyllisch 'natuurgevoel''' in the exhibition catalogue Nicolaes Berchem; In het licht van Italië, Haarlem 2007, pp. 39-55.
[4] Gerdien Wuestman, "Nicolaes Berchem in Print: Fluctuations in the Function and Significance of Reproductive Engraving," in Netherlands Quarterly for the History of Art 24, no. 1 (1996): 19–53, at 19.
[5] Hollstein XLI (1992), p. 8, no. 2, mentions that the Berchem grisaille, in mirror image to the print, is in the Musée de l'Hermitage, St. Petersburg, inv. 2037.
[6] Hollstein XLI (1992), pp. 8-9, ill. 1-4. For a series of four prints with the parts of the day by Dancker Danckerts after Berchem, see Jong, Luijten 1997, p. 346, ills. 3-6.
[7] Hollstein XLI (1992), p. 85, no. 118 and Exh. Cat. Haarlem 2007, pp. 129 and 157, no. P92. The drawing (28.3 x 38.5 cm. or 11 3/16 x 15 1/8 in.) in the Amsterdam Historisch Museum, collection Fodor, inv.no. TA 10126, is illustrated in Exh. Cat. Nicolaes Berchem; In het licht van Italië Haarlem 2007, pp. 106 and 148, no. T58; A. Stefes-Lincke, Nicolaes Pietersz. Berchem (1620-1683), Die Zeichnungen,Volume I-III, dissertation Bern 1997, II, pp. 144-145, III, no. II/94; and M. Schapelhouman, 'Twee tekeningen van Nicolaes Berchem' in: Oud Holland, 96 (1982), p. 123, fig. 2.
[8] A Delft plaque after the title print of 'Diversa Animalia Quadrupedia' in the collection of the Musées Royaux d'Art et d'Histoire in Brussels, inv. no. Ev.296, is illustrated in A.-M. Mariën-Dugardin, Tover van het Delfts aardewerk, Brussels 1971, p.14, no. 22. For the drawing, see Stefes-Lincke op. cit., III, no. II/93; and for the print, see Hollstein XLI (1992), p. 84, no. 117.
[9] Hollstein XXVII (1983), p. 185, no. 156, without illustration.
[10] M. Schuster, Johann Esaias Nilson: ein Kupferstecher des Süddeutschen Rokoko 1721- 1788, dissertation, Munich 1936, no. 95; Ducret 1973, p. 101, ill. 105.
[11] Hollstein XLI (1992): p. 8, no. 2; p. 74, no. 106; p. 73, no. 105.
[12] Gerdien Wuestman, De Hollandse schilderschool in prent: studies naar reproductiegrafiek in de tweede helft van de zeventiende eeuw, 1998, p. 81, no. 46, the print dated to circa 1734.