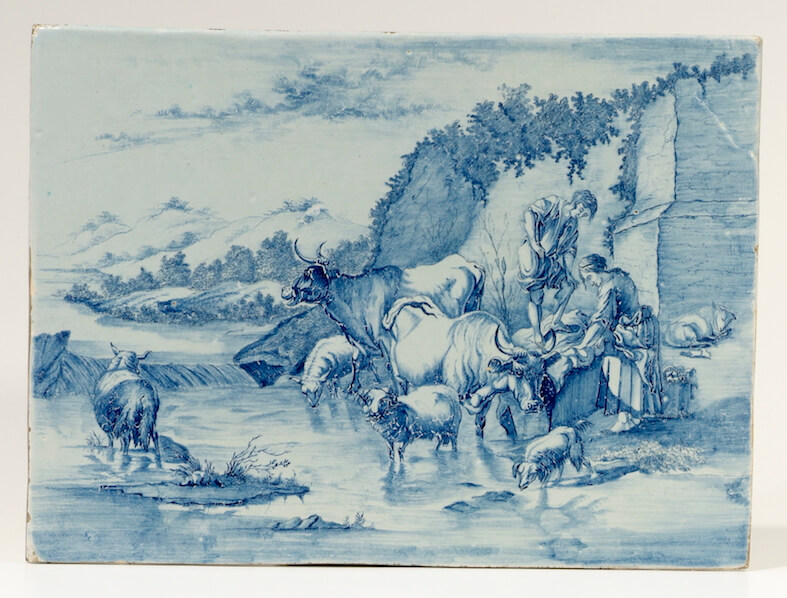 [popup_trigger id="13756″ tag="span"]

[/popup_trigger]
OBJECT
•D8209. Blue and White Large Rectangular Plaque
Delft, circa 1765
Painted with a washerwoman standing before a rock on which a youth stamps the water from a freshly washed cloth, beside them two cattle, three sheep and their dog wade near a low waterfall in a stream, another sheep recumbent behind them below an overgrown ruin in a hilly landscape; the reverse glazed.
Size: 34 x 46.5 cm. (13 3/8 x 18 5/16 in.)
Provenance: The Collection of Archibald Stirling of Keir, Scotland
Note: This plaque is painted after the print, 'Washerwoman Drying Clothes in the Sun' by Johannes Visscher (1633-after 1692) from a drawing by Nicolaes Berchem (1621/22-1683) dated 1657. The print is the second of four etchings from Visscher's famous series 'Diversa Animalia Quadrupedia,' which is considered one of the highlights of his oeuvre, due in part to the effective rendering of the light. With the plaque in mirror image to the Visscher print, it is possible that the Delft painter used for his direct source a print that had been copied from the Visscher original, for example that of Paulus van Somer II (circa 1649-circa 1694).