Princeton University is one of the oldest collecting institutions in the United States. The origins of the collection date nearly to the University's foundation in the eighteenth century. The collection initially began with a painting gifted from University patron, New Jersey Colonial Governor Jonathan Belcher. Other paintings and works of art followed but were destroyed due to battles in 1777 and a fire in 1802. These initial efforts set the tone for the institution's collecting over the next century and suggest an early commitment to teaching from original objects and using them as tools for accessing and understanding the wider world. Museum, teaching, and library operated as three interwoven strands. 
In addition to paintings, the museum also acquired objects such as a large selection of Cypriot pottery from the Metropolitan Museum's collection in 1890; Etruscan, Roman, and South Italian pottery; and objects from later periods. Later in the twentieth century other major gifts came to the museum, such as a collection of more than forty Italian paintings, a collection of more than five hundred snuff bottles, and also sculpture and photography.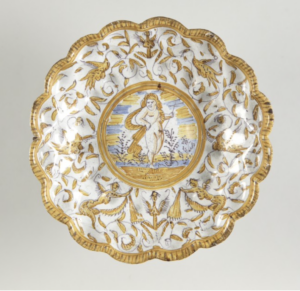 Today the Princeton University Art Museum is one of the nation's foremost art museums. The collections have greatly exceeded those of a study collection. Numbering more than 112,000 objects, the collections range chronologically from ancient to contemporary art and concentrate geographically on the Mediterranean regions, Western Europe, Asia, the United States, Latin America, and Africa.
The museum also houses Delftware, especially dishes and chargers. An interesting dish is a crespina, probably made in Haarlem around 1650. This type of decoration has traditionally been called 'Grotesques à la Patanazzi', referring to similar maiolica dishes made in Urbino circa 1515 by the Patanazzi family of potters. Similar crespinas with the cherub or putto figure at various pursuits within the same or similar decoration on the molded rim have been attributed to the workshop of Willem Jansz. Verstraeten.