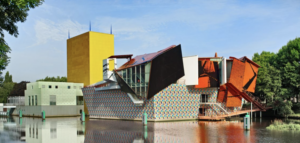 The Groninger Museum is a modern and contemporary art museum located in Groningen, the Netherlands. Founded in 1847 by Hendrikus Octavius Feith, the museum was originally called Museum van Germaanse Oudheden (Museum of Germanic Antiquities). From the start, the museum was affiliated with the University of Groninger. In fact, several other museums were connected to the university, including The Museum van Natuurlijke Historie (Museum of Natural History) and the collection for Mineralogy, Geology, Zoology and Zootomy.
During the twentieth century the museum expanded its collection with porcelain exported by the Dutch East India Company. The porcelain collection totals around nine thousand objects, making it a significant area of focus for the museum. The museum also owns a wide variety of Delftware including plaques, plates, garnitures and much more.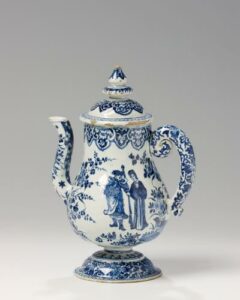 One highlight of the collection is a coffeepot with cover in blue and white with chinoiserie figures and floral decorations. The coffeepot is marked LVE for Lambertus van Eenhoorn, the owner of de Metaale Pot (The Metal Pot) factory. De Metaale Pot factory continually innovated their eclectic production of earthenware to create complex shapes and decorations. At the time of Lambertus van Eenhoorn's ownership, the craze for blue and white Wanli (1572-1620) and Kangxi (1662-1722) period porcelain was at its height. Numerous pieces designed by De Metaale Pot factory under Lambertus' ownership drew inspiration directly from the blue and white Chinese porcelain. The decorations on these wares often consisted of varied floral and landscape motifs, and occasionally included figural subjects.