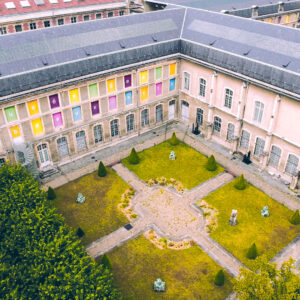 The Museum of Fine Arts in Reims, France opened its doors in the city's town hall in 1794. The foundation of the collection was donated in 1752 by Antoine Ferrand de Monthelon, the founder of the city's school of drawing. Many other artworks in the museum were among those seized during the French Revolution in 1789. The museum's first curator was Nicolas Bergeat, who guarded works of art annexed from the Catholic institutions in Reims.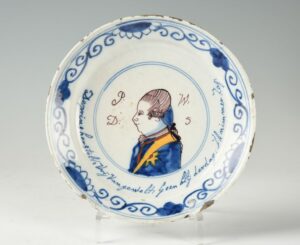 Over the years the collection grew and the town hall of Reims could no longer house all of the artworks. In 1908 the city purchased the former Abbey of Saint-Denis to house a portion of the collection. The abbey was first constructed during the 9th century under the direction of the Archbishop of Reims. The building served many other purposes before it was transformed into a museum, such as the French Directory's headquarters, barracks for Russian occupation troops in 1814 and 1815, and a grand seminary in 1822.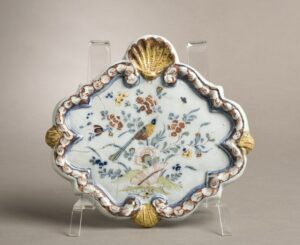 The Museum of Fine Arts has a vast collection of artworks that span five centuries of European and French art, from the Renaissance through the Art Deco, the Grand Siècle of the seventeenth century and Impressionism. There are over one hundred ceramic objects on display, including a considerable number of Delft earthenware. The wide variety of Delftware cannot be missed, from vases, dishes, plaques and jugs. 
One outstanding feature of the collection is a 'Persian Blue' Jug marked De Paauw (The Peacock) Factory. De Paauw (The Peacock) Factory is most renowned for its blue glazes. A beautiful example, already mentioned in an earlier newsletter, is a spice bowl with a blue glaze and white decoration. This unusual group of Delftware with blue grounds was inspired by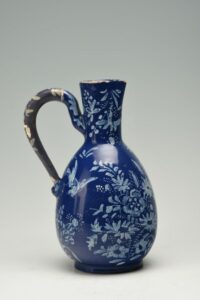 the blue and yellow ground ceramics from Nevers, France. Between 1660-1680, faience makers in Nevers produced wares with either an opaque yellow or blue glaze, covered with delicate lace-like decorations. Of course, this is the reason these beautiful blue earthenware pieces are also called 'Nevers bleu'.