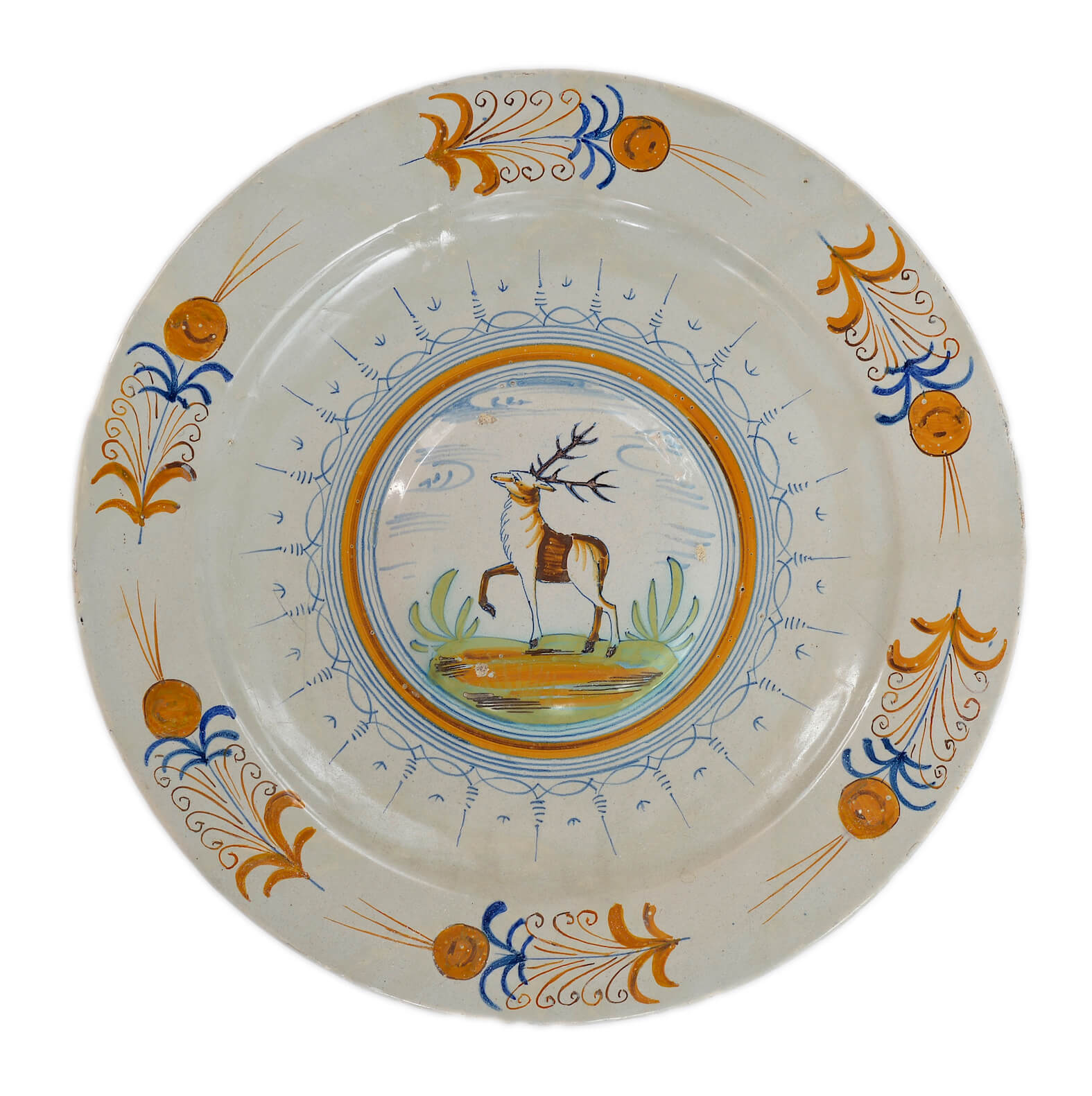 Majolica Polychrome Charger
Every month we present a special object from the Aronson Antiquairs' collection. This month we would like to show you this majolica polychrome charger, made around 1630  in the city of Haarlem.
In the sixteenth century, many potters from Antwerp migrated to the northern Netherlands and established themselves in various cities. By 1600, the city of Haarlem emerged as the leading majolica centre. Multiple inventories show that forty-five potters had settled there and the production of majolica increased proportionally. Although it is impossible to identify and attribute the work of the forty-five potters in Haarlem, there is one exception: the wares of Willem Jansz. Verstraeten, who is considered the most important potter in Haarlem during the second quarter of the seventeenth century.
Willem Jansz. Verstraeten was the son of the Antwerp merchant Jean de la Rue, who adopted the name Jan Verstraeten, and settled in Haarlem in 1590. His father sent him to Delft, where Willem worked as an assistant and later as manager of De Porceleyne Schotel (The Porcelain Dish) factory from 1613 onwards. The archives show that his salary was five guilders and ten pennies a week, a wage that was comparable with that of a master carpenter. In January 1625 Verstraeten and the factory owners applied for a patent for a method of pottery-making. The patent did not go through as planned, because Verstraeten established his own pottery in Haarlem in the same year. He bought three houses and received a piece of land from the city council on which his pottery was built. Verstraeten's factory was a significant venture, as it had two kilns, three mills and at least forty to fifty factory assistants. That he held a significant position can also be noted from his executive positions in the guild of St. Luke from 1638 and 1651.
A similar bowl, with a lion in a landscape, in the Frans Hals Museum, Haarlem (inv. no. oa 93-131) is attributed to Willem Jansz. Verstraeten. According to Biesboer, pp. 94-95, this attribution is based on the similarities between the shape and aigrette border decoration, which is characteristic for the workshop of Verstraeten.
Until about 1640 Verstraeten mainly produced faience of an exceptional quality. In reaction to the lavishly decorated majolica, Verstraeten's objects were given a creamy white, opaque tin glaze, with a sober decoration of aigrettes on the rim and a simple figural image painted in the center. Verstraeten introduced important technical innovations, which marked the end of the majolica production.
Majolica Polychrome Charger
Haarlem, circa 1630
Painted in blue, ochre, green and manganese in the center with a deer in a landscape within a roundel of an ochre band between concentric blue lines and stylized curves, the rim painted with six stylized aigrettes, the reverse lead-glazed.
Diameter: 33.2 cm. (13.1 in.)
Provenance: The R.J. Bois Collection, North-Holland