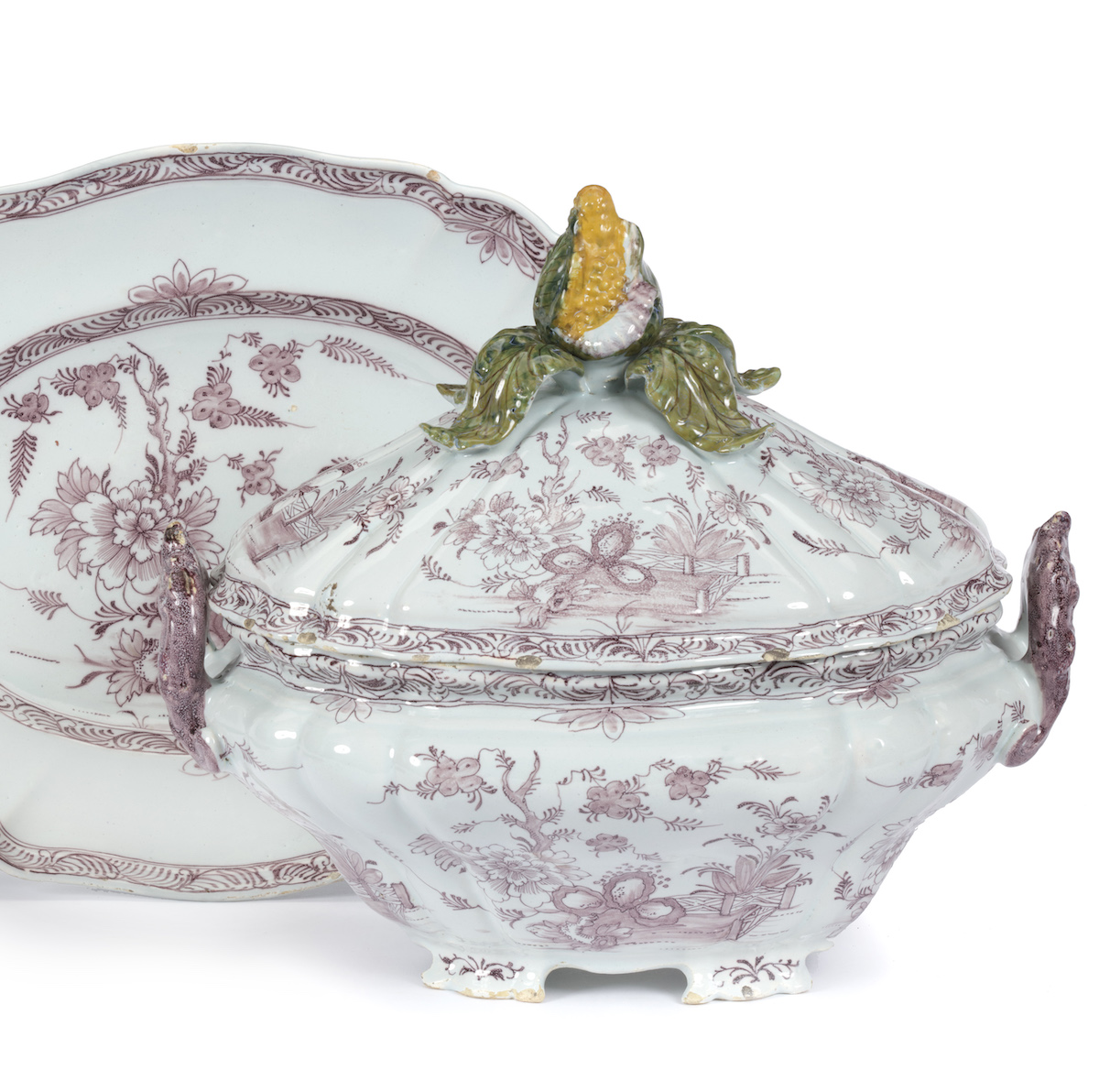 Every month we present you a special object from the Aronson Antiquairs' collection. This month, we would like to highlight this large, complete and special tureen from circa 1780.
During the seventeenth and eighteenth centuries fine dining was an exceedingly important social ritual, and the accompanying accessories were reflective of the owner's status. The well-laid table was the culmination of splendor. However, dining traditions changed during these centuries and the Delft potters quickly accommodated the new tastes of the nobility and the wealthy bourgeoisie for adorning their dining tables and even dining rooms.
Specialized dining rooms were built and accommodated new, large pieces of furniture, such as buffets and draw-leaf tables. Unlike the smaller and lightweight furniture that preceded, these new forms were heavy and were not easily moved throughout the home. Further, tablewares and decorative objects were designed to complement the new furniture. For example, the buffet served a dual function: it demonstrated one's wealth by displaying beautiful ornamental objects and it was used in the elaborate service of wine. The most beautiful buffets included sumptuous services including a monteith, wine cooler, cisterns and large tureens like the one highlighted this month.
Read more about the color on this tureen, manganese, in-depth-article from October 2023.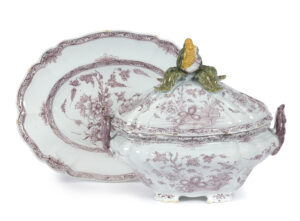 D2363
Large Polychrome Tureen, Cover and Stand
Delft, circa 1780
Marked with an axe in manganese for De Porceleyne Byl (The Porcelain Axe) factory
The front, reverse and sides of the bombé tureen and cover painted in manganese with a fenced garden scene with stylized rock work, flowering branches and shrubbery, two manganese-ground foliate loop handles, the cover surmounted by a knop formed as a yellow corn with green leaves, and the center of the stand with a similar fenced garden scene, encircled by two manganese foliate scrollwork bands.
Overall height: 30.5 cm. (12 in.) Length of stand: 37.4 cm. (14.7 in.)
SOLD
(*) export prices denoted with shipment by us outside of the European Union, price including packing and shipping, please contact us for details.