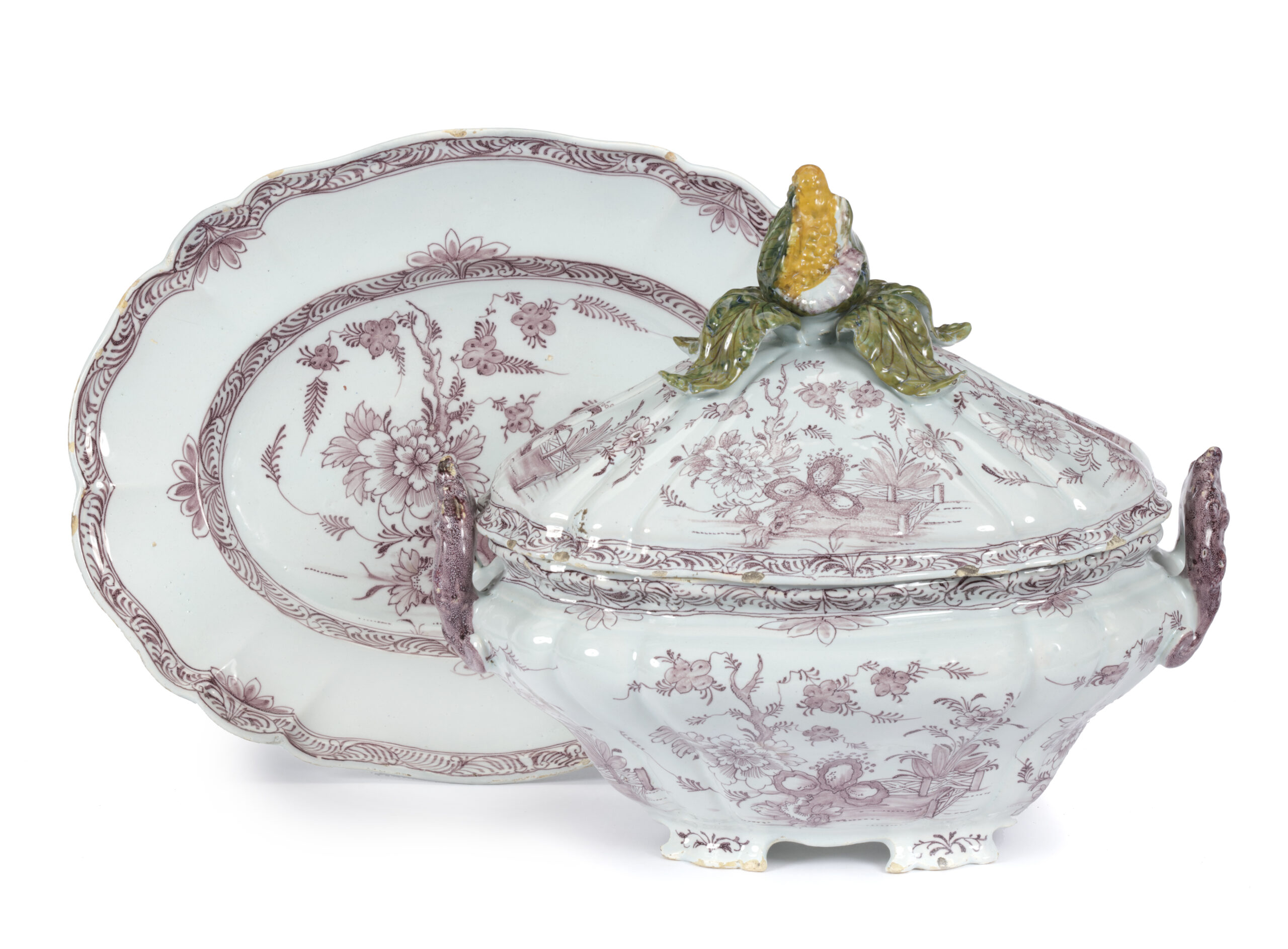 The Rise of 'Delft purple'
We recently acquired a very rare, large Delft tureen with cover and stand. The stand and body are decorated in monochrome manganese, and the cover with a green and ochre knop. Traditionally, research has favored the origins of Blue and White Delftware, Imari- and Cashmere palettes, White Delft and objects decorated with Petit-Feu colors. However, very little is known about the use of manganese to achieve the color purple on Delft ceramics despite the large amount of manganese-decorated objects produced in the Netherlands during the late seventeenth and eighteenth centuries. In Rotterdam and elsewhere, tiles decorated in manganese purple enjoyed great success. Delft pottery producers similarly employed a monochrome manganese palette for their fashionable wares. In this article we dive into the rise of 'Delft purple'.
The history of the use of manganese
Manganese dioxide was used as a pigment for cave paintings as early as 17,000 years ago. Two black minerals have been discovered in the region of the Magnetes, an area known as Magnesia previously in Greece, and today known as Magnesia ad Sipylum in Turkey. The minerals were both called 'magnes'  from their place of origin, but they were considered to differ in sex. The female magnes was later called magnesia, and now is known as pyrolusite, or manganese dioxide. The male component of magnes attracted iron. This iron ore is now known as lodestone or magnetite. The female magnes ore did not attract iron and was used to (de)colorize glass by the Romans and Egyptians. In Greece the Spartans used manganese in alloy with iron for a better malleability which eased the production of iron implements. Still today, manganese is a very important element for the production of iron and stainless steel.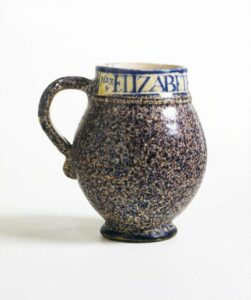 As for ceramics, manganese is a colorant used to achieve black, brown and purple. It was used by pre-Columbian civilizations, such as the Mayans and early cultures in the Middle East to decorate pre- and early Islamic ceramics. It is also found on Hispano-Moresque pottery, which subsequently inspired majolica. It is thus no surprise that manganese is one of the five elementary colors on majolica. 
Sources of inspiration
The influence of Chinese porcelain on Delftware is irrefutable. It inspired the immensely popular blue and white Delftware, Imari, Cashmere and objects decorated with Petit Feu colors. However, no group of Asian examples is known to have inspired the rise of 'Delft Purple'. 
With ceramics being produced in many places surrounding the Netherlands, the source, or sources of inspiration, would have been more likely European or even simply Dutch. There were two different groups of manganese, or partly manganese ceramics made in the sixteenth and early seventeenth century that are interesting to highlight: manganese sprinkled wares and Portuguese faience. 
Sprinkled wares were made to imitate German salt-glazed stoneware, which were popular during the sixteenth and seventeenth century. A specific, but small group known as the 'Malling group' is one particular example. The Malling group includes a small range of vessels with a distinctive sprinkled monochrome blue or manganese decoration from circa 1550. The term 'Malling' originates from the discovery of similar jugs at or near the West Malling Church in Kent, England. One vessel was used as an altar piece and two jugs were recorded in the area surrounding the church. The jugs are generally considered to be English, and may even be the earliest form of English Delftware. Nowadays, however, scholars have considered a Dutch origin. The collection of The British Museum contains a manganese sprinkled jug with a London assayed, silver mount dated 1549-1550. The jug itself was made in Antwerp. Another silver-mounted jug is part of the collection of the Fitzwilliam Museum and described as made in the Netherlands. The sprinkling technique spread and later examples can be found. A Southwark sprinkled mug, with the inscription '1628 ELIZABETH BROCKLEHURST' in the collection of the Victoria and Albert Museum collection is a fine example of English sprinkled ware of a later date. This sprinkling technique could be related to the popularity of the color manganese in Delft. The possible connection can be substantiated as follows.
Majolica was the source of business for many of the Delft potters before they switched to the refined and new blue and white Delft faience, therefore Delft potters must have already been familiar with the use of manganese. Archival material from the Delft factory the Porceleyne Lampetkan (Porcelain Ewer) mentions purple as 'kleine kleur' (small color) in combination with green, yellow and red in a document from 1657. Around the 1640s however, the first Dutch tiles were made with a complete or at least substantial manganese sprinkled surface. An example can be found in the so-called 'gesprenkelde zesster' (sprinkled six star). Production must have been very modest, given the small number of remnants of purple tiles from this period. The sprinkled purple fashion further developed around 1660 when tiles with a (partly) sprinkled purple decor became part of the regular assortment, especially in Rotterdam. At first, there was a clear preference for sprinkled decorations. By the turn of the century, production of manganese colored tiles in numerous styles took off. This was earlier than the popularity of 'Delft purple' objects, which occurred in larger numbers in the period after 1750. In the second half of the eighteenth century, the production of tiles with a manganese decoration even surpassed that of blue and white tiles. While the production of manganese purple Delft faience never dominated, it did secure a distinct place in the assortment.
There are several examples of early tile production by Delft factories. The Delft factory known as 'De Romeyn' (The Roman) produced tiles as early as 1608. An act from the same year mentions that Cornelis Rochusz, owner of 'De Romeyn' at that time, had sold 44 tiles to the city of Delft. There is also evidence of tile production in the Delft potteries 'De Ham' (The Ham) and 'De Witte Ster' (The White Star). There was also a coproduction of tiles and faience in areas outside of Delft. There are multiple examples from Rotterdam, which had one of the most significant tile industries in the Netherlands. The faience made in tile companies is mentioned as an independent side product and is called 'tegelbakkersfaience' (tile makers faience) by Jan Daan van Dam. The physical proximity of both industries make it plausible, or at least attractive to assume, that there must have been a direct influence from the tile industry that laid the foundation for further development of the use of manganese. The possible advantages offered by the use of manganese on tiles could have easily been applied to faience, due to the great similarities in the production process. This assumption is confirmed when looking at the remains of the production of various companies from Rotterdam that made both tiles and 'tegelbakkersfaience'. Sprinkled lobbed dishes, that have the same decorations as tiles, were made as early as 1660. The cross-pollination of techniques between Delft and Rotterdam, was certainly enhanced by the close contact between entrepreneurs in the tile- and faience business in both cities. It is a field that deserves more research.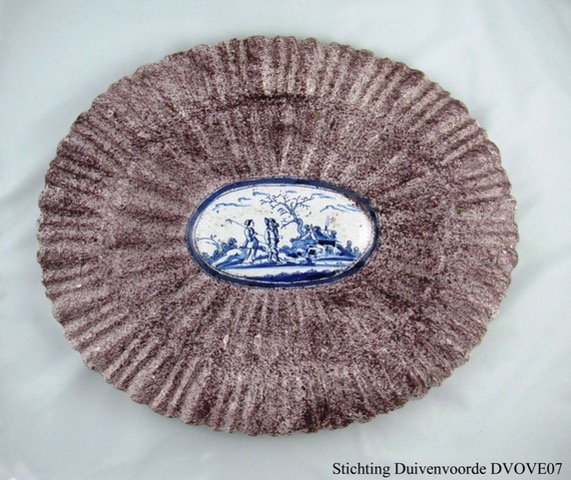 Another group of faience to look at more closely in this context is one from Portugal. Chinese porcelain was traded in Portugal starting in the sixteenth century. The trade influenced decoration from the beginning, resulting in Portuguese chinoiserie faience. Portuguese faience has been imported to the Netherlands since the 1620s. Based on archeological finds, the import was concentrated around Dutch coastal cities, suggesting a robust overseas trading network. Dutch merchants were in regular contact with the Portuguese. So-called 'zouthaalders' (salt collectors), for example, collected salt from the Portuguese harbor city Setúbal. In addition to salt, Dutch merchants brought back all kinds of Portuguese products on their long journey home. The inclusion of ceramics is proven by archaeological finds of Portuguese faience in several Dutch harbor cities such as Amsterdam, Rotterdam, Hoorn and Enkhuizen. A Portuguese dish dated 1660, decorated with blue and manganese purple, is a good example of this interaction. The Portuguese faience that has been found in the Netherlands is relatively modest in quantity, but it still deserves attention. For example, the first Dutch attempts to copy Chinese porcelain are closely related to their Portuguese counterparts. A connection between the somewhat later blue and manganese Portuguese faience and a similarly decorated group of Delftware therefore seems very likely.
Decorations in blue and manganese regularly appear in Portugal since circa 1650. This was earlier than the first Delft faience with this type of decoration. Objects painted in blue and manganese, or with a so-called 'paarse trek' (purple outlines) are seen by the 1670s in the Netherlands. A nice example is a dish, formerly in the Aronson collection, marked SVE for Samuel van Eenhoorn, owner of the Griekse A factory from 1678-1685. According to Ressing and Van Dam, the dish was possibly an imitation of underglaze red Ming wares. Since this type of Chinese porcelain must have been a rarity in the Netherlands, it is much more likely that Dutch potters were inspired by the Portuguese manganese-blue wares. It resembles, although of much finer quality, the earlier Portuguese group quite closely.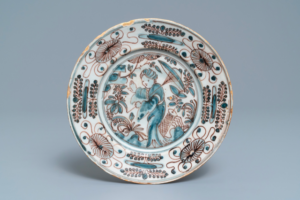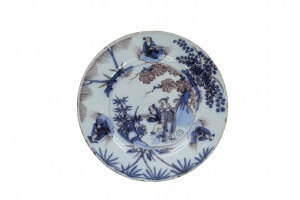 The urge for innovation
There were multiple factors involved in the rise of 'Delft purple'. The production of the traditional Delft Blue and White wares was undoubtedly an economical choice given the large market for it. After a period of civil unrest in China halted importation from 1620-1683, the market was once again flooded with Chinese porcelain. This impacted Delft potters, as Chinese porcelain was now cheaper and more readily available than before. The demand for Delftware further decreased due to the importation of the harder and cheaper English creamware and elegant German porcelain. In addition, France, the Southern Netherlands and especially England began to protect their own growing pottery industries, which caused a decline of the Delftware export market. This increased the competition between Delftware companies throughout the eighteenth century. Price fixing and a compulsory winter closure had to counteract price competition and overproduction. Innovation was crucial for the survival of the Delft factories.
Delft potteries innovated with reduced costs and tapping into possible new markets. Another theory that still needs further research is the use of manganese by Delft potters as a source of new income. Based on one source, the price of manganese was much lower than that of cobalt. A valuation of materials, found in the archives of 'De Porceleyne Schotel' (Porcelain Ewer) dating from 1647, shows the significant difference in costs between manganese and cobalt: 656 pounds of 'paers' (purple) were acquired for f7-10st per 100 'huisgewicht' (house weight) against f.30 per 100 'huisgewicht' for cobalt.  Even 'fijn wit', what must refer to the basic ingredient to create tin-glaze was calculated at f27, which was much more than the price for 'purple'.
The tile industry also greatly profited from the export business and changed with shifting styles. Many tiles, both blue and white and manganese have been used in all parts of the world, from Europe to North America, The Middle East and Asia. In the last quarter of the eighteenth century, a change in taste occurred with the Louis XVI style, named for the French King Louis the XVI. Pastel colors predominated, allowing the soft manganese to seamlessly blend with the new interiors. It is likely that this stylistic shift created greater interest in the purple-colored faience. Manganese was also increasingly used elsewhere in Europe for decoration on ceramics, particularly in German porcelain, as well as ceramics made in Scandinavia, France and Britain.
'Delft purple' is an important group within the oeuvre left behind by the Delft pottery factories. Based on this exploratory research, we can cautiously conclude that the rise of monochrome Delft pottery was caused by the use of manganese in the tile industry in the seventeenth century, which in turn was influenced by manganese-blue Portuguese faience. The production of monochrome purple was revived by the need for cheaper production methods from the first half of the eighteenth century, later reinforced by a change in taste in the last quarter of the eighteenth century.
Further research into the availability and costs of manganese-containing raw materials, as well as an examination of the demand side, will hopefully provide more insights into the rise of the use of 'Delft purple.'
Footnotes
1)  Edwin Atlee Barber, Ph, 'Hispano-Moresque Pottery in the collection of the Hispanic Society of America' p. 277
(2) British Museum, Inventory number AF.3137: https://www.britishmuseum.org/collection/object/H_AF-3137
(3)   Fitzwilliam Museum, inventory number 71888: https://data.fitzmuseum.cam.ac.uk/id/object/71888
(4)  Victoria and Albert Museum, inventory number C.271-1918: https://collections.vam.ac.uk/item/O8076/mug-unknown/
(5)   Hoekstra-Klein, part 11, p.57
(6)   Pluis, 2013, p.273, ill. A.01.20.07
(7)   Jager, de I, 2009, p.19 and p.95
(8)   Hoekstra-Klein, part 13, p. 42
(9)   Dam, J.D van, in Jager, I de, 2009 p.148
(10) Dam, J.D. van p.148
(11) Jaspers and S. Ostkamp, 2014, p.15
(12) Archeologie in West-Friesland 12
(13) Exhibited in the Amsterdam Museum from December 1987 until February 1988 and mention in Salinas Calado, e Baart, pp.90-91
(14) Jaspers & Ostkamp, 2014, p.18
(15) Historical Archeology 33, p.62
(16) Ressing and Van Dam, 'Vormen uit Vuur', 2002/3, p.32
(17) Lahaussois, 2008, p.32
(18) Bergvelt, 2002, p. 153
(19) Aken-Fehmers, M.S., L.A. Schledorn, 1999, p. 38
(20) Aken-Fehmers, M.S., L.A. Schledorn, 1999, p. 38
(21) Hoekstra-Klein, part 18, 2011, p. 76.
(22) f. refers to florijn meaning a guilder and 'st'. to stuiver, being 1/20 of a guilder.
Bibliography
Aken-Fehmers, M.S. van, L.A. Schledorn, A.- G. Hesselink, T.M. Eliëns, Delfts aardewerk. Geschiedenis van een nationaal product, Volume II, Zwolle/Den Haag (Gemeentemuseum) 1999
Archeologie in West-Friesland 12. Gemeente Hoorn. Portugese pracht uit de Westfriese Gouden Eeuw, 2014
Bergvelt, Jonker, Wiechman (red.), Schatten in Delft. Burgers verzamelen 1600-1750, Zwolle/Delft (Stedelijk Museum Het Prinsenhof) 2002
Dam, J.D. van, 'Tegelbakkersfaience' in Ingrid de Jager, Nora Schadee (Red), Tegels uit Rotterdam 1609-1866′, Uitgeverij Aprilis, Historisch Museum Rotterdam, 2009
Hoekstra-Klein, Wik, 'Geschiedenis van de Delftse Plateelbakkerijen', deel 11, Projectgroep Delfts Aardewerk, Stedelijk Museum Het Prinsenhof Delft, 2005
Hoekstra-Klein, Wik, 'Geschiedenis van de Delftse Plateelbakkerijen', deel 13, Projectgroep Delfts Aardewerk, Stedelijk Museum Het Prinsenhof Delft, 2007
Hoekstra-Klein, Wik, 'Geschiedenis van de Delftse Plateelbakkerijen', deel 18, Projectgroep Delfts 
Aardewerk, Stedelijk Museum Het Prinsenhof Delft, 2011
Jager Ingrid de, Nora Schadee (Red), Tegels uit Rotterdam 1609-1866′, Uitgeverij Aprilis, Historisch Museum Rotterdam, 2009
Jaspers N.L. and S. Ostkamp, 'De opkomst en neergang van Portuguese import' in Vormen uit Vuur 226, 2014/3
Lahaussois, Christine, 'Delfts Aardewerk', Mercatorfonds, Brussel en Amsterdam, 2008
Pluis, Jan, 'De Nederlandse Tegel', Primavera Pers, Leiden, 2013
Salinas Calado, Rafael e Jan Baart, Faiança Portuguesa 1600-1660, Lisboa, Amsterdão, SSP, 1987