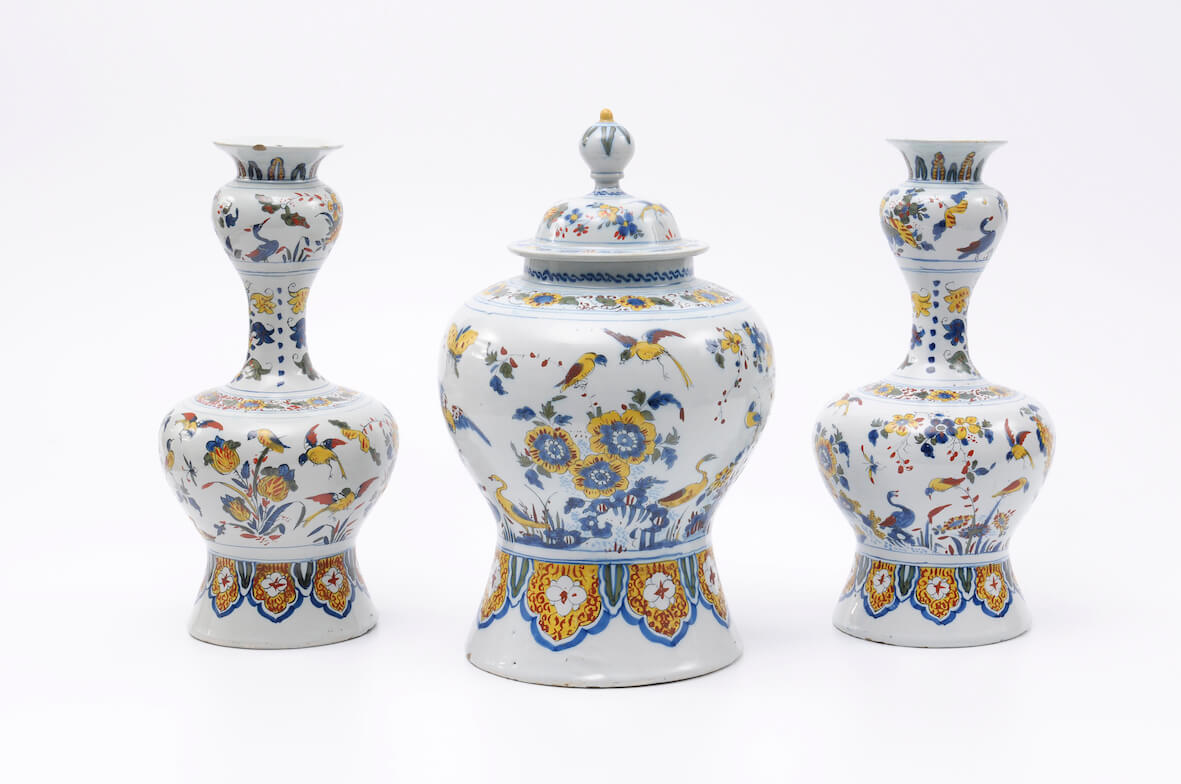 Garniture of Three Polychrome Vases and One Cover
Every month we present a special object from the Aronson Antiquairs' collection. This month we would like to show you this polychrome three-piece garniture that demonstrates the use of cold-painted bright red. It was made around 1700 by De Paauw (The Peacock) Factory in the city of Delft. Although many factories used cold painted decoration, De Paauw Factory is famous for its beautiful color schemes that are enhanced by the use of red. All pieces of the garniture, consisting of three vases and a cover are marked "D Pauw" for De Paauw factory.
De Paauw Factory was founded in 1651, and it was located west of the Koornmarkt and stretched to the east side of the Oude Delft. As M.S. van Aken-Fehmers states, the original building was marked with the year '1651,' and a peacock painted in blue and black. The symbol became a trademark for the factory and was repeatedly used as a decorative motif on objects. When the factory first opened, it operated with only one oven. By 1729 and again in 1740, two ovens were mentioned in the sales contracts, a testament to the factory's growth and success over the years.[1]

De Paauw went through numerous owners during its Golden Age of production during the seventeenth and eighteenth centuries. The factory's first owner was Dirck Hieronimus van Kessel, who appointed his son in law, Claes Jansz Messchaert as shopkeeper in 1652. Ten years later, Van Kessel sold the factory partly to Ghijsbrecht Lamprechtsz Cruyck and Willem Cleffius. In the 1670s, Petronella van Dissel managed the factory and eventually purchased the entire company on June 24, 1680. Van Dissel ran the factory for twenty years. Although it has not yet been proved, pieces created under her management may be identified by the D added to the PAUW mark. The three-piece garniture in our collection bears these marks, placing the set between 1680 and 1700. In 1701 van Dissel sold the factory to a well-known figure in the Delftware industry: Gerrit Pietersz Kam.[2] He managed De Paauw until his death in 1705, after which his son David Kam led the factory for the next fifteen years. After his death, the factory was managed by Kam's widow Margaretha Kam-Oversloot until she passed in 1725. Then, the factory, warehouse, woodshed and pottery washing plant were sold, marking the end of the prosperous period of Kam ownership.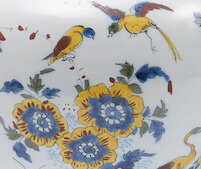 De Paauw factory was responsible for a number of Delftware design innovations. In a 1725 inventory of the factory shop, a wide variety of sizes, colors and models of the goods and ready-to-sell Delftware were described in great detail. Although many of the shapes and types of Delftware align with contemporary trends at other factories, the hexagonal garniture shape stands out. The model was most likely introduced by De Paauw factory.[3] The factory was also renowned for its unusual color schemes. The craftsmen created objects with dark blue grounds, the so-called Bleu Persan. On these intense blue grounds, decorations were applied in either white, or yellow and green. It was a true challenge to fire these pieces, since it was hard to keep the glazes stable and prevent the decorations from running. Also, the decoration could easily "sink" and disappear in the blue ground when the glazes became liquid during the heating.[4] Furthermore De Paauw is known for its cold painted red details, although they are very rare to discover.
Notes
[1]  M.S. van Aken-Fehmers, Delfts aardewerk, Geschiedenis van een Nationaal Product, Vol. 2, Gemeentemuseum The Hague, Zwolle, 2001, p. 159.
[2] From 1668 onwards, Gerrit Pietersz Kam owned half of the Drie Posteleyne Astonne (Three Ash Barrels) Factory, until in 1679 he could buy also the other half of the company of the heirs of Wouter van Eenhoorn. Twenty-one years later Gerrit Pietsz. Kam passed the Drie Posteleyne Astonne on to his son Pieter Gerritsz. Kam. Maybe he was afraid he might grow bored, since he purchased De Paauw Factory right after.
[3] M.S. van Aken-Fehmers, Delfts aardewerk, Geschiedenis van een Nationaal Product, Vol. 2, Gemeentemuseum The Hague, Zwolle, 2001, p. 162.
[4] J.D. van Dam, Delffse Porceleyne: Dutch Delftware 1620-1850, Rijksmuseum Amsterdam, Zwolle, 2004, p. 118-119
Garniture of Three Polychrome Vases and One Cover
Delft, circa 1700
Each piece marked D Pauw for De Paauw (The Peacock) Factory.
Comprising a baluster-form vase and cover and two baluster-form bottles with knopped necks; each piece vividly painted with a variety of birds and insects flying, perched and walking amidst lush flowering plants beneath a flowering vine border encircling the shoulder, the knops on the bottle necks with similar bird, insect and floral decoration above two stylized flowering plants alternating with vertical rows of blue dots on the tall flaring cylindrical necks and beneath bands of stiff leaf tips on the flaring rim, the lower body of each vase with a border of blue-edged yellow-ground lappets patterned with scrollwork and blossoms and alternating with blue and green stiff leaves, and the cover with a ball knop decorated with green stiff leaves around a yellow finial, and encircled on the rim with stylized flowerheads and scrolls.
Heights: 40 and 37.4 cm. (15 3/4 and 14 3/4 in.)
Provenance: The collection of Dr. F. H. Fentener van Vlissingen (1882-1962), Utrecht, and thence by family descent.