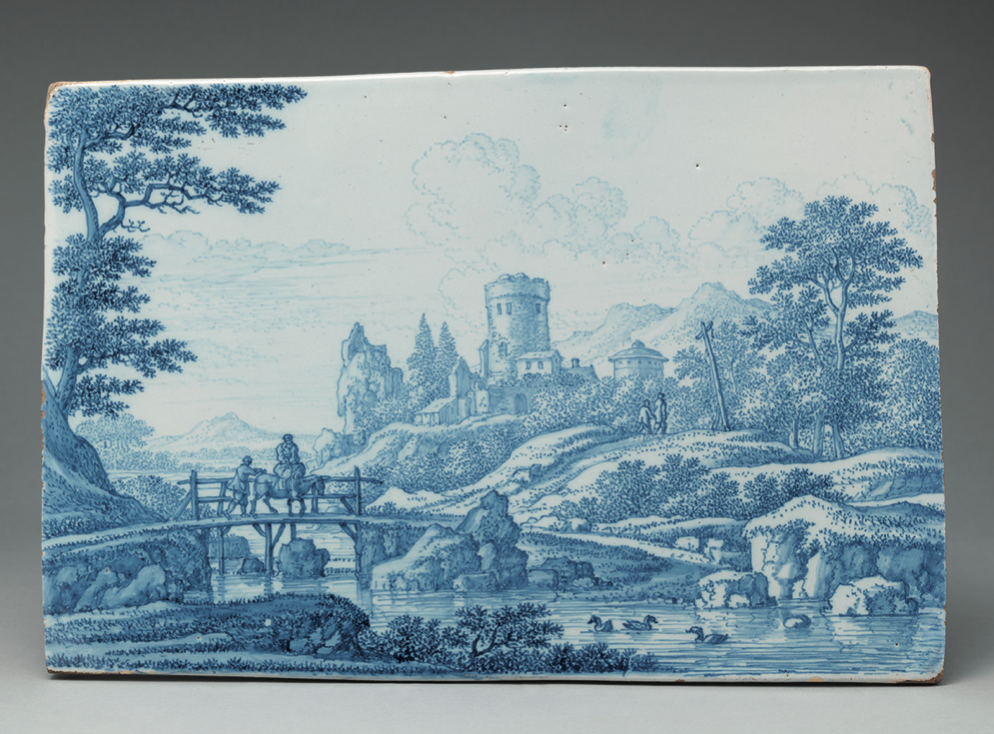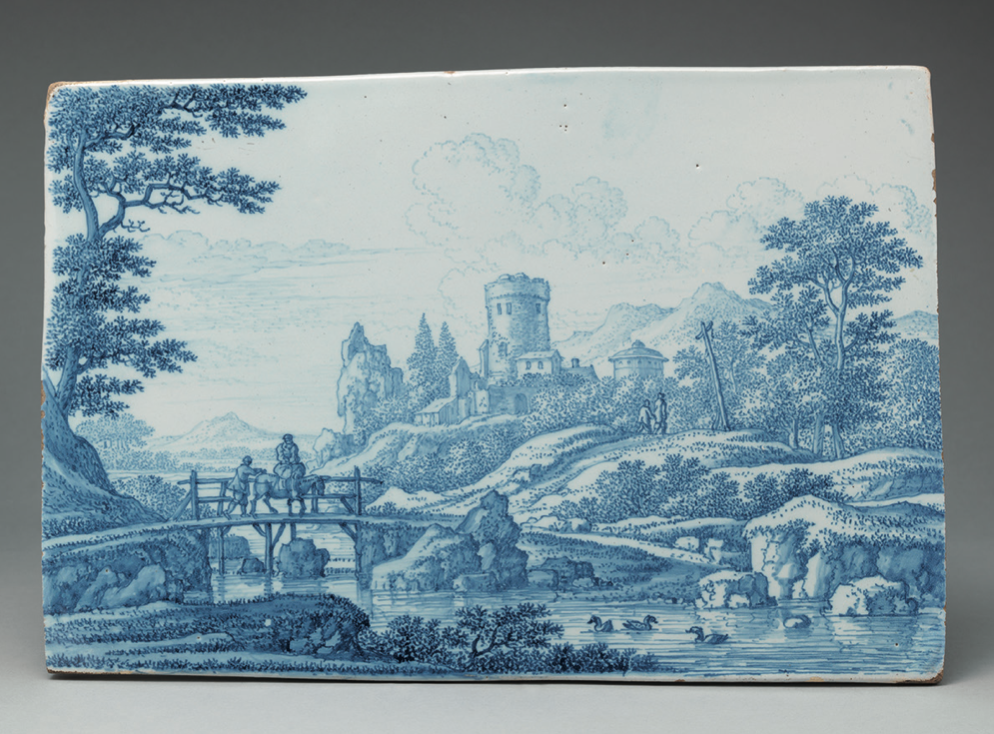 Working from Home; Two Landscape Plaques Attributed to Frederik van Frytom
In 1950 The Metropolitan Museum of Art received two earthenware plaques from R. Thornton Wilson (1886- 1977). These pieces were part of an important gift of European porcelain and faience collected by the donor specifically for the Museum. In fact, some of the best examples of Dutch Delftware in the Met's holdings came from the Wilson collection.
Frederik van Frytom (ca. 1632-1702) is known for his picturesque landscape scenes. Closely related to signed work, the Met's plaques are attributed to this artist who is generally considered to be one of the most accomplished faience painters in Delft. Information about the life and work of Van Frytom is still largely based on the 1968 monograph by A. Vecht who clearly admired the painter's work. The author pronouncedhim an artist who had "mastered his craft to perfection."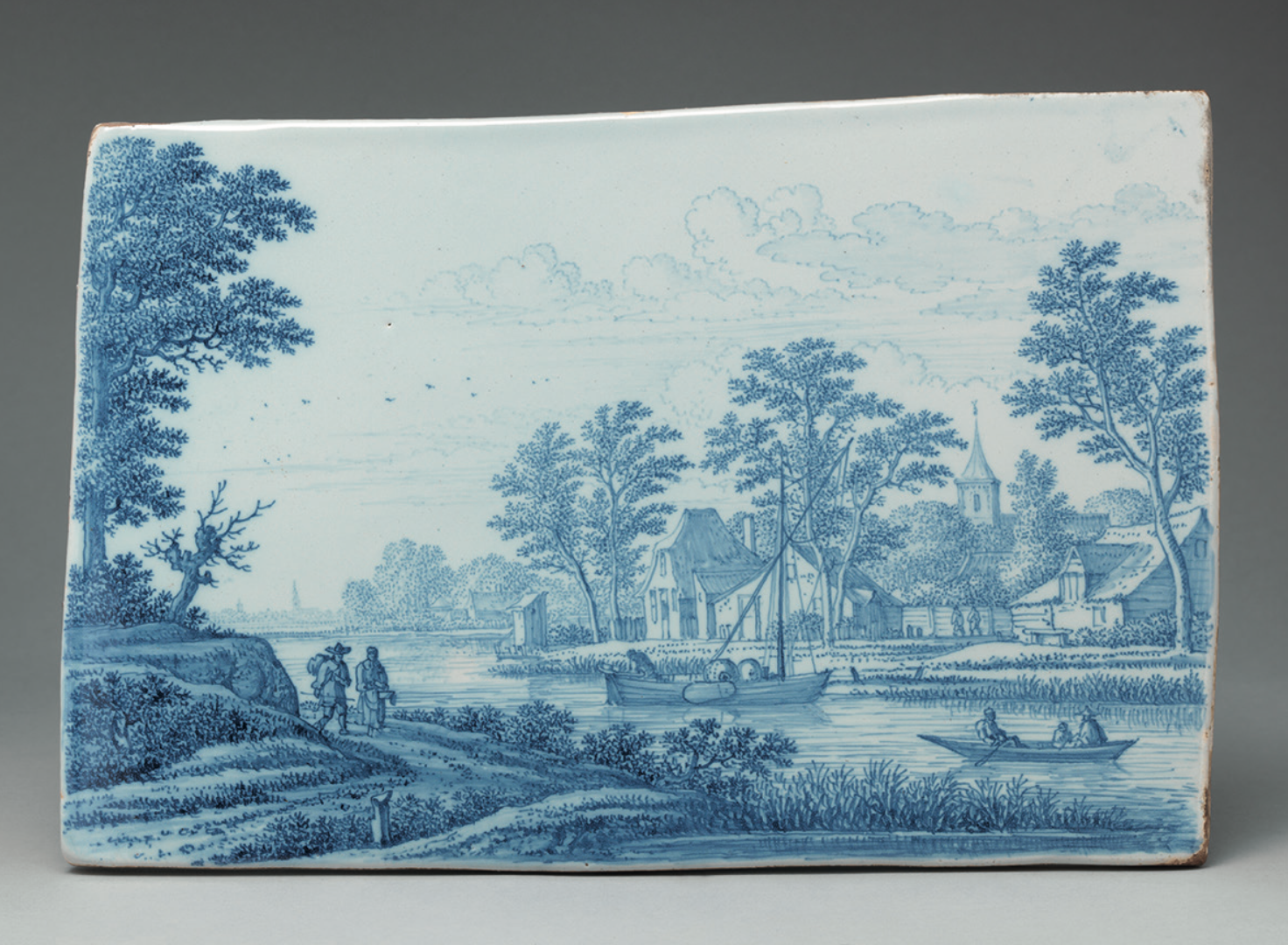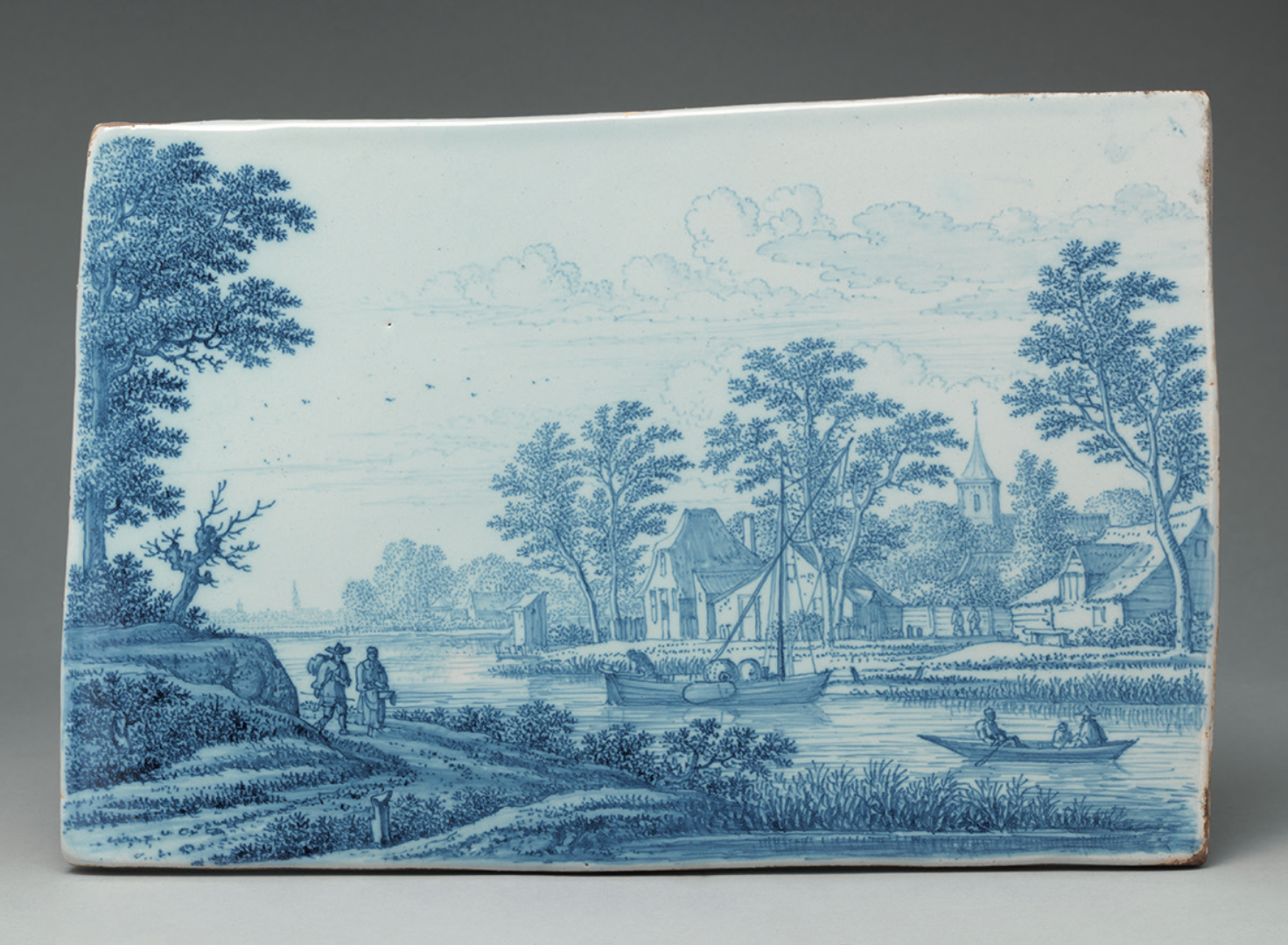 Although trained as a painter, Van Frytom's name is not listed in the registers of the Guild of St. Luke. He appears to have worked as a so- called "hausmaler" or a freelance decorator; not uncommon in the Low Countries and Central Europe at the time. In Vecht's words: "the creative activity of an artist as Frederik van Frytom calls for silent contemplation and a perfectly controlled concentration… for which a quiet environment … is indispensable." Given his large family (his wife Lijntge Stevens bore him thirteen children) one might well wonder how much peace Frytom enjoyed while working from home (a concept with new connotations these days).
One of the Met's plaques depicts a Dutch landscape which has been tentatively identified as a view of Kethel (now part of Schiedam). Given its vicinity to Delft, in fact the city's church towers are visible in the distance, Van Frytom could easily have sketched this location from life. Even though some pictorial liberty was taken, the artist followed in the Dutch tradition of topographical views such as the Plaisante Plaetsen by Claes Jansz Visscher (1587-1652). Described as an imaginary or Italianate landscape, the second plaque is very different. Not known to have ever left the country, Van Frytom may have derived inspiration for this scene from work by artists who traveled to Italy, suchas the popular compositions by Nicolaes Berchem (1620- 1683). Although called a faience painter, Van Frytom's technique was more akin to that of a draftsman as evidenced by the fine stippling in different shades of blue, the atmospheric clouds, the finely rendered trees and the reflections of light on the water.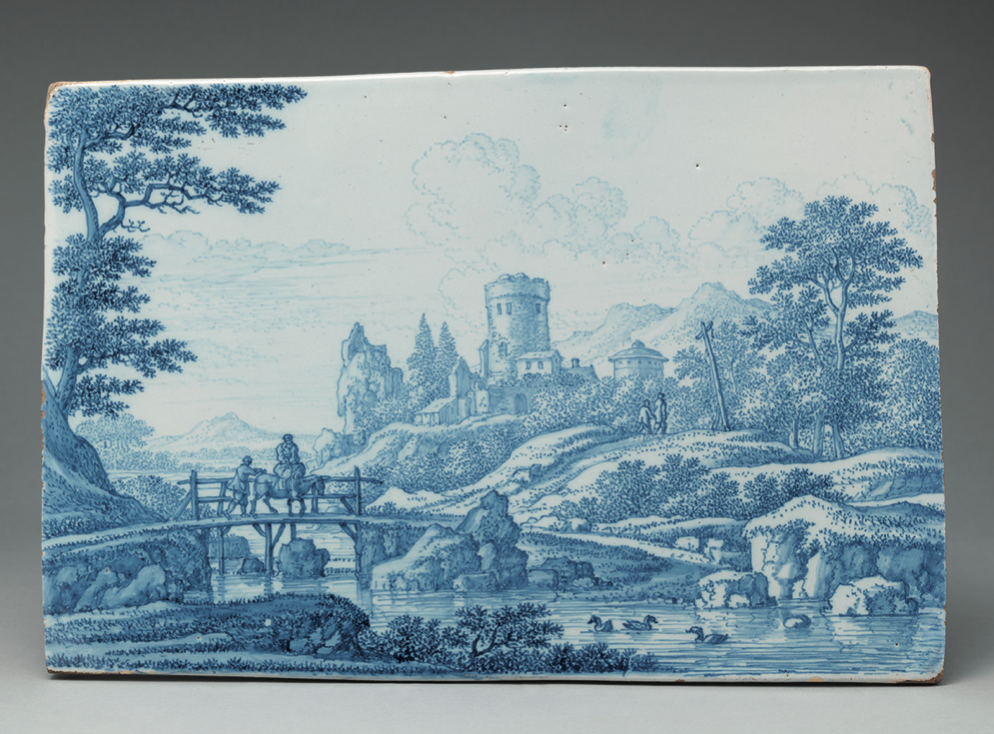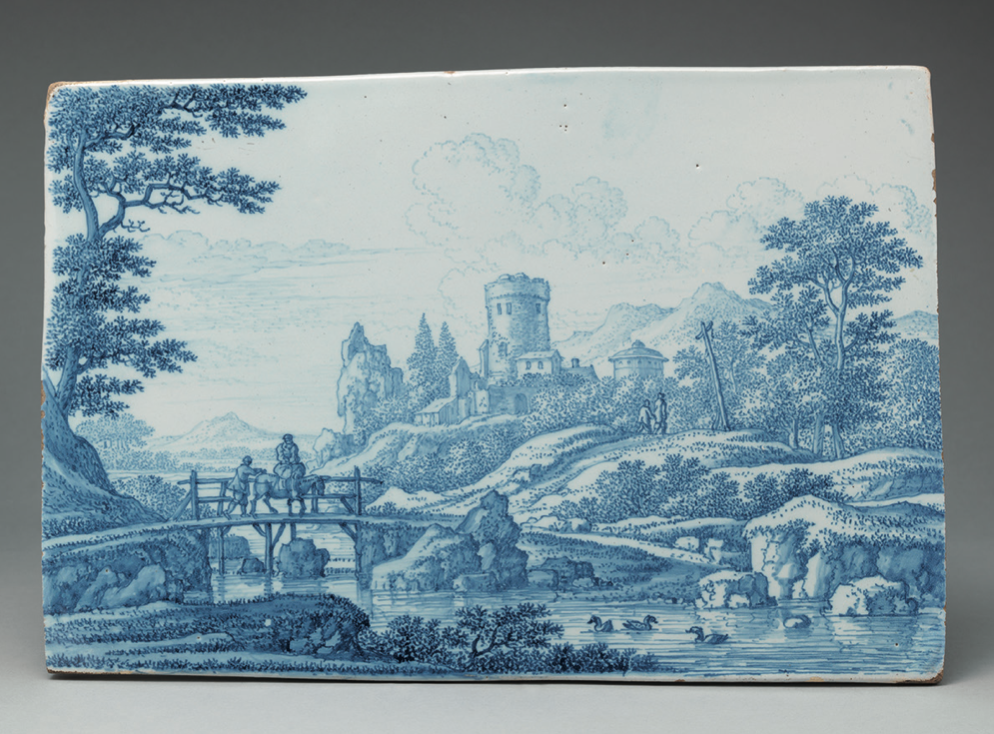 Intended to be framed and hung on the wall like paintings, the plaques are similar in size and have long been considered to be a pair. They were part of the possessions of Alexander Freiherr von Minutoli (1806- 1887). Initially on display in the owner's Liegnitz apartment, Minutoli's collection was opened to the public in 1844. Serving as models for craftsmen and manufacturers, his holdings constituted Europe's first decorative arts museum. Subsequently on view at the local castle, parts of the Minutoli collection were photographed by Ludwig Belitski (1830-1902) and published in multiple albums. Not included in the 1855 volume devoted to ceramics, the landscapes were sold twenty years later without attribution and acquired by Heinrich Vieweg (1826-1890), a Brunswick publisher and collector of Old Masters. His artworks were auctioned in 1930 when the plaques were identified as the work of Van Frytom. Eventually purchased by Wilson whose ceramics collection was praised for its exceptional quality, these Delft plaques illustrate beautifully that exquisite landscapes were not rendered exclusively on paper or canvas.
Text by
Mrs. Daniëlle Kisluk-Grosheide
Henry R. Kravis Curator Department of European Sculpture and Decorative Arts The Metropolitan Museum of Art, New York
Bibliography
A. Vecht, Frederik van Frytom 1632-1702; Life and Work of a Delft Pottery Decorator (Amsterdam: Scheltema & Holkema, 1968)
A.A. Olsthoorn, "Frederik van Frytom, schilder en tekenaar," Jaarverslag Historische Vereniging Oud-Schipluiden (1997-1998), pp. 27-30.
Robert D. Aronson, Celine Ariaans, Delftware: Frederik van Frijtom Master Ceramics Painter (Amsterdam, 2017)
Margret Dorothea Minkels, Alexander von Minutoli, der Gründer des 1. Kunstgewerbemuseums der Welt (1844), (Norderstedt: BoD-Books on Demand, 2018)
Boudewijn Bakker, "The Netherlands Drawn from Life: An Introduction," Journal of Historians of Netherlandish Art 10:2 (Summer 2018), pp. 1-29.
Catalog der Sammlungen von Meisterwerken der Industrie und Kunst zusammengebracht durch Herrn Freiherrn Dr. Alexander von Minutoli, Cologne, J.M. Heberle, October 25, 1875, lots 707-708.
Sammlung Vieweg Braunschweig, Rudolphe Lepke's Kunst Auctions-Haus, Berlin, March 18, 1930, lots 176-177.