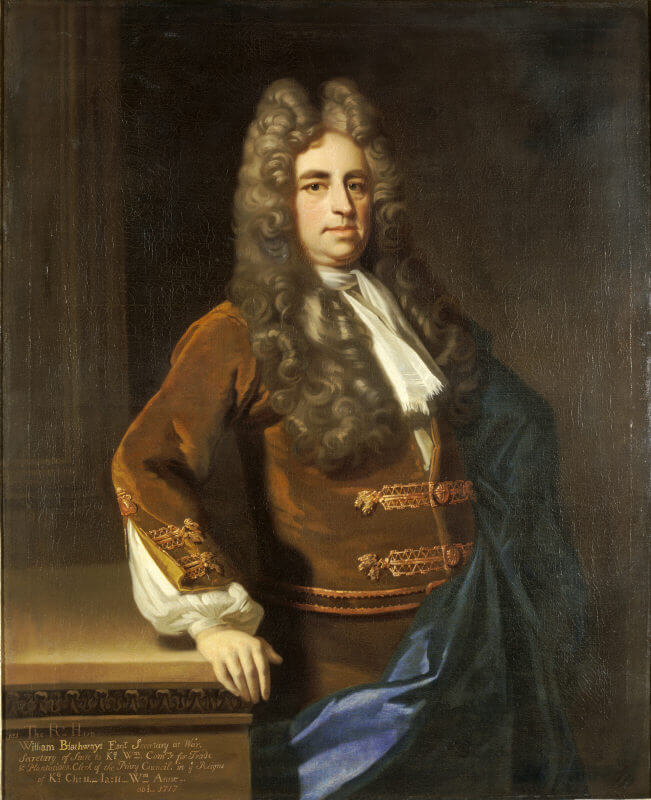 In the seventeenth and eighteenth centuries Delftware was not only sold in the Netherlands, but was also exported to the surrounding countries. At the end of the seventeenth century, England was a major buyer of Delftware despite the embargo placed on Dutch Delftware imports in 1672 to support the country's own ceramic production. However, the embargo was ignored for the major royal and noble commissions, rendering it largely ineffective. Trade with England continued to prosper, probably due to the shared sovereign between 1689 and 1702.1 Queen Mary set the precedent when she decorated her English palaces with Delftware. Following her example, many English nobles lavished their homes with Delftware, such as William Blathwayt.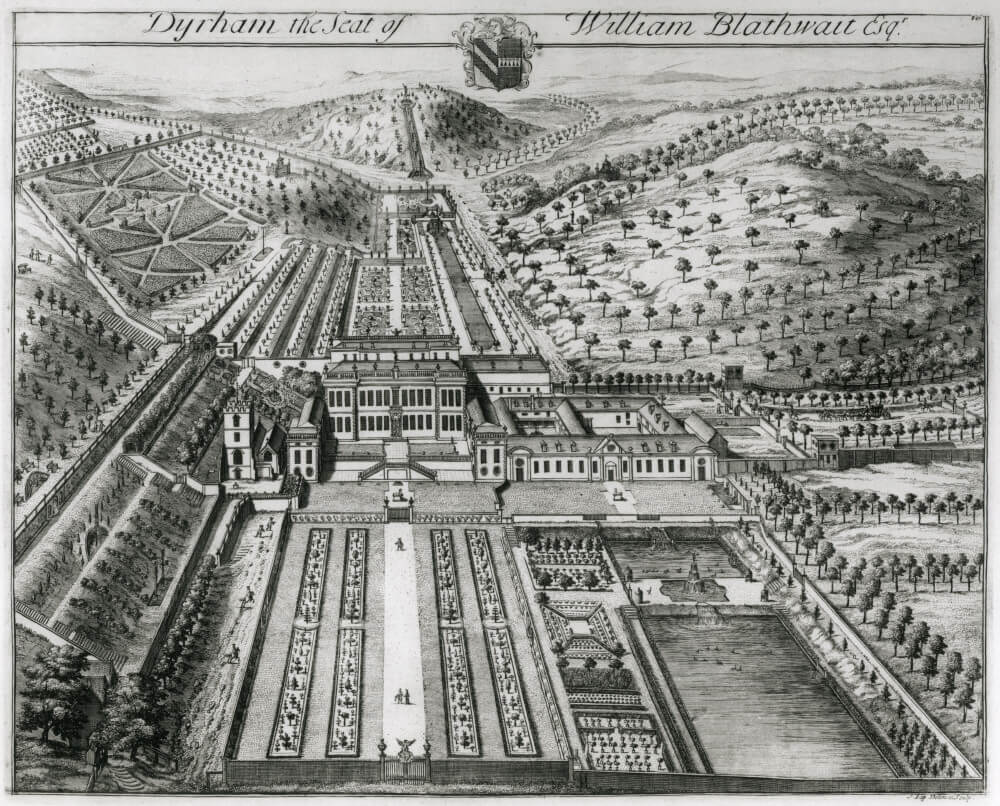 William Blathwayt (c. 1649-1717) was born into a reasonably well-to-do English family of merchants and lawyers. His father, who was a lawyer, married Anne Povey at the age of 48 and, ruined by the Civil War, died about 12 years later. He left his young widow, three daughters and a son with many debts. Anne Blathwayt's brother, Thomas Povey, stepped in and took her son under his wing. Thomas Povey was an educated man who made a career in civil service. William Blathwayt followed in his uncle's footsteps and established a successful career as a civil servant. His ability to speak several languages helped to broaden his opportunities. Before the age of twenty, he started as a secretary to Sir William Temple in The Hague. A few years later, he traveled to Germany, France, Italy and Sweden in the employment of the Duke of Richmond.2 For a decade, he worked at the Plantations Office in Whitehall, where he later became Surveyor and Auditor-General for the Plantations Revenues in 1680. Further, with royal backing he bought the post of Secretary at War for two thousand pounds from Matthew Locke in 1683.3 Blathwayt served King James II and accompanied him to Salisbury in 1688 to view the rise of the Prince of Orange. Despite Blathwayt's overt Jacobite leaning, the new King William III re-employed him as Secretary at War.4 The King soon found him an indispensable asset; not only was he well-informed, but he was also the only English administrator who spoke fluent Dutch.
The wealth and status achieved by Blathwayt demanded a country estate to match. After his marriage to Mary Wynter in 1686, Blathwayt acquired Dyrham Park and its Tudor manor house. For many years, he would spend a great deal of money on rebuilding and furnishing the ramshackle Tudor house to establish an appropriate country estate.5 Mary and Blathwayt had four children before her death five years after their marriage. Within a year after her death, Blathwayt began a major transformation of the estate when he demolished parts of the Tudor house and built a range of rooms onto the West side of the Great Hall, which was completed in 1694. A second phase of construction began in 1698, at the height of Blathwayt's career.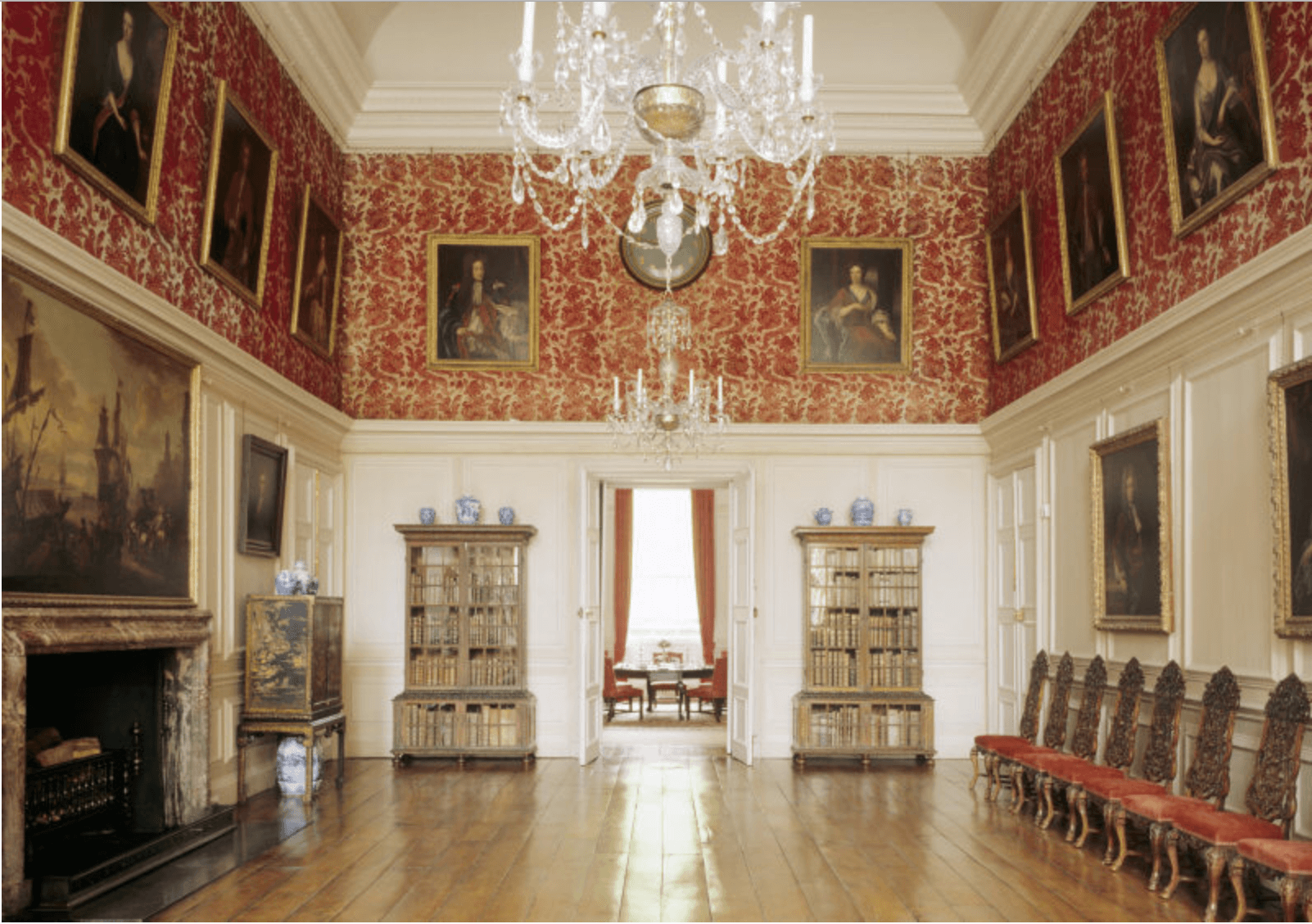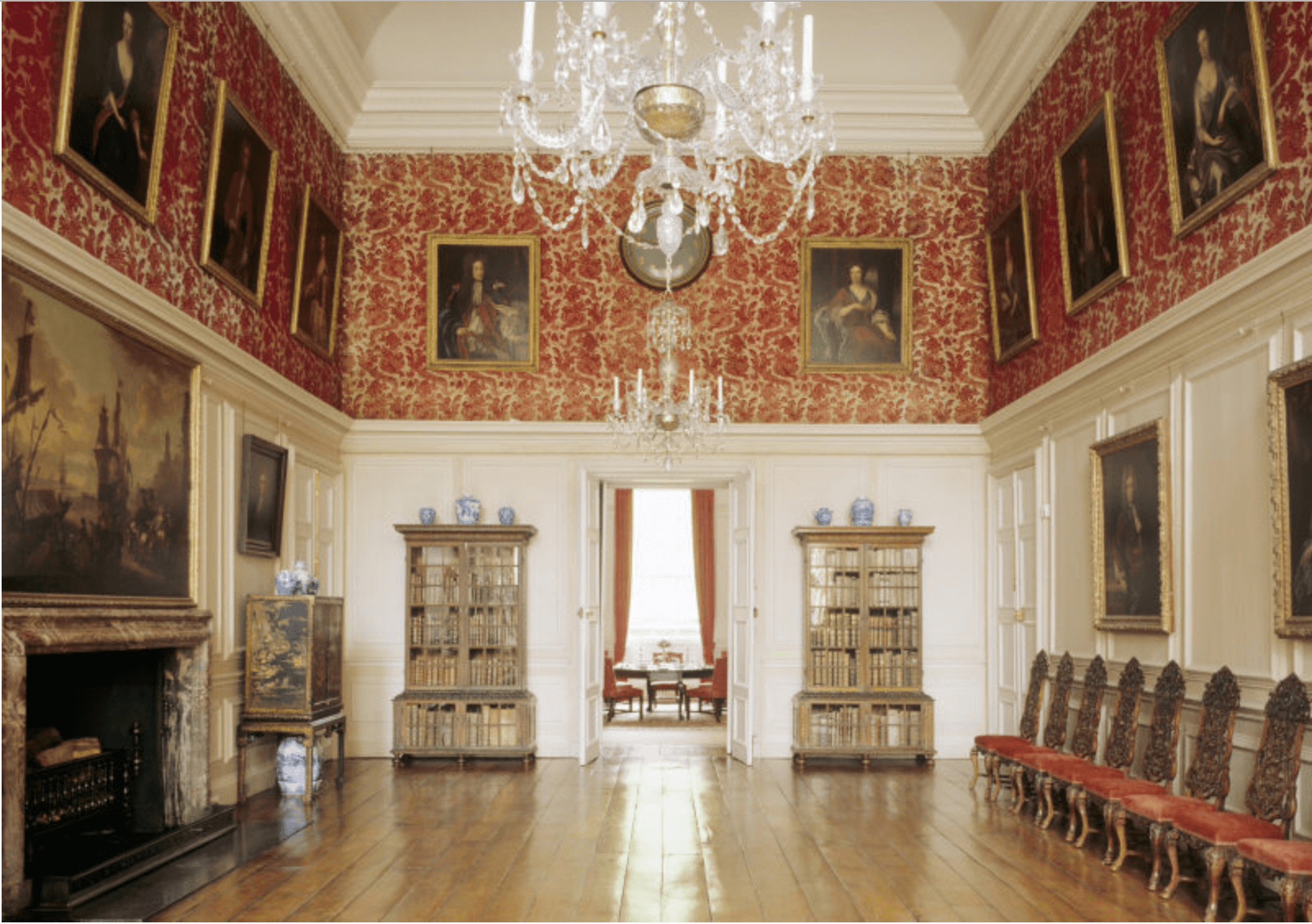 Due to his high-standing position at Court, Blathwayt had access to the most notable designers and architects. The East Wing of the house was designed by William Talman, the Comptroller of the Royal Works.6 He also employed a Huguenot architect, Samuel Hauduroy, probably due to his familiarity with Daniel Marot's sumptuous interiors at the Palace Het Loo, where Blathwayt also had an apartment. The rebuilding of Dyhram and its interiors thus reflected the influence of Marot.7 To further enhance his estate, Blathwayt installed elaborate Dutch garden with parterres, fountains and sculpture that emulated those at the Hampton Court and Het Loo palaces.8
Blathwayt was absent for nearly the entire building period of Dyrham due to his strenuous traveling schedule with William III.9 However, he did manage to purchase Dutch furnishings and fabric for Dyrham when he was in Holland, no doubt with the King's encouragement.10 Blathwayt developed an affinity for the Dutch Republic after years of living there and through his employment with William III. As a result, there were many Dutch artworks at Dyrham; not only paintings, but also cabinets, a library containing Dutch books and even stamped leather wallhangings.11 He also acquired a large collection of Delftware and Chinese porcelain. The vogue for Delftware was led by Queen Mary II, who assembled a large collection of it in the Water Gallery at Hampton Court Palace, where even the furniture was painted blue and white. Blathwayt acquired approximately 40 pieces of Delftware, and no fewer than 17 bear the mark for Adrianus Kocx, who was the owner of De Grieksche A (The Greek A) factory and was the Queen's favorite supplier.
While much of this Delftware survives, only a few pieces can be identified from the inventory descriptions of Dyrham Park, notably from 1703 and 1710.12 The best-known pieces of Delftware at Dyrham are the large flower pyramids, mentioned in the 1710 inventory as ' large pyramid Delf Flowerpots' to be found in 'ye Chimney' of the 'Vestibule' and in the 'Best bed Chamber above stairs'. The pyramid vases were used for cut flowers, probably to decorate a fireplace in the summer months.13 A recurrent item in the inventories is 'a flower pott in ye Chimney of Delf', which might refer to large urns of which there are a number of at Dyrham.14 Besides all kinds of flower vases and urns, the collection also contained sweetmeat dishes, fruit baskets, vases and an extraordinary pair of plaques showing the Chinese countryside.
Following the overthrow of King James II and the accession of the Dutch William of Orange and his wife Mary in 1689, it was inevitable that the English aristocratic sense of fashionable taste would follow that of the Netherlands. The fashionable style of the time, which today is recognized as the William and Mary style, was a combination of Dutch, French and English influences, together with an increasing interest in oriental design. During this period, fashionable English tables and interiors were decorated with blue and white Delftware. Collecting Delft displayed Blathwayt's royal connections and represented his professional standing. For example, the pyramidal flower vases that Blathwayt acquired relate to the pyramid or obelisk, which were traditional symbols of power and represented the fame and glory of a monarch and its circle.
The wealthy and successful William Blathwayt amassed one of the most important collections of Delftware in Britain. Transforming Dyrham Park from a Tudor house into a Baroque mansion, his country seat was, in itself, a monument to the Anglo-Dutch taste of William and Mary.
Notes
1 H.-P. Fourest, Delftware, London 1980, p. 182
2 John McVerry, "William Blathwayt at Dyrham", Apollo, April 2000, p. 36
3 Nancy L. Rhoden (9 August 2007). English Atlantics Revisited: Essays Honouring Ian K. Steele. McGill-Queen's Press – MQUP. p. 36
4 McVerry 2000 (note 2), p. 37
5 Anthony Ray, "Dutch Delft at Dyrham", Country Life, October 13, 1988, p. 236
6 K.M. Walton. "An inventory of 1710 from Durham park", Furniture History, vol. 22 (1986), p. 25.
7 I. Scouloudi, Huguenots in Britain and France, 1987, p. 116
8 McVerry 2000 (note 2), p. 38
9 Walton 1986 (note 6), p. 25
10 Ray 1988 (note 5), p. 236
11 When he was in the employment of the Duke of Richmond, there is no evidence of Blathwayt buying, or even showing particular interest in art, at this time, but he was a young man of modest background, embarking on a career, not a young aristocrat traveling on his Grand Tour. McVerry 2000 (note 2), pp. 36-37
12 Walton 1986 (note 6), p. 28
13 Ray 1988 (note 5), p. 237
14 Ray 1988 (note 5), p. 237