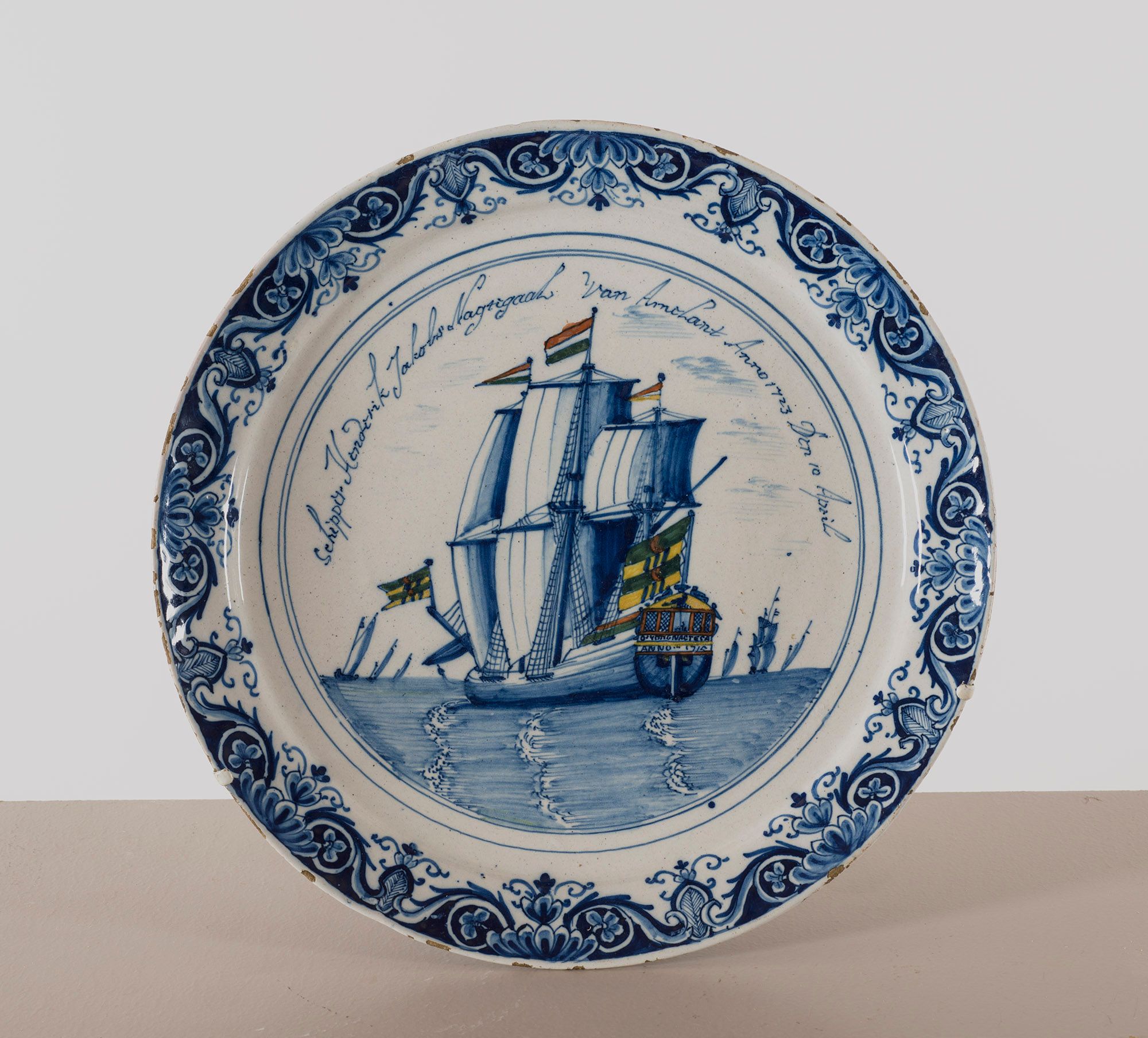 In 1723 The Greek A Factory (De Grieksche A) made at least three plates depicting the ship De Jonge Nagtegaal (The Young Nightingale— nightingale being the translation of the Nagtegaal family's name), two inscribed "schipper Henderik Jacobs Nagtegaal van Amelant Anno 1723 D 10 April" and one where Jacobs is spelled Jakos.1 The ship flies the red, white, and blue Dutch flag from its three masts and, more significantly, the yellow, black, and blue flag of Ameland from the bow and stern, a very early depiction of the Ameland flag.2 Its name and date of 1715 is painted on the stern. Ameland is located in the West Frisian Islands, off of the northern coast of The Netherlands, and was a privately owned, independent, and neutral sea nation at the time these plates were made. Its neutrality enabled ships flying the Ameland flag, like De Jonge Nagtegaal, to navigate freely in the Baltic in the early eighteenth century. The plates were made a year after Johanna van der Heul sold the De Grieksche A to Jacob van der Kool, who sold another successful Delft factory, Het Oude Moriaanshooft, when he acquired De Grieksche A. What can these pieces of Delft tell us? Quite a lot, it turns out.
The De Jonge Nagtegaal was a three-mast fluyt—a highly- efficient Dutch cargo vessel— though the Delft artist, probably using a different type of ship as a model, did not capture accurately the rounded shape of a fluyt's hull.3 At the time these plates were made, in 1723, the De Jonge Nagtegaal belonged to Hendrik Jacobs Nagtegaal. He was born in the village of Hollum, on the West Frisian island of Ameland, on the 25th of November, 1691, the eldest son of shipmaster, Jacob Geerts Nagtegaal and part of a large family of shipmasters.4 Between 1712 and 1727 Hendrik's ship, De Jonge Nagtegaal, sailed out of Amsterdam to ports in the Baltic: Liebau (current-day Lipeāja, Latvia), Königsberg (now Kalingrad, Russia), Riga, Latvia, Copenhagen, and Danzig (Gedansk, Poland) carrying cloth, and foodstuffs and spices such as candy, tobacco, raisins, pepper, sugar, salt, nutmeg, and cinnamon. The ship returned with hemp, rye, and other grains, as well as timber.5 Both Hendrik and his father Jacob, along with many other West Frisian ship masters, were participating in the Baltic grain trade—called the "mother trade" as early as 1671 by Dutch statesman Johan de Witt (1625–1672)—a critical part of the Dutch economy in the seventeenth and eighteenth centuries. Though not as well- known perhaps as the Dutch East India trade, Dutch merchants, usually sailing out of Amsterdam, held a prominent position in the Baltic Sea trade, sending cloth, exotic spices, and food north in exchange for grain, timber, and furs, as well as ash, potash, leather, hides, tar, pitch, and iron.6
Forty-eight of Hendrik Jacobs Nagtegaal's voyages are listed in the Sound Toll database, but none correspond to the date of April 10, 1723 that is inscribed above the ship. We might wonder what significance that date holds. Could it be, as was posited by J. H. Nagtegaal, that the plates commemorated the safe return of Hendrik Jacobs Nagtegaal's father's ship, De Juffrouw Debora (The Miss Deborah), from a near-disastrous voyage from Danzig in 1722? It had been challenged both by high sea winds and storms and shallow Dutch tidal waters and harbors during its more than six-month passage from Danzig to Holland, sustaining damages along the way but still loading and unloading cargo as it went.7 Its safe landing on April 10, 1723 might indeed have been cause to celebrate and commemorate this family of shippers.
Text by:
Linda H. Roth, Director of Special Projected Curatorial and Charles C. and Eleanor Lamont Cunningham Curator of European Decorative Arts Wadsworth Atheneum Museum of Art.
Notes
1 Two plates, including the one with the name Jakos, are in the Wadsworth Atheneum Museum of Art collection, 2004.26.10–11, The Richard and Georgette A. Koopman Collection of Delft. A third plate is in the Cultuurhistorisch Museum Sordrager, Ameland, on permanent loan from the Rijksdienst voor de Beeldende kunsten (National Office for the Visual Arts). I would like to thank Hannes Nagtegaal, a descendent of Jacob Geerts Nagtegaal, who told us about the third plate and started me on this research journey. It led me to a blog entry on the website of Historische Vereniging Noordoost-Friesland titled "De pannenkoek van Hendrik Jacobs Nagtegaal van Ameland," and subsequent correspondence with Hans Zijlstra, editor of the blog, then to Pieter Jan and Tineke Borsch-de Boer, P.J. Borsch being responsible for bringing the plate to the Sorgdrager Museum, Ameland, and finally to research published by P. J. Borsch, Tineke Borsch de Boer, and John H. Nagtegaal (see below). All of the information on the ship that follows is a result of their work.
2 According to correspondence with Tineke Borsch-de Boer, October 2, 2021. The oldest is thought to be on a 1679 stained-glass window from the Reformed Church in Hollum, Ameland (see A.J.A.C. Hakman, De Gebrandschilderde Ramen Van De Hervormde Kerk Te Hollum Op Ameland. Hollum: Stichting "De Ouwe Pôlle", 1995). For a brief history of the Ameland flag see Jos Pols, https://www.amelanderhistorie. nl/news/vlag-wappert-ruim-drie- eeuwen-over-ameland/.
3 According to J. H. Nagtegaal, "The ship appears to have been built at the end of 1714 early 1715 by the large- scale builder Pieter Janse Ouwejan 'living in Westsaanderovertoom'". See "Een wandbord van de Amelander Schipper Henrik Jacobs Nagtegaal D.D. 10 April 1723," in P.J. Borsch, T. Borsch-de Boer, J.H Nagtegaal, and H.K Nagtegaal. Het Amelandse Geslacht Nagtegaal. 1992.
4 Ibid.; , J.H. Nagtegaal, Amelander Schippers Nagtegaal in De 18e Eeuw. S.l.: s.n., 2000.
5 Nagtegaal, Amelander Schippers, p. 22. The data for these journeys comes from the Sound Toll Database (http://www.soundtoll.nl/index. php/nl/onderzoek/zoeken-in-de- sonttol-database, and includes the commodities carried on each voyage. Dutch ships regularly passed through the Danish Sound—a narrow strait between Denmark and Sweden connecting the North Sea to the Baltic—the most important waterway in Northern Europe at this time. From the Middle Ages to the nineteenth century the Kingdom of Denmark charged a toll to pass through this strait. The now-digitized archival registers provide scholars with important historical data on this long-standing mercantile trade.
6 See Thomas Lindblad, "The Mother Trade," in Artjom Pereverzev and Uldis Sosnovskis, Beyond traditional borders [eight centuries of Latvian-Dutch relations], 2006, pp. 21–26 (internet resource); Donald J. Harreld, "The Dutch Economy in the Golden Age 16th-17th centuries," 2006, Internet Resource. There is a large bibliography on the Holland/ Baltic trade.
7 Nagtegaal, "Een wandbord van de Amelander Schipper Henrik Jacobs Nagtegaal D.D. 10 April 1723". Archival documents related to this voyage can be found at the Gemeente Amsterdam Stadsarchief, Arch. n. 5061 RA 2825 Averij Grosse (reference kindly provided by Tineke Borsch-de Boer). Like most Dutch merchant ships, De Juffrouw Debora would have been a vessel that was designed as a compromise between having enough draught to manage the sea but at the same time not more than was practical to navigate coastal waters, especially during low tide. For more on the Dutch ships in the Baltic see Henk Dessins, "Sailing to the Baltic Sea," in Beyond Traditional Borders, p. 39 (internet resource, https://www.smpub.com/ubb/ images/09/07-0658-Chapter_II._The_ maritime_connection_1550_-_1800. pdf).