The exorbitantly decorative rococo style of architecture and interiors swept through Europe in the eighteenth century. The style began in France during the reign of Louis XV, and quickly spread to other parts of Europe, particularly Bavaria, Austria, Germany and Russia. The style was a reaction against the more formal and geometric style of Louis XIV. Although it is not considered a Dutch phenomenon, the rococo style was integrated into architecture and interiors in the Netherlands in the second half of the century.1 According to D.A. Fennimore and P.A. Halfpenny, the rococo style in the decorative arts is characterized by 'the fantastic, sometimes bizarre use of ornaments. The principal elements are a dependence on asymmetry; the use of cartouche made from C- and S-shape scrolls, an interest in natural organic forms and an emphasis on grotesque -grottoes and ruins- on shells and marine crustacea, and on flowers and follies.'2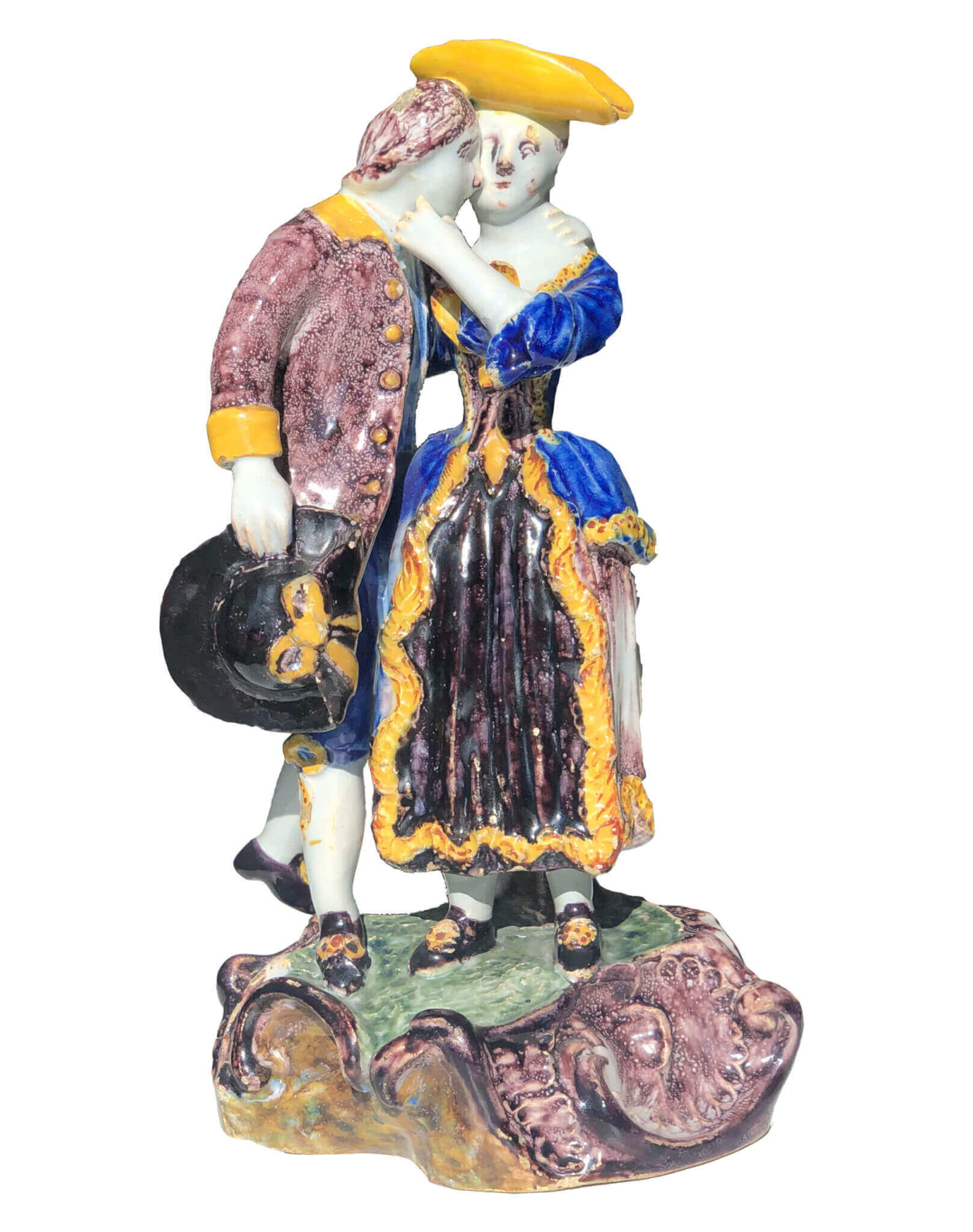 With its playful and witty themes, rococo rooms were designed as a total work of art with elegant and ornate furniture, ornamental mirrors, and tapestry complementing architecture, reliefs, and wall paintings. The rococo interior was adorned with numerous ceramic objects, which were displayed on console tables, dining room tables, in showcases or on pedestals. These ceramic objects may have included Delft faience, or porcelain made in Sèvres or Meissen, centers that produced many small scale works in series.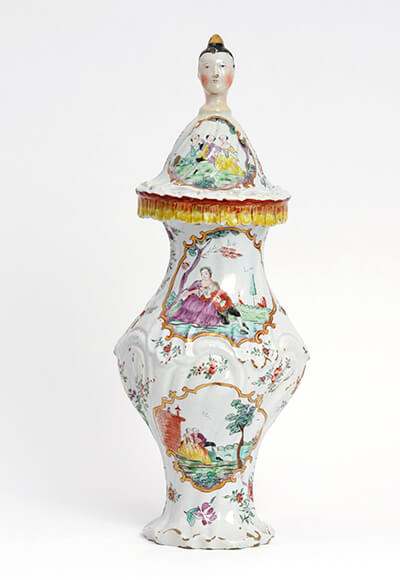 The Delftware potters and painters experimented with rococo ornamentation to both break with the oriental models and to follow the new German and French styles.3 The German influence originated after a considerable amount of Meissen porcelain was imported to the Netherlands. The competition from Meissen, whose products were specifically designed for the European elite, first caused trouble for the Delft industry. However, the Seven Years' War (1756-1763) interrupted the production of many German and French factories, which caused a severe reduction of the porcelain available in Holland and an influx of emigration of German and French craftsmen into the Netherlands. The Delft factories thus rose to meet the demand for the popular rococo ceramics.
Consequently, a tremendous amount of human and animal figures of various sizes and models were produced by the Delft masters in order to satisfy a range of tastes. While these playful objects embrace the rococo spirit, they equally exude a characteristic Dutch charm and insouciance. Like in Germany, the human and animal figures of Delft were exhibited in showcases or on pedestals. Despite their individual attraction, the figurines were best viewed as part of a staging in a large ensemble.
The rococo interior contained many different forms to display glass, porcelain or faience, and silverware. Rooms were adorned with buffets with beautifully sculpted fountains, pairs of console tables, and festively decorated tables. Each piece of furniture provided an opportunity to display a wealth of objects.4 The most extraordinary tables were adorned with brightly colored figures of fruits and vegetables of various shapes, or with zoomorphic objects in the form of domestic and exotic animals and birds. Some objects were purely decorative and were made to replace beautiful flowers and luscious fruits when these were seasonally unavailable. Dutch Delftware in the form of apples, pears and grapes acted as a charming and colorful substitute. Other naturalistically modeled Delft pieces were both decorative and functional (butter dishes, serving tureens or sweetmeat dishes). The panoply of wares were symmetrically arranged on the table and within reach for guests to serve themselves. Many of these objects were so realistic and true to nature that they genuinely 'tricked the eye' and came to be called trompe l'ceil. Their extraordinary realism both puzzled and amused guests.5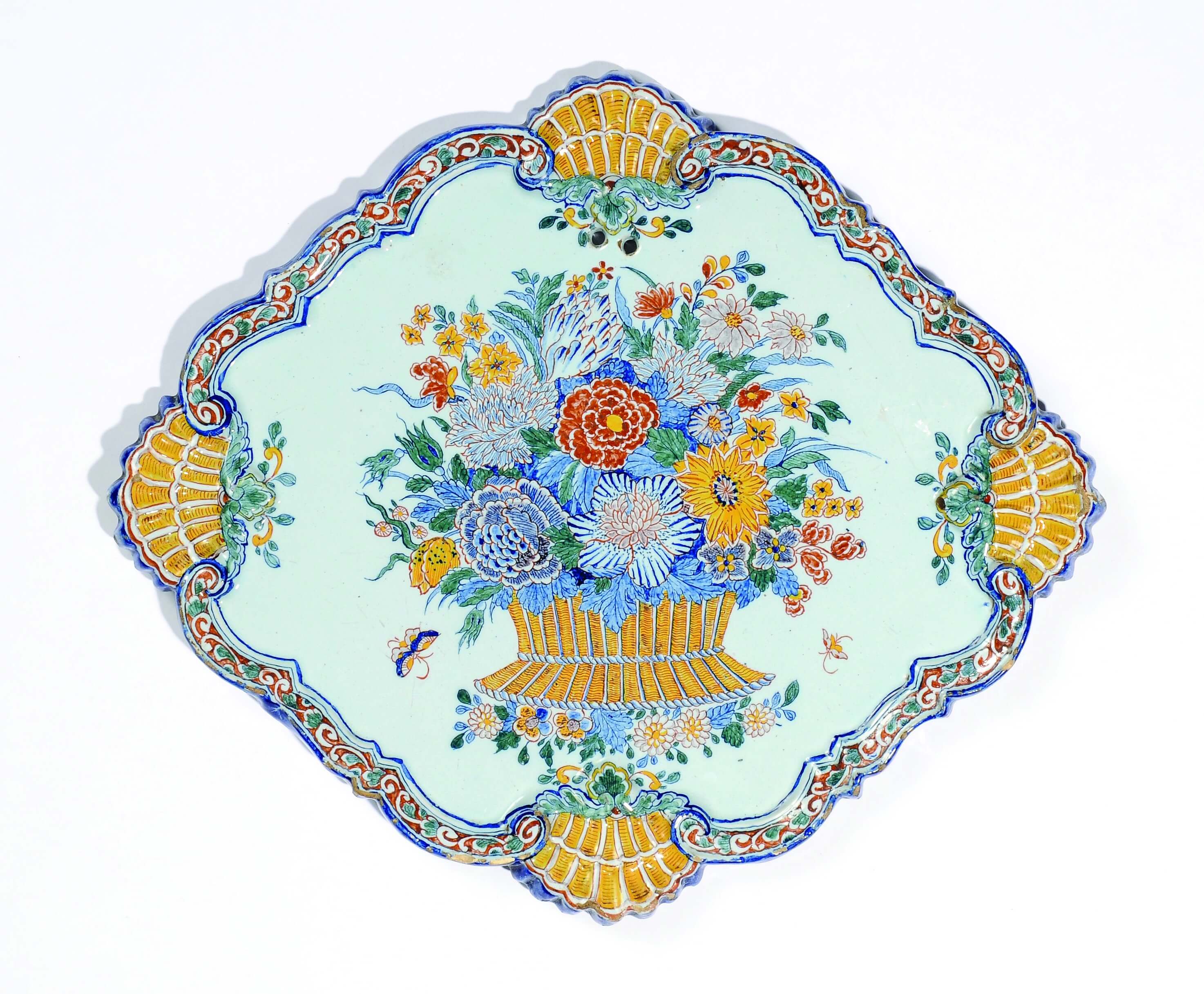 The exuberance and whimsical nature of the rococo style also reached the design and decoration of Delft plaques. The 'porcelain paintings,' as they were referred to in household inventories, were intended to be admired as if they were paintings on panel, canvas or copper. In the eighteenth century, Delft potters began to create plaques with self-framing borders, and to pierce them at the top with two holes for hanging.6 Whereas the early flat, rectangular plaques were made of slabs of clay, by the eighteenth-century, plaques with shaped borders in relief, representing the baroque and rococo stylistic idiom, began to be made in plaster molds. The shapes became more stylish, more varied and creative.
The creativity of the Delft potters was limitless. Even today, the splendor and humor of these magnificent rococo objects endures.
1 J.D. van Dam, R. Baarsen a.o., Rococo in Nederland, Zwolle 2001, p. 8
2 D.L. Fennimore and P.A. Halfpenny, The Campbell Collection of Soup Tureens at Winterthur, Hanover (Winterthur Museum) 2000, p. 5.
3 H.-P. Fourest, Delftware, London 1980, p. 142.
4 C. Lahaussois (ed.), Delfts aardewerk, Amsterdam 2008, p. 178.
5 J. Rosen, 'Trompe l'oeil en céramique, XVIe-XIXe siècle' in: Miriam Milman, Magali Philippe [ed.], Le trompe-l'oeil: plus vrai que la nature? [Trompel'oeil: truer than nature?], Versailles (Musée de Bron) 2005, pp. 123-128, for an introduction to 'trompe-l'oeil' ceramics.
6 An early blue and white pair with molded frames resembling a carved wooden frame, circa 1700, is illustrated in J.D. van Dam, Delffse Porceleyne, Dutch Delftware 1620-1850, Zwolle, (Rijksmuseum Amsterdam) 2004, pp. 92-93, ill. 48.