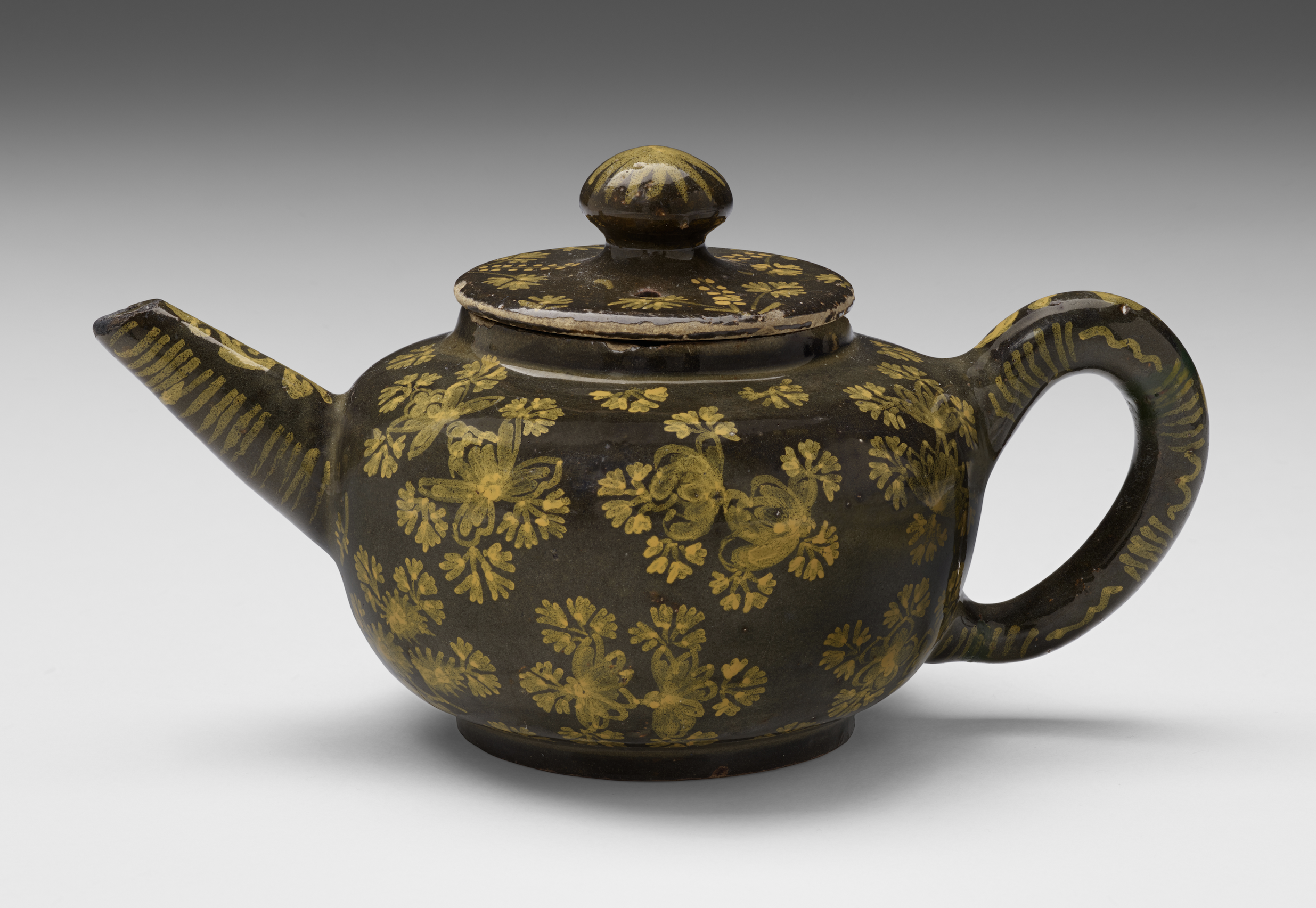 The Delft Collection of the Philadelphia Museum of Art
The initial donation of a Delft eighteenth century plate in 1882 to the Pennsylvania Museum and School of Industrial Art (renamed the Philadelphia Museum of Art in 1918) provided the foundation for a collection of Dutch earthenware that now numbers over one hundred andtwenty five pieces. The unusual orange and blue decoration of this circa 1740-1750 plate may reflect the colors of William I, Prince of Orange. (fig.1)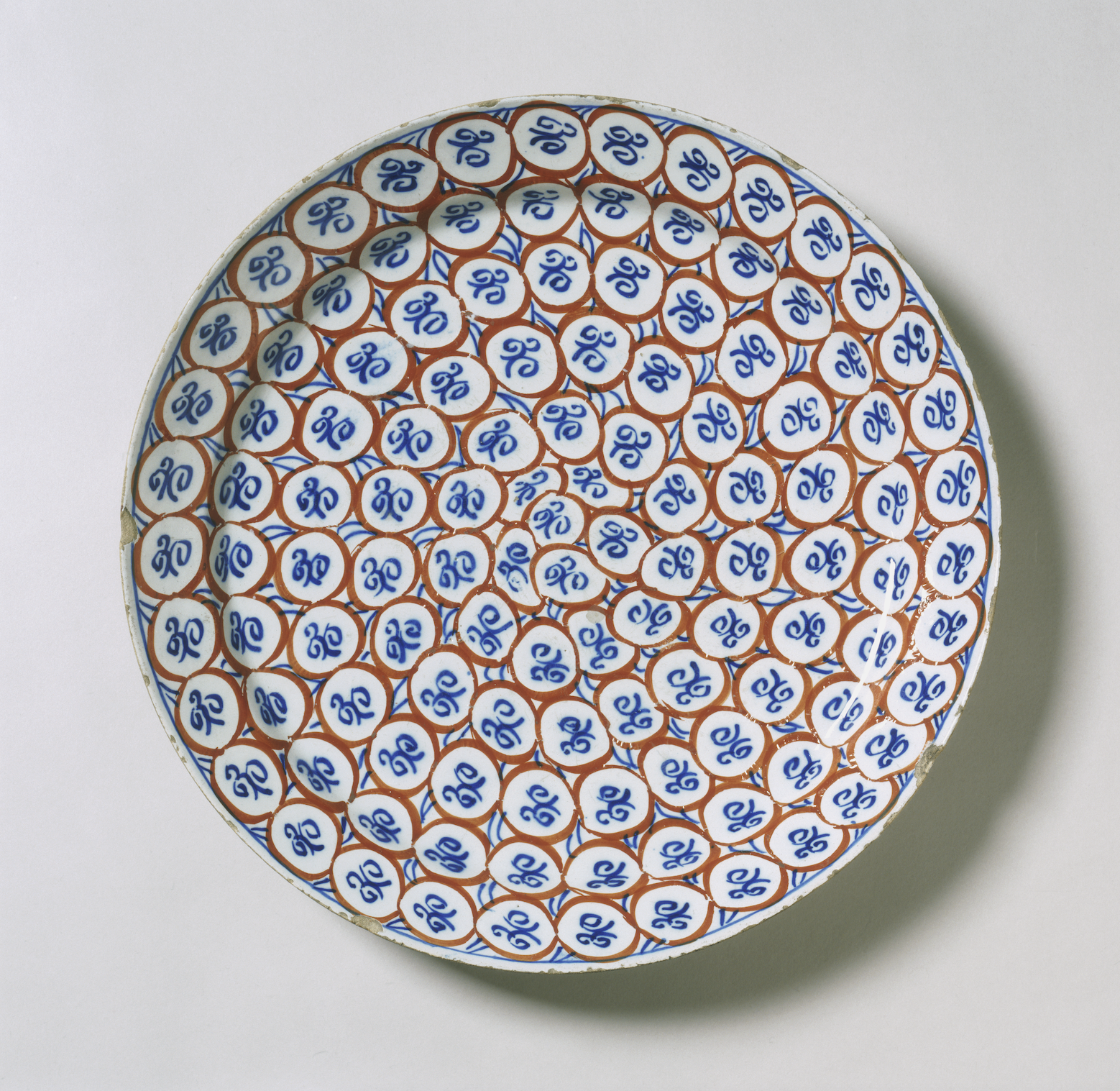 The scope of the collection is extensive with objects such as a Crucifix, a Butter Pot, an Inkwell, a pair of lovely Vases with Spouts, a charming small figure of a Mouse, a Pocket Watch Stand, and an early Crespina by Willem Jansz Verstraeten, represented in addition to the more usual plates and vases. The quality of the collection is also impressive. Several of the interesting pieces in the collection are discussed here.
A Blue and White Puzzle Jug, made in Delft c.1760, and decorated with figures of a man, a woman, flowers and architectural elements is an exquisite representation of the form. It is an object much admired by museum visitors who are intrigued by the visually unusual piece and the story of the puzzle jug. During the seventeenth and eighteenth centuries, puzzle jugs were popular for drinking games in taverns and homes throughout Europe. Decorative perforations around the neck of the jug made it impossible to drink the wine or other beverage without spilling it unless one knew the secret. The hollow tubular rim with one functioning nozzle and two or more "dummy" nozzles, is connected to the hollow handle which forms a siphon from the lower body. The drinker must place a thumb over the small hole beneath the top of the handle to create a vacuum that will allow the liquid to be sucked up through the handle, around the rim, and out through the functioning nozzle.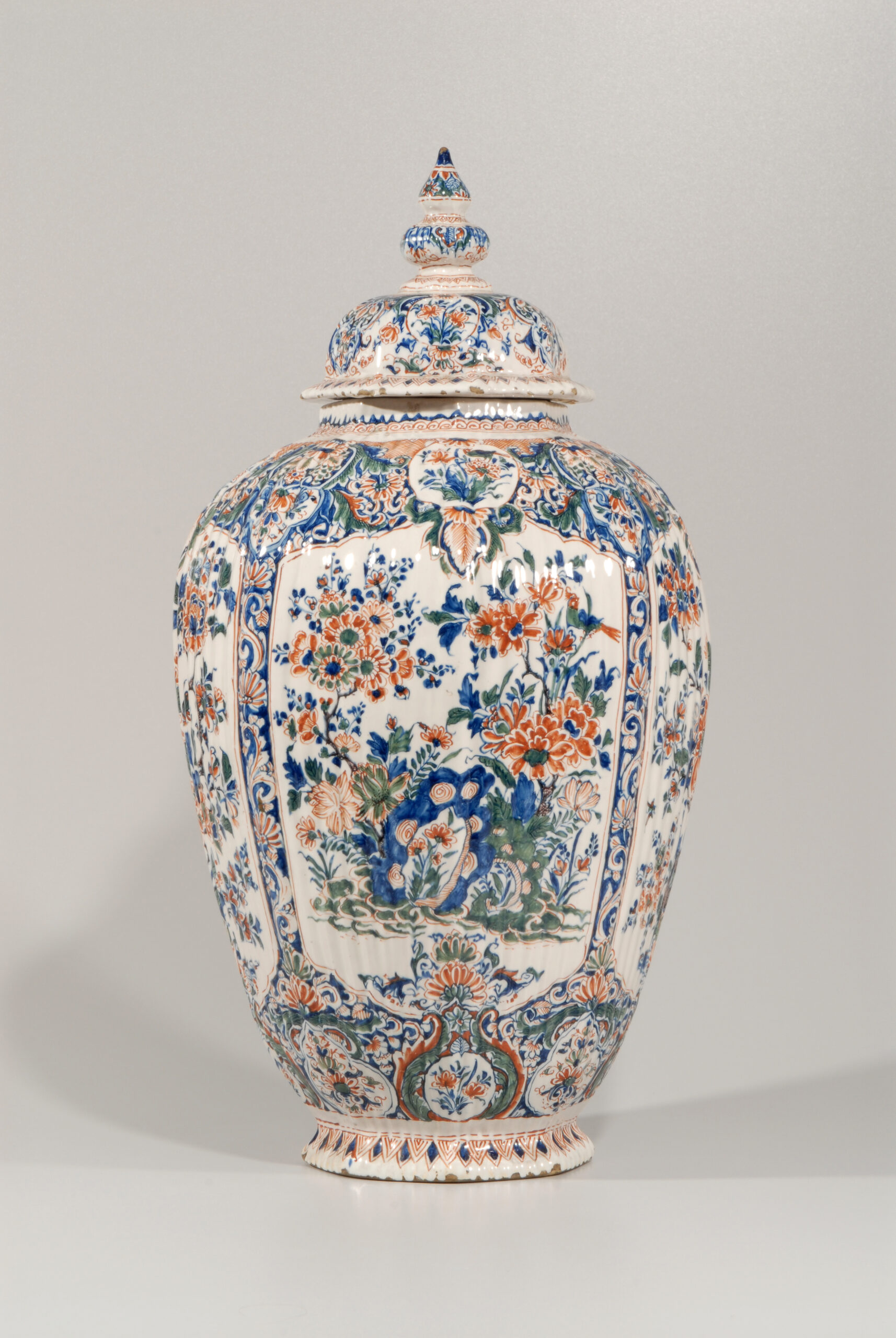 The fluted octagonal Vase with Lid is embellished with a beautiful overall design of flowers in the Cashmere palette. It has been suggested that this term may refer to the patterns on Indian cashmere wool shawls in fashion at the time. Vases of this large size were often used to decorate empty fireplaces during the summer months. (fig. 2)
The central image on a blue and white Chinoiserie Charger depicts a Chinese Dignitary and two Chinese men carrying scrolls, all of whom are observing the mahout, a naked youth holding a short pole with a hook seated on an elephant. The trainer, holding a long pole with a hook, stands at the front of the elephant. The center roundel is surrounded by panels showing seated figures in landscapes, blossoms and foliage, and stylized forms. The first elephant in northern Europe appeared during the Roman invasion of Britain in 43 AD. Regarded as exotic curiosities, they were sometimes presented as diplomatic gifts. The elephant Hansken (1630-55) was brought to the Netherlands in 1637. Rembrandt, who was keenly interested in anatomy, made four sketches of her in chalk when he saw Hansken in Amsterdam in 1637. These drawings are now noted as the original and correct portrayal of the Asian elephant.
An exquisite Yellow-Ground Dish is decorated with images of teapots, vases, garnitures, cuspidors, and other objects painted in blue on a bright yellow ground. The inspiration for the decor may have been porcelains of the Kangxi period, some of which featured designs of stylized objects in a random placement over the surface of the plate. The Delft plates, by contrast, were painted with a degree of realism designed to provide an idea of the inventory of a factory and advertise the skill of their potters and painters. The bright yellow glaze was costly and quite difficult to produce due to the ingredients and the difficulty of the firing technique both of which probably account for the rarity of these so- called sample plates. (fig. 3)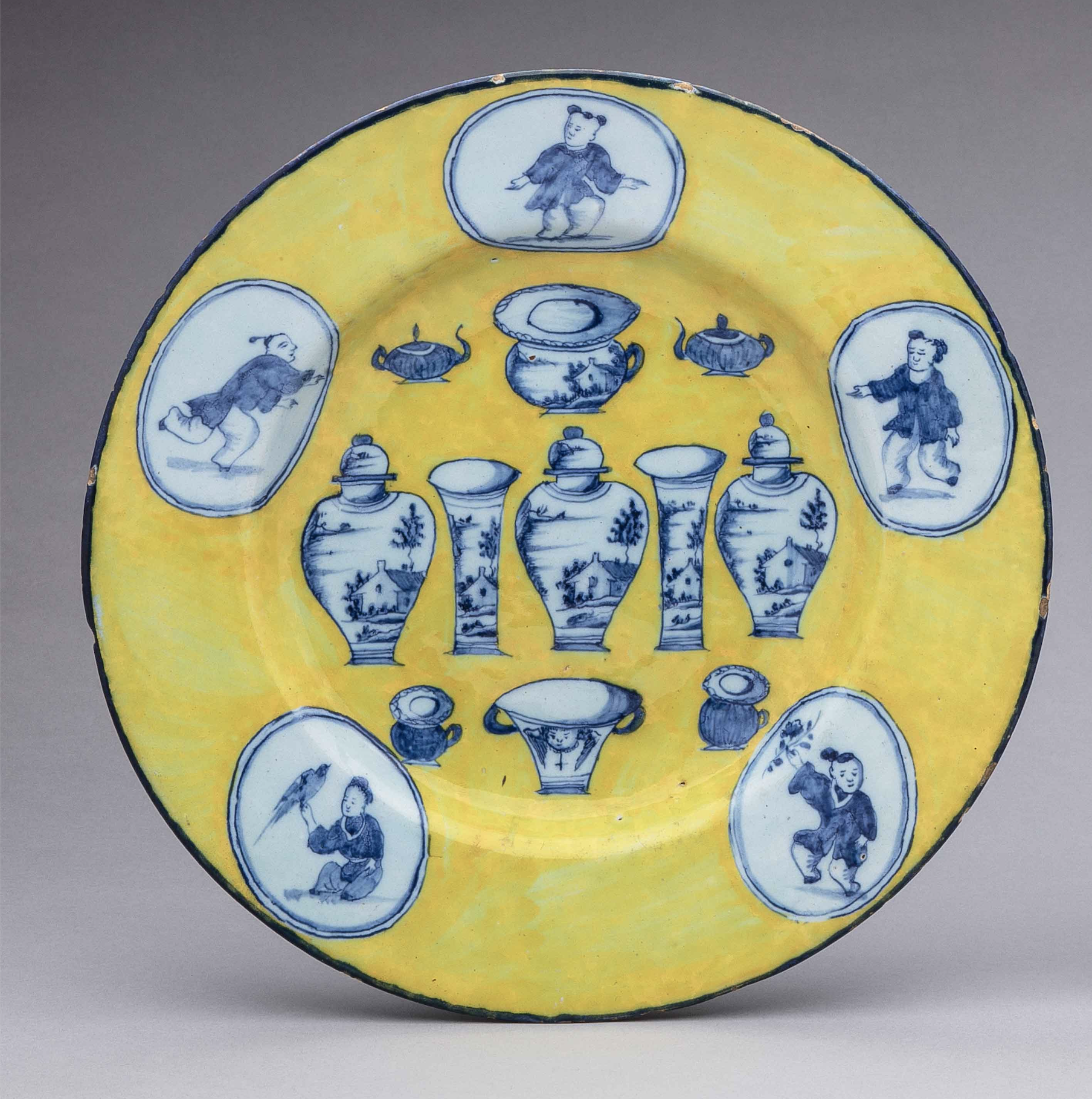 A Brown-Glazed Teapot and Cover is another of the rare objects in the museum's collection. The small spherical teapot is painted in yellow around the body with a decoration of delicate sprays of flowers. On the cover, the decor features flowers, along with the squiggles and dashes which also adorn the loop handle and spout. Brown-ground Delft is extremely rare, even more so than Black Delft of which there are only about sixty-five known examples. The brown and black colors were a challenge to Delft potters who wanted to imitate the appeal of the popular lacquer wares imported mostly from Japan, at the end of the seventeenth century. Several Delft factories attempted to produce brown-ground wares. Of these, the most successful was Het Jonge Moriaenshooft. During the twenty year proprietorship of Lieve van Dalen, the factory developed a brownish-green ground which was then decorated in yellow. His LVD mark appears on this as well as on many of the other surviving brown-ground pieces. (fig. 4)
Text by:
Mrs. Mary Anne Dutt Justice, Project curator for Dutch Ceramics
Philadelphia Museum of Art