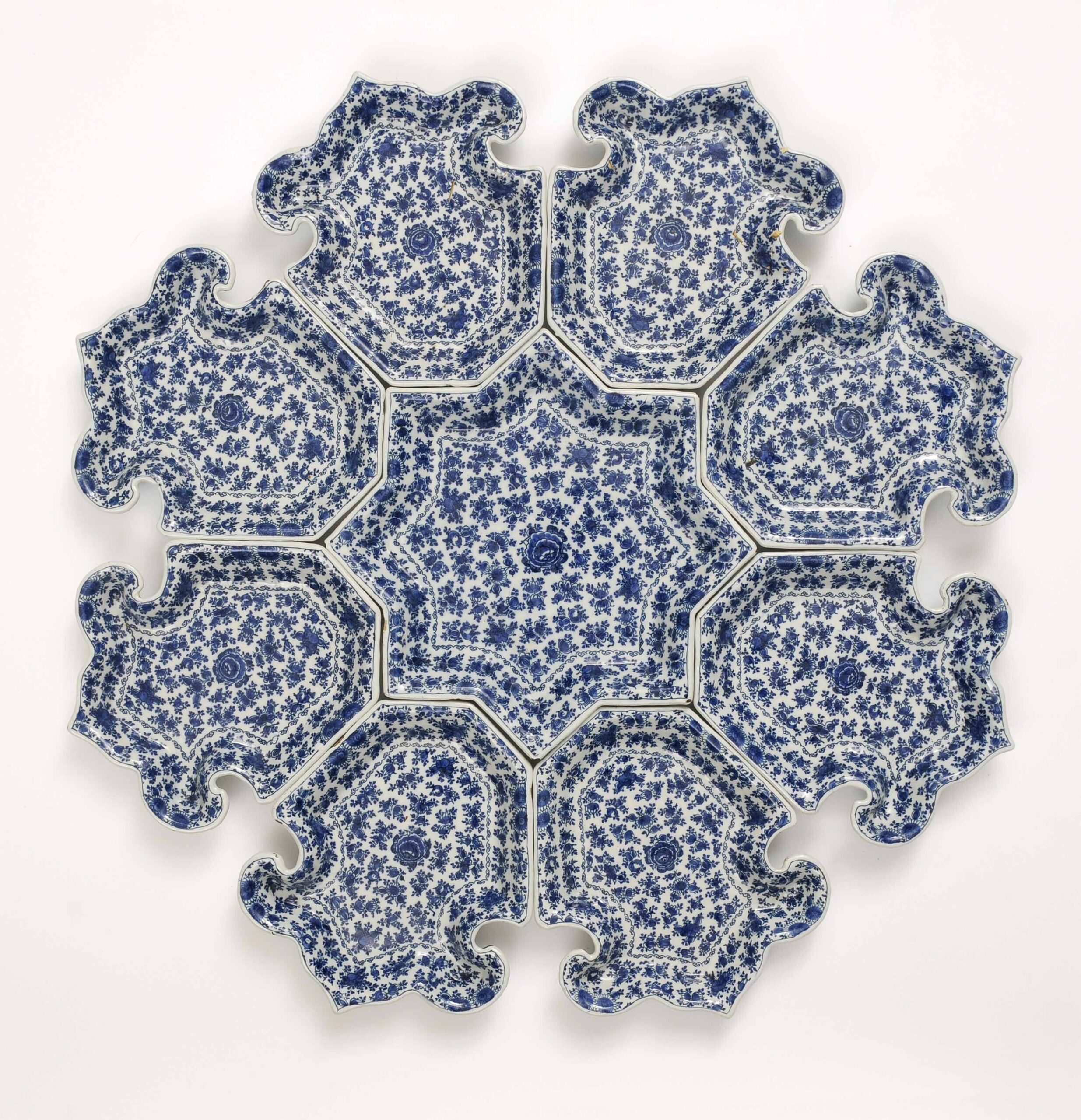 Royal Tableware from the Age of William and Mary
By around 1660 the fame of the Delft faience potters had spread far beyond the borders of the Dutch Republic. Delft earthenware was a prized possession of European monarchs. One such example is provided by the Delft dishes with coats of arms created for the court of the powerful French king Louis XIV. Under this monarch, table manners became more refined and people dined 'à la française'. This meant that the courses of the meal were placed on the table all at once and set out on many dishes in symmetrical order, allowing the guests to serve the food for themselves as they desired. Servants brought drinks, clean glasses, plates and napkins from buffets to the dining table. These new dining customs led to an increase in the quantity and different types of tableware items.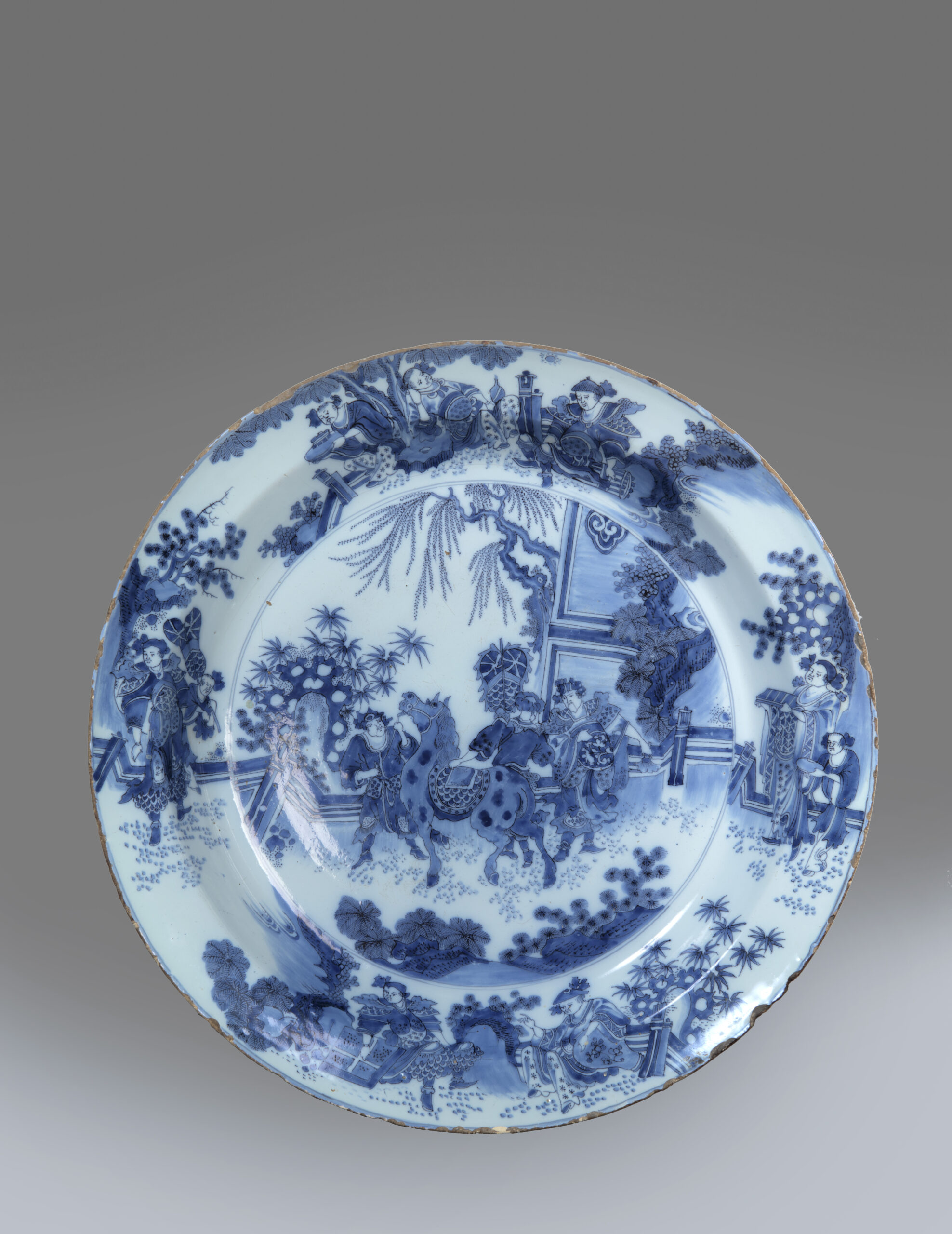 Initially the tableware of the elite class comprised a range of objects made of various materials such as gold, silver, pewter, earthenware, Asian porcelain and glass. From 1660 onwards this slowly began to change. At this time the Delft faience potters had already taken the first steps towards single-design forms of crockery. To begin with it was simply the coat of arms which signified that the items all belonged to the same set. It is very likely that these series of plates and dishes were not so much intended to be eaten from, but instead to be placed on display buffets or, for instance, to adorn the shelves of a showpiece kitchen. The service of the Bohemian monarch Wenzel Ferdinand Prince Lobkowicz (1656-1697) of Bílina indicates that large dinner sets of a single design, including a coat of arms or a monogram, were already being produced in Delft around 1685. This tableware set includes items such as an oil and vinegar set, sugar casters, salt cellars, candlesticks, jugs, cups and saucers, teapots and sweetmeat dishes.
One might expect the Stadhouder of the Dutch Republic, William III (1650- 1702), and his wife Princess Mary II Stuart (1662-1694) to have possessed such tableware sets as well. After all, they regularly ordered Delft earthenware for their palaces. But we can find no trace of such items. The inventory of their hunting lodge Het Loo does not feature large quantities of plates, dishes and other crockery of Delft earthenware that would indicate a dinner service. A print of the buffet in the Nieuwe Eetkamer (New Dining Room) at Het Loo shows chiefly glassware and gold or silver dishes. It is very probable that (gilded) silver tableware was used for dinners there.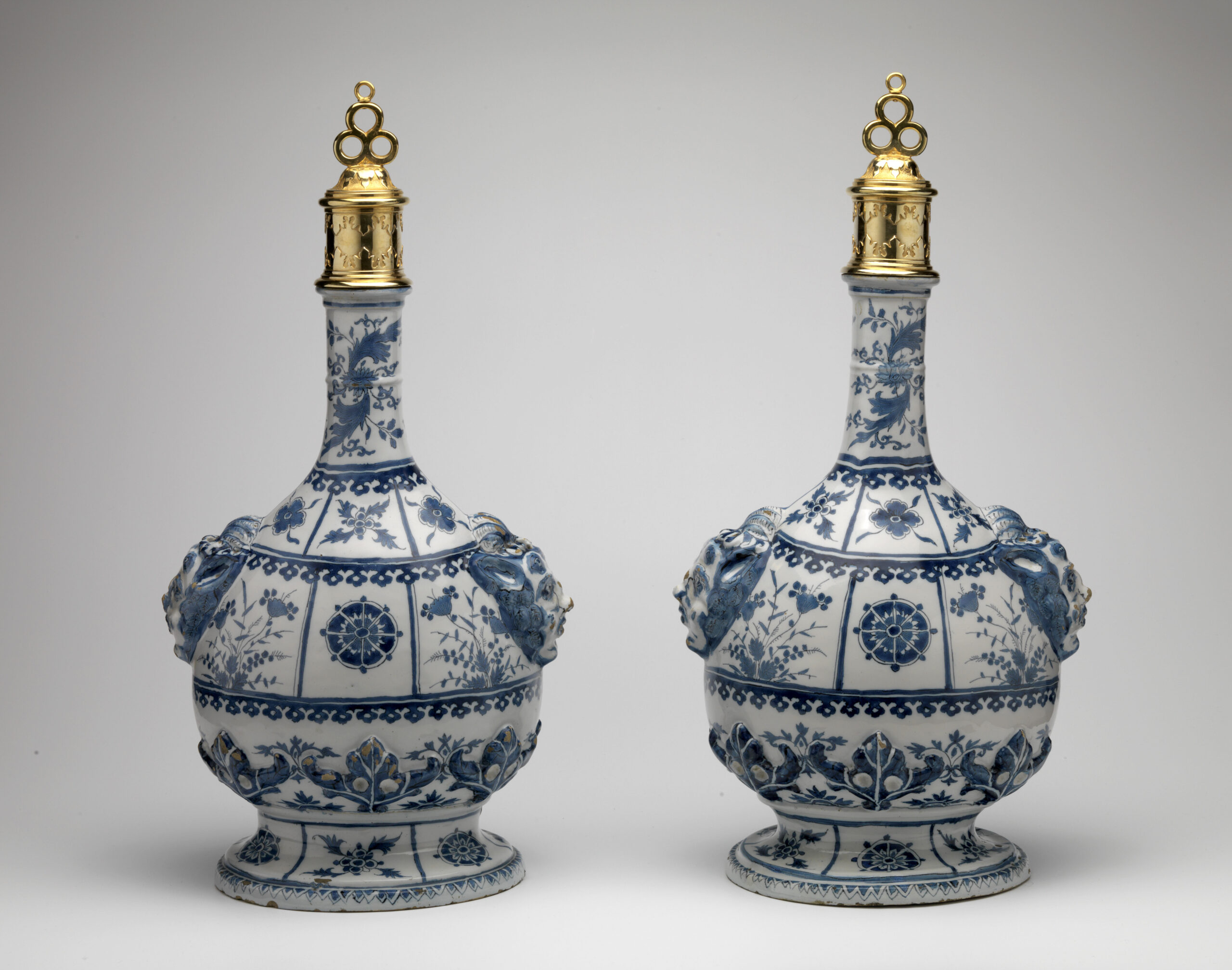 Nonetheless we can't rule out the possibility of William and Mary owning one or more dinner services of Delft earthenware. After all, Mary ordered Delft earthenware comprising 'All that one may set on or by the table' for Janne Margriete of Arnhem (1635-1721), for use in the Koninginnekabinet (Royal Cabinet) at Rozendaal Castle. Why would Mary order this for another person but not for herself? Henriëtte-Amalia of Anhalt-Dessau (1666-1726), a niece of William III, also had large quantities of Delft tableware at the court in Leeuwarden. In addition to many dishes in all kinds of formats and decorated with flower baskets, these items also included dining plates, an oil and vinegar set, butter pots, eight bottles with screw tops and large items such as drinking fountains with basins, ewers, coolers and flowerpots. It is highly likely that some of these items were set out in one or more (display) buffets or elsewhere in the interior of the palace while some of the other items were used at the table, such as the 'four dozen plates belonging to the set' and the many small sweetmeat dishes and two sweetmeat sets with eight dishes surrounding a central dish.
At the start of the 18th century the decoration of buffets and dining tables changed once more. The most important buffet decorative elements were now placed on the table, while dinner services of precious metals were augmented with a large centrepiece, a surtout de table, sauceboats and larger and smaller tureens. After 1709, when Louis XIV ordered that all the gold and silver should be melted down, faience dinner services became bon ton in the highest echelons. Delft faience potteries profited from this development. In the period 1710-1720, famous faience potteries such as De Grieksche A and De Metaale Pot produced faience dinners sets with crests for various European monarchs, such as the Austrian Counts of Harrach, King George I, King Frederick I of Prussia and the German Emperor Charles VI.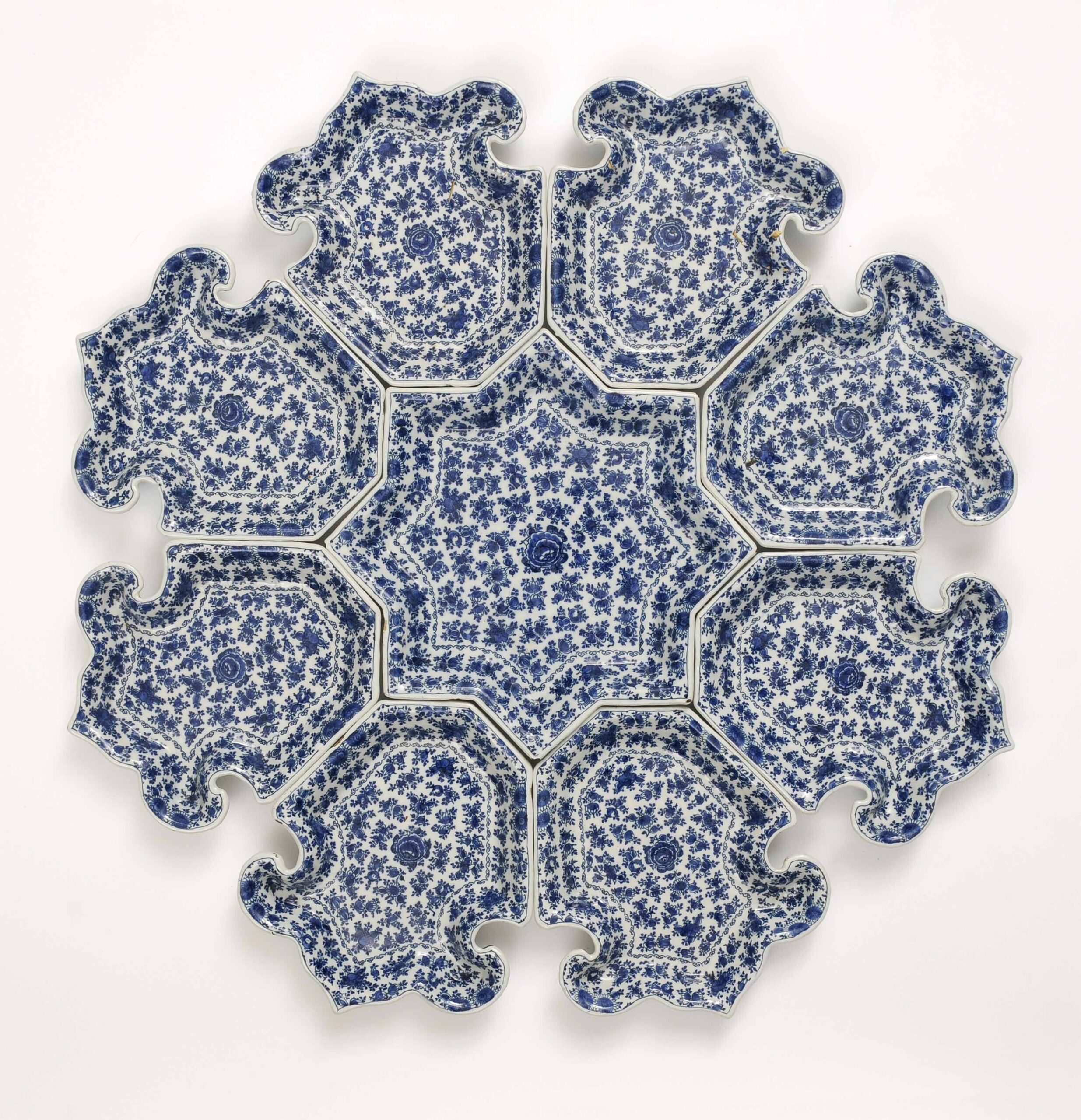 In this same period Delft was facing increasing competition from other pottery producers. In 1709 European porcelain was invented, and around 1720 the first porcelain factory in Meissen began breaking into the market with dinner sets of the very highest quality. Besides this, porcelain dinner services could now also be ordered more cheaply in China. Moreover, other European faience factories joined the fray from the mid-18th century onwards and developed their own outstanding dinner sets. Delft still continued to produce many single items of tableware as well as occasional dinner services to order, but it had lost its leading role.
Text by:
Kristin Duysters, curator Paleis Het Loo, Apeldoorn