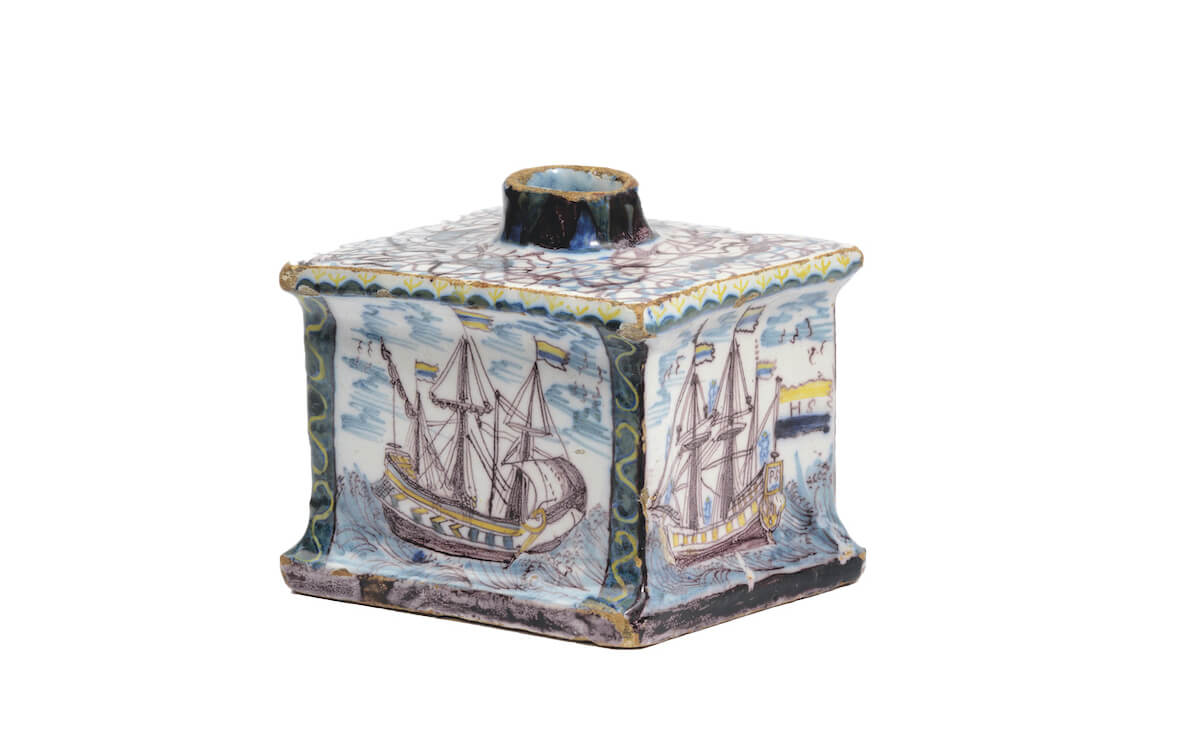 Polychrome Rectangular Tea Canister
In every newsletter we present a special object from the Aronson Antiquairs' collection. This month we would like to show this polychrome rectangular tea canister.
This tea canister was probably made around 1740 at De Twee Romeinen (The Two Romans) factory on the Prinsengracht in Amsterdam. It is painted with manganese delineated galleons with full blown sails and flying pennants, with various sailors on high sea.
The Dutch East India Company (VOC) found in the faraway lands that they visited many treasures and commodities, that were uncommon at that time in the Netherlands. Tea was one of these interesting finds, and not only the VOC but also its British counterpart, the so-called British East India Company shipped it to their country. Already in the sixteenth century Europeans knew about the existence and the habit of tea drinking in China by the accounts of travelers as the Portugese Caspar da Cruz (circa 1520- 1570) or the Dutchman Jan Huygen van Linschoten (circa 1563 – 1611). Although several sources say that tea was imported in small quantities throughout the century from both China and Japan, others say that the production in Japan was only meant for its own population, and not for export.
Initially drinking tea in Europe had a medicinal purpose, since it "suivert het grove bloedt, verdrijft de sware droomen, (…) 't verjaegt de dommigheijt en 't sterckt Venus' handel (gedienstig voor nieuw getrouwde)" ("purifies coarse blood, drives out heavy dreams, (…) chases away stupidity and strengthens Venus' affairs (useful for newly weds)". It took a while though before the fashion became generally established, but in the last quarter of the seventeenth century, the craze for tea drinking began to sweep through Europe.
When the practice of drinking tea became fashionable, it changed the rhythm of people's daily lives. Tea could be drunk once or twice a day, but afternoon gatherings became the new habit. Furthermore it inspired people to acquire the necessary accoutrements for serving the drink. Tea was presented to the guests in the most beautiful tea canisters, after which in small pots strong brews of tea were made from the teas of choice.
This tea canister was built from small rolls of clay with the thickness of a tile. As J.D. van Dam describes in "'Delfts' uit de provincie, Aardewerk uit Hollandse tegelfabrieken", in: Vormen uit Vuur, 1999, vol. 168/169, there are four other similar tea canisters, although the decoration on each differs. The similar edges, rims, ornament and the comparable finish on the underside, which was sponged after glazing, make an attribution to one tile factory and a date between 1725 and 1750. Objects made between these years clearly show the characteristics from a tile factory product: they are large, rather heavy, sometimes even a bit bulky and are delicately decorated with soft, somewhat grey shades of blue. The objects attributed to De Twee Romeinen factory, such as this tea canister, are heavier, made with more effort, and much more varied in shape and decoration. In the eighteenth century, the objects produced at tile factories in Amsterdam were fired 'freely', since saggars were not available.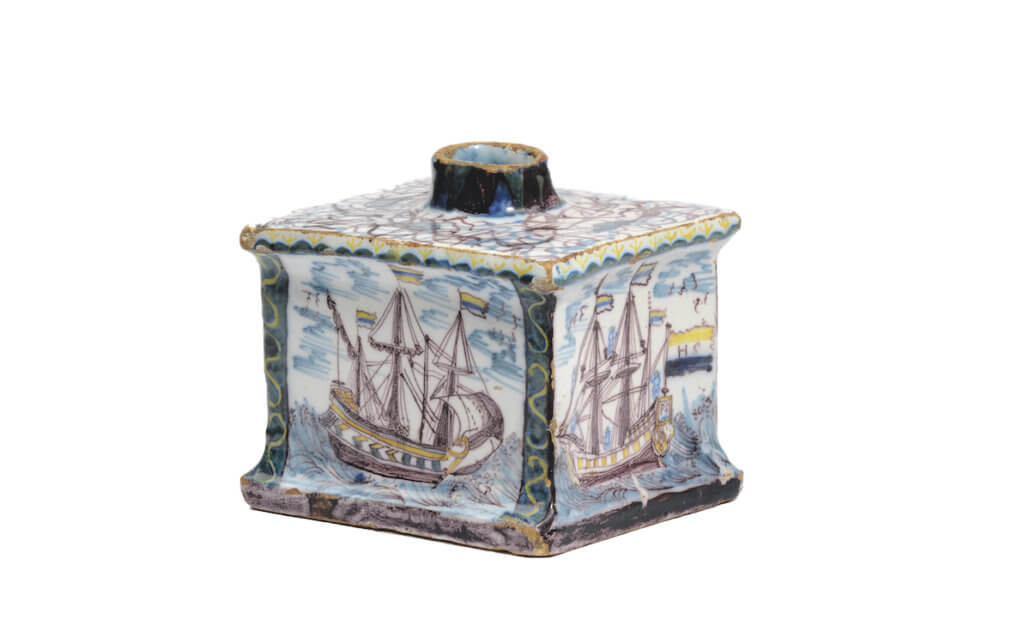 Polychrome Rectangular Tea Canister
Amsterdam, circa 1740
Painted on all four sides with a manganese delineated galleon with full blown sails and flying pennants in yellow and blue, one with a flag inscribed H.S., to the rear of the ship inscribed P.S, with various sailors on high sea. Surrounded by a blue frame enhanced with scrolls and florettes, the flat top marbleized in manganese and blue, and the circular neck encircled with a manganese, green and blue petal border.
Dimensions
Height: 13.6 cm. (5.4 in.)
Provenance
Christie's Amsterdam, December 3rd 1991, lot 160 (then attributed to possibly Liverpool);
The Van der Vorm Collection, The Netherlands