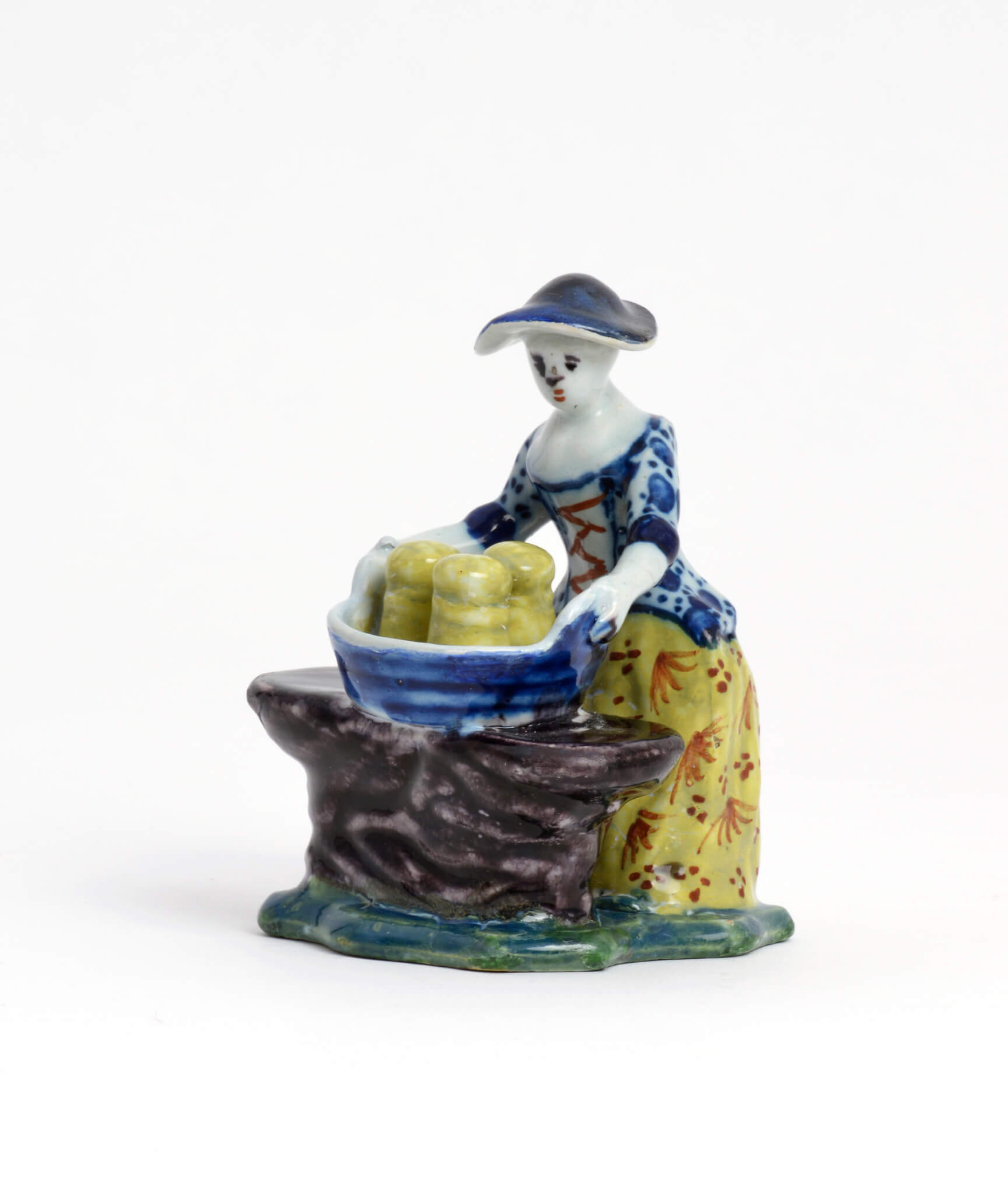 Polychrome Figure of a Butter Vendor
Every month we present a special object from the Aronson Antiquairs' collection. This month we would like to show you this polychrome figure of a butter vendor from 1760.
Butter has been a major dairy product produced by the Netherlands for centuries, especially in the province of South Holland, near the cities of Leiden and Delft. The preparation of butter was an arduous task on the farm. To make it, milk cream was shaken with a wide-ended stick. The carnation was done manually until the hand labor was later replaced by mills in the eighteenth century. Like cheese, butter was marketed by the farmers themselves. Butter was an export product, and was transported in wooden barrels or vats. Dutch butter was exported throughout Europe, and especially enjoyed by the English. The major export ports were Harlingen in the province of Frisia and Rotterdam.
This figure is part of a group of Delftware figures of women occupied with their daily chores. The chores vary from washing clothes to cleaning a toilet set. The latter, a comparable figure of a woman washing a toilet seat, is in the collection of the Gemeentemuseum, The Hague (inv. no. 0400899)
Polychrome Figure of a Butter Vendor
Delft, circa 1760
Modeled as a young woman with a blue broad-brimmed hat, wearing a blue dotted bodice with a red stomacher above a yellow skirt patterned with iron-red dots and sprigs, and holding with both hands a large blue tub filled with three stacks of butter, standing on a manganese base, all on a low comfortingly-shaped green base.
Height: 10.5 cm. (4.1 in.)