Polychrome Embracing Couple Group
Every month we present a special object from the Aronson Antiquairs' collection. This month we would like to show this polychrome embracing couple group from circa 1765.
This embracing couple group is marked for Jacobus Adriaansz. Halder, who was the owner of De Grieksche A (The Greek A) factory from 1764 to 1768. His style was characterized by the popular rococo designs of the era, as is shown in this embracing couple group.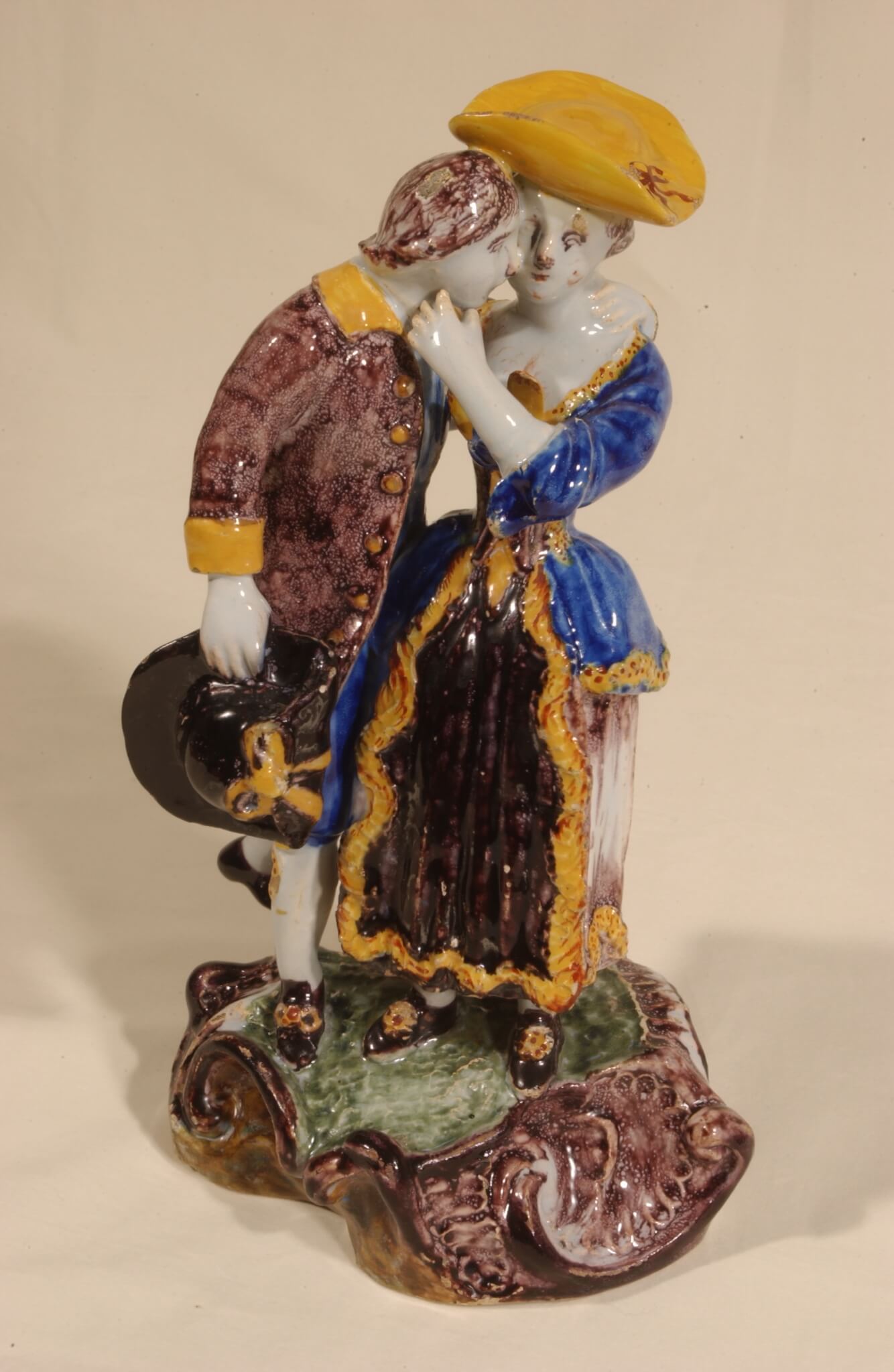 The exorbitantly decorative rococo style of architecture and interiors swept through Europe in the eighteenth century. The style began in France during the reign of Louis XV, and quickly spread to other parts of Europe, particularly Bavaria, Austria, Germany and Russia. The style was a reaction against the more formal and geometric style of Louis XIV. Although it is not considered a Dutch phenomenon, the rococo style was integrated into architecture and interiors in the Netherlands in the second half of the century.
With its playful and witty themes, rococo rooms were designed as a total work of art with elegant and ornate furniture, ornamental mirrors, and tapestry complementing architecture, reliefs, and wall paintings. The rococo interior was adorned with numerous ceramic objects, which were displayed on console tables, in showcases or on pedestals. These ceramic objects may have included Delft faience, or porcelain made in Sèvres or Meissen, centers that produced many small scale works in series.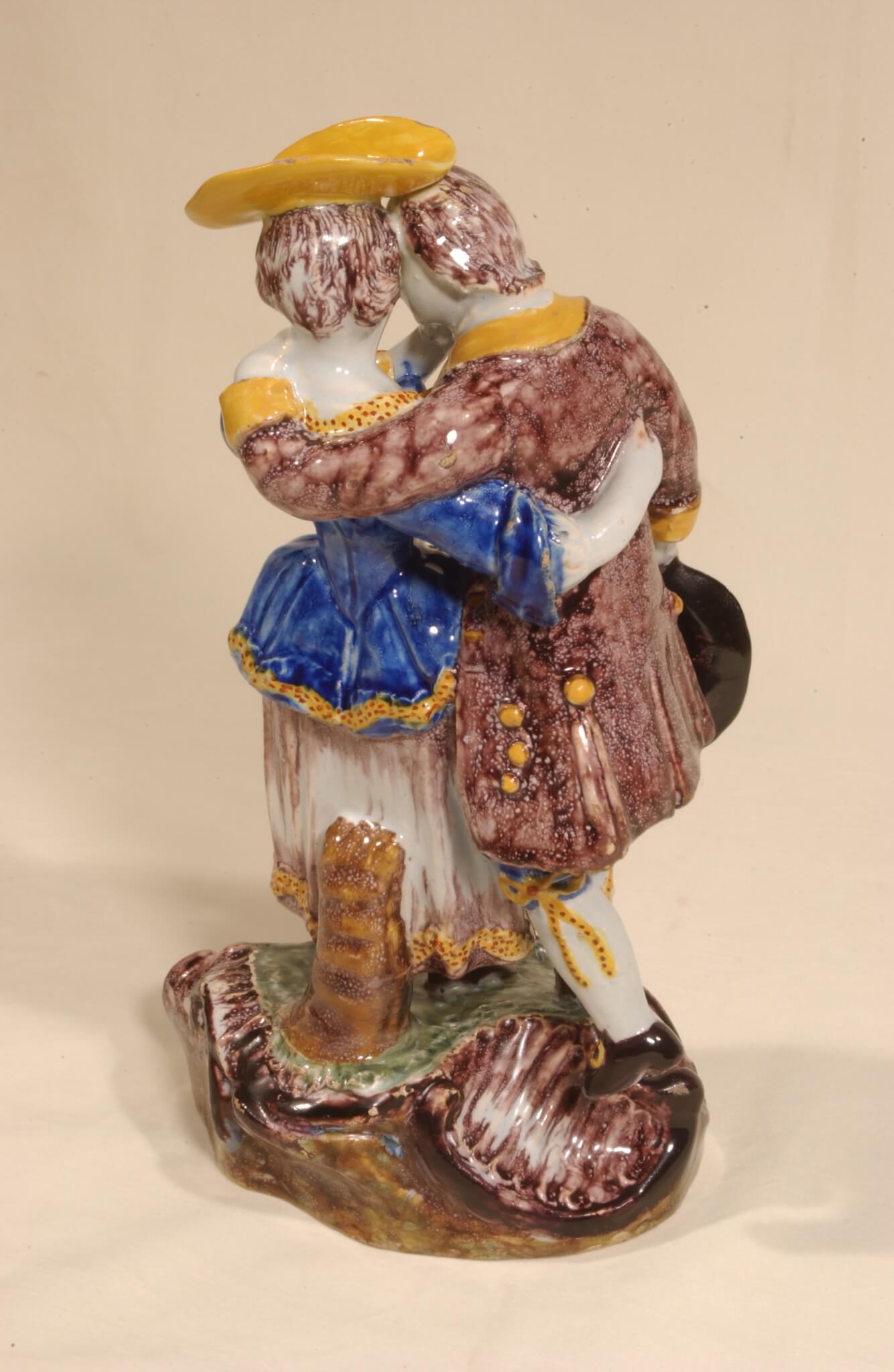 The Delftware potters and painters experimented with rococo ornamentation to both break with the oriental models and to follow the new German and French styles. The German influence originated after a considerable amount of Meissen porcelain was imported to the Netherlands. The competition from Meissen, whose products were specifically designed for the European elite, first caused trouble for the Delft industry. However, the Seven Years' War (1756-1763) interrupted the production of many German and French factories, which caused a severe reduction of the porcelain available in Holland and an influx of emigration of German and French craftsmen into the Netherlands. The Delft factories thus rose to meet the demand for the popular rococo ceramics.
Consequently, a tremendous amount of human and animal figures of various sizes and models were produced by the Delft masters in order to satisfy a range of tastes. While these playful objects embrace the rococo spirit, they equally exude a characteristic Dutch charm and insouciance. The creativity of the Delft potters was limitless. Even today, the splendor of these magnificent rococo objects endures.
Polychrome Embracing Couple Group
Delft, circa 1765
Marked A / iH / 12 in blue for Jacobus Adriaansz. Halder, the owner of De Grieksche A (The Greek A) factory from 1764 to 1768
Height: 24.5 cm. (9.6 in.)
Price: € 14.500 (appr. GBP£ 12,750 or export US$ 16'000)