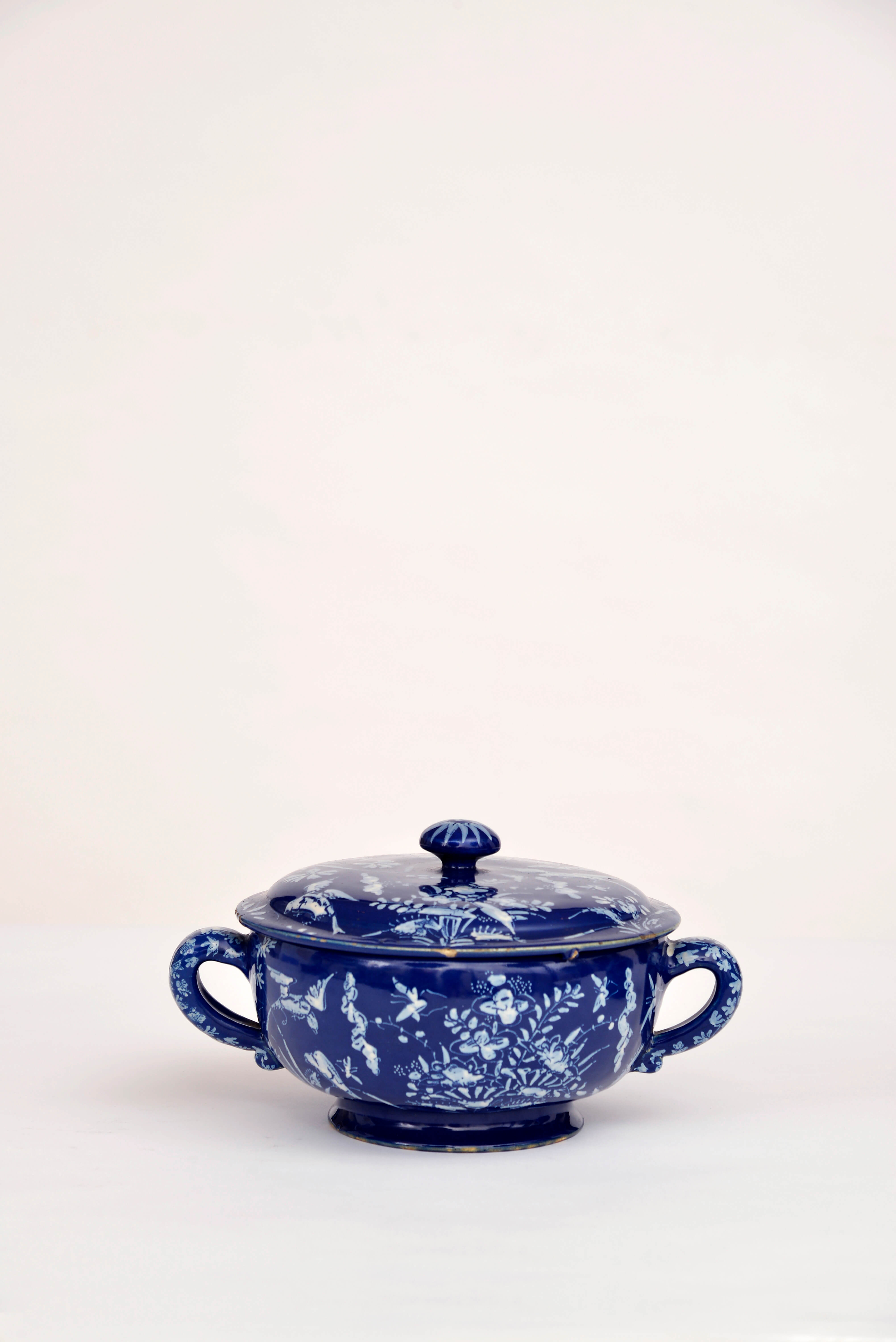 Persian Blue Spiced Wine Bowl and Cover
Every month we present a special object from the Aronson Antiquairs' collection. Since it is the holiday season we would like to show you a Dutch Delft object that is typical for around Christmas time: a 'Persian Blue' spiced wine bowl and cover. This bowl, dated circa 1700 and marked for De Paauw (The Peacock) factory, was used for the making and serving of spiced wine, a popular alcoholic beverage, served hot in the winter on festive occasions for its celebratory effects.
The bowl has a strainer affixed to one side of the interior. Frequently these type of bowls are referred to as washbowls under the assumption that the strainer was used to hold the soap or a sponge. It has been determined, however, that these were kruidenwijnkommen (herbed wine bowls). The bowl would be filled with either red wine (usually port or claret) or even stale beer and the strainer filled with a variety of spices (such as cloves, nutmeg, cinnamon sticks, mace, cardamom and ginger), raisins or other fruits, and sometimes honey or sugar were also added. Thereafter, the brew would be left to mull overnight. The resulted spiced or mulled wine was not an invention of the seventeenth or eighteenth century, but its history goes far back. Already in second century Rome these brews have been recorded in the writings of the Roman epicure Marcus Gavius Apicius (fl. 14-37 AD) and Pliny the Elder (23-79 AD).[1]
The brew had initially medicinal and aphrodisiacal properties, and even the ability to expel demons. By the sixteenth century in England and Holland, it was even being prescribed by doctors as a digestive aid, although ultimately its "special properties" were forgotten as it evolved into a popular alcoholic beverage. Spiced wine in its many forms is now known by a panoply of names: in Holland, bisschopswijn ("bishop's wine"); in Germany, Austria and other German-speaking regions, Glühwein ("glow-wine", from the hot irons originally used for mulling); in the Nordic countries Glögg, gløgg, and similar words; in France, vin chaud ("hot wine"); and in Italy vin brulé ("burnt wine") – all generally served around Christmas time.[2]
Persian Blue Spiced Wine Bowl and Cover
Delft, circa 1700
Marked – D – PAW 11 on the bowl and 11 on the cover in white for De Paauw (The Peacock) Factory
The bulbous circular body painted on the front with two birds perched on flowering plants flanking a third bird on the ground, all surrounded by flitting insects, and on the reverse with a bird flying above another perched on bamboo near a large flowering plant beneath further flitting insects, all between loop handles at the sides decorated with sinuous flowering vines, the interior affixed on one side with a semicircular strainer pierced with fourteen small holes, and the low domed cover painted with two birds and four insects in flight amidst flowering plants encircling the mushroom-shaped knop painted on its top with a large blossom.
Sold
[1]  Fosbroke, Thomas Dudley, A Treatise on the Arts, Manufactures, Manners, and Institutions of the Greeks and Romans, 1835, p. 327.
[2]  Aronson, Robert D. Dutch Delftware; Qui Capit, Capitur, 2015, p. 36.