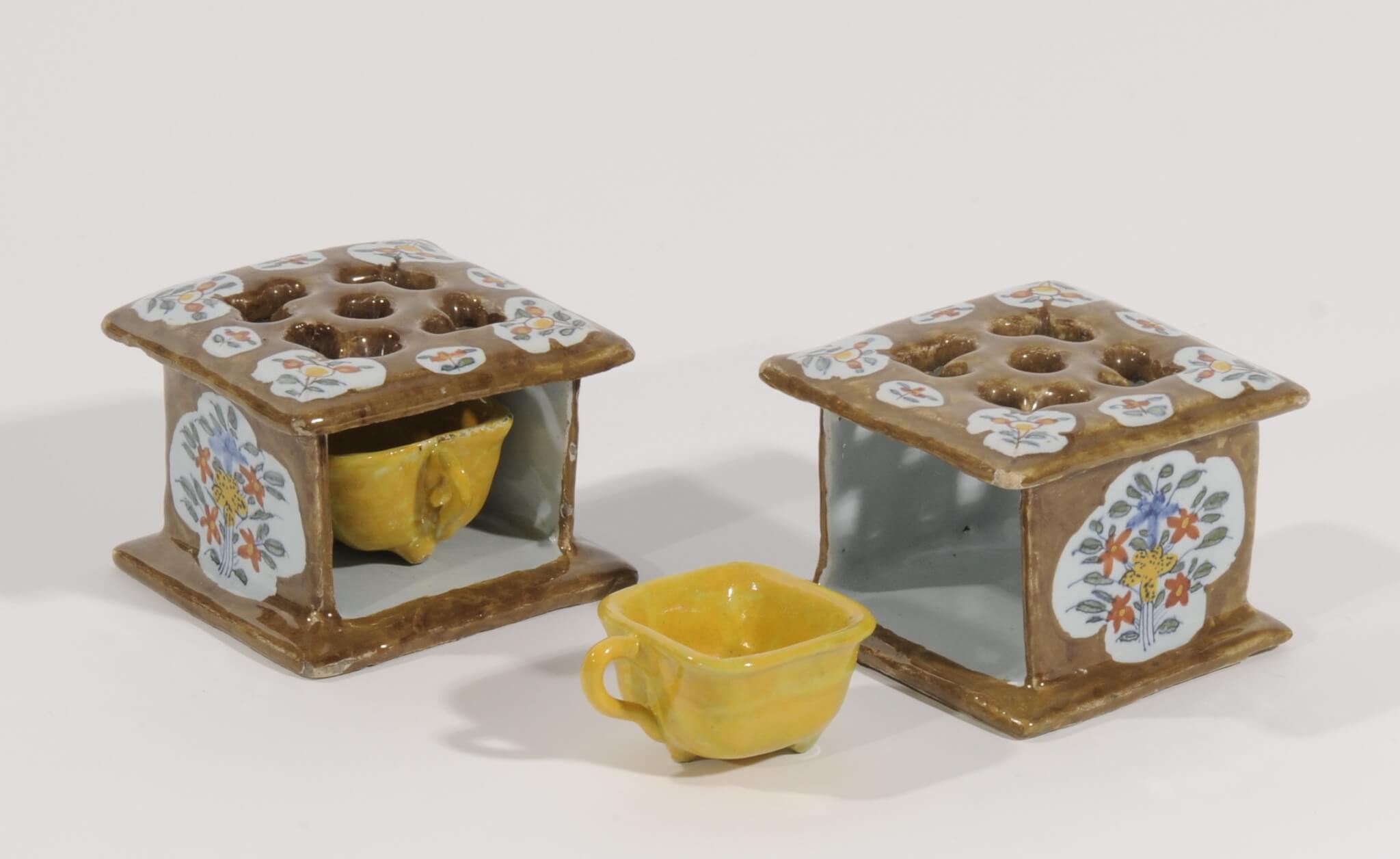 Pair of Polychrome Stoves and Braziers
Every month we present a special object from the Aronson Antiquairs' collection. This month we present to you a pair of polychrome stoves and braziers, dated 1776. Foot stoves were used to warm the feet and were a common accessory in the Dutch household. The stoves were constructed with a wooden box that was ventilated on one side with holes or a slab at the top. Heat was conducted by burning charcoal that was placed in a ceramic or metal bowl (brazier) inside the stove. The feet were warmed by resting on top of the stove. Due to its popularity in the Dutch household, Delft potters produced decorative, miniature versions of the tool.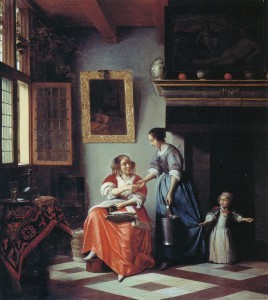 Foot warmers were a common item in both wealthy and poor homes, and were made with a range of materials. The simplest versions consisted of a punched tin in a wooden frame, with an earthenware or iron pot to hold the coals. More elaborate stoves in brass and silver were used by the wealthy, although it was impossible to rest one's feet on silver versions. Stoves were also portable and were useful when traveling in cold weather in an unheated carriage, sleigh, or train compartment. In the seventeenth and eighteenth centuries, a pierced-metal carrier for hot coals was common for those who could afford it. Poor people who were traveling by wagon or sled carried pre-heated stones or bricks, or even baked potatoes and flatirons.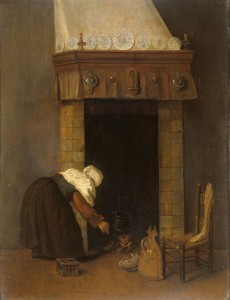 Stoves are depicted in many Dutch paintings from the seventeenth century onwards, demonstrating their widespread use among many classes of people. For example, the painting Woman Giving a Coin to a Maid by Pieter de Hooch from circa 1670 shows a well-furnished room in which a lady is seated with her right foot resting on a stove. Both in Woman at the Hearth by Jacobus Vrel from circa 1655 and Nursing Woman by Pieter van Slingelandt from circa 1663, a more sober interior is depicted with a stove standing in the middle of the room. In the latter painting, the stove and accompanying brazier are clearly depicted beneath the lady's dress. The painted example is remarkably similar in shape to the present pair of Delft stoves and braziers. Although the foot warmers are visible in these paintings, they were often completely concealed beneath a long skirt or cloak as they were primarily used by women.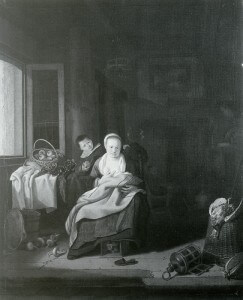 Although a pair of dated polychrome stoves is already quite rare, it is even more uncommon that the pair retains its original braziers. The stoves are colorfully decorated with a brown ground and roundels with stylized floral sprigs. The small braziers are executed in a yellow color, which was one of the most difficult colors to achieve. Miniature objects and doll accessories were often made in little kilns by so-called thuiswerkers (homeworkers who were not part of a factory), but there are also records of Delftware factory inventories that mention doll accessories.[1] These small objects may have been gifted for special occasions, as they represent marriage and domestic stability.
Pair of Polychrome Stoves and Braziers
Delft, dated 1776
Each dated 1776 in manganese
Each with a brown ground, the square top pierced with a central circlet and four surrounding heart-shaped apertures and reserved with four trefoil-shaped panels on the corners alternating with four roundels, all painted with a stylized floral sprig, the three rectangular sides below each reserved with a quatrefoil panel painted with a floral bouquet, the fourth side open for the small yellow brazier.
Height: 5.7 cm. (2 1/4 in.); width: 7.9 cm. (3 1/16 in.)
Provenance: Collection Mr. Jan Visser (d. 1985), Heemstede, and thence by descent to an heir (until 2009)
[1]   Vormen uit vuur 2015/3 229, p. 47.