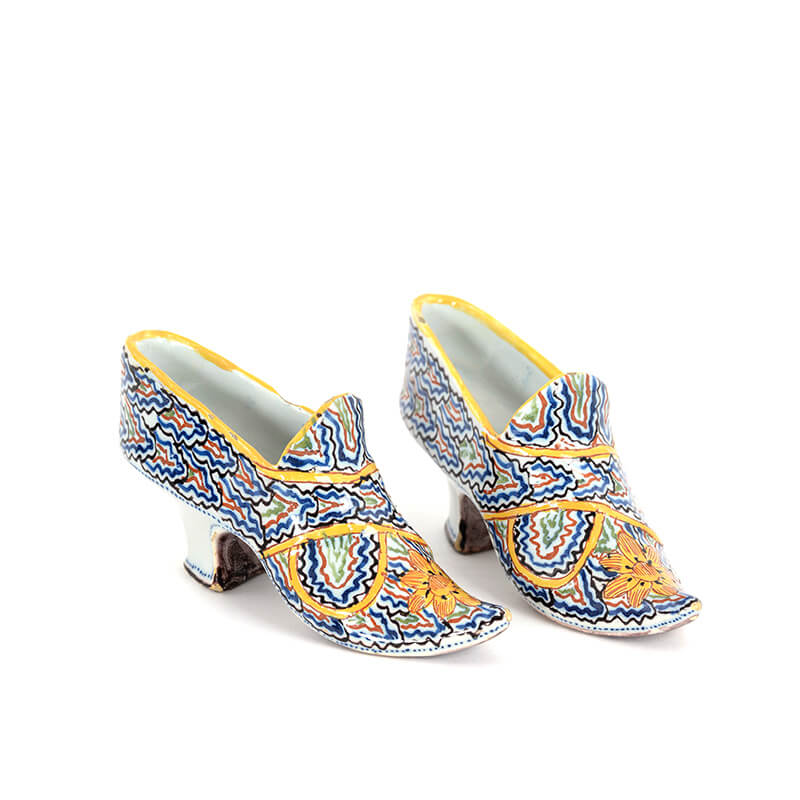 Pair of Polychrome Models of Shoes
Every month we present a special object from the Aronson Antiquairs' collection. This month we would like to show you this pair of polychrome models of shoes, made in Delft around 1765. In contrast to Delft slippers, small shoes like the present pair are more uncommon. The model for slippers are seventeenth century mules, or trippen, a word used to describe a mule with an upturned toe, which were worn by men and women in the home. On the other hand, shoes as the present pair were worn outdoors. They were worn by both sexes and typically had stacked heels, a fashion promoted by the French court of Louis XIV. Heeled shoes were a status symbol, as they were mostly worn by the nobility. After the influence of the King, the fashion spread to the masses.
Beginning in the late seventeenth century, various models of miniature slippers and shoes were produced in Delftware, ranging from blue and white, to polychrome and petit feu examples. The shoes, which were always designed according to the latest fashions, were produced in a range of types and sizes, attesting to their popularity. Often, they were painted to suggest the original materials. There is no distinction made between the left and right shoes of this miniature pair, as they were formed from a single mold.
Miniature ceramic shoes like these were produced in pairs and sold at annual fairs and markets. Although most examples are undated, some are dated and bear initials, indicating that they were offered as gifts. It it highly possible that shoes and slippers were made in little kilns by so-called thuiswerkers (home workers), who were not part of a factory, as with so many other miniature objects. Since brides traditionally offered a pair of shoes to the groom, it is likely that these earthenware shoes had the same function. Shoes were a sign of respect for the marriage and domestic stability, and they also signified an erotic connotation in the seventeenth century. Thus, the pair of Delftware shoes was possibly exchanged as a symbol of good luck in marriage. Moreover, in Chinese culture, porcelain shoes symbolize the desire that husband and wife grow old together.
Pair of Polychrome Models of Shoes
Delft, circa 1765
Each molded with a yellow-edged strap to the front painted with a large yellow flower head reserved on an iron-red, blue, green and manganese patterned ground, a blue dotted-edged sole continuing around the arch and edges of the heel, and a manganese sole.
Lengths: 12.3 cm. (4.8 in.)
Provenance: Salomon Stodel Antiquités, Amsterdam, 1996; The Van der Vorm Collection, Belgium
Literature: Described and illustrated in Abraham & Aronson 2010, pp. 150-151