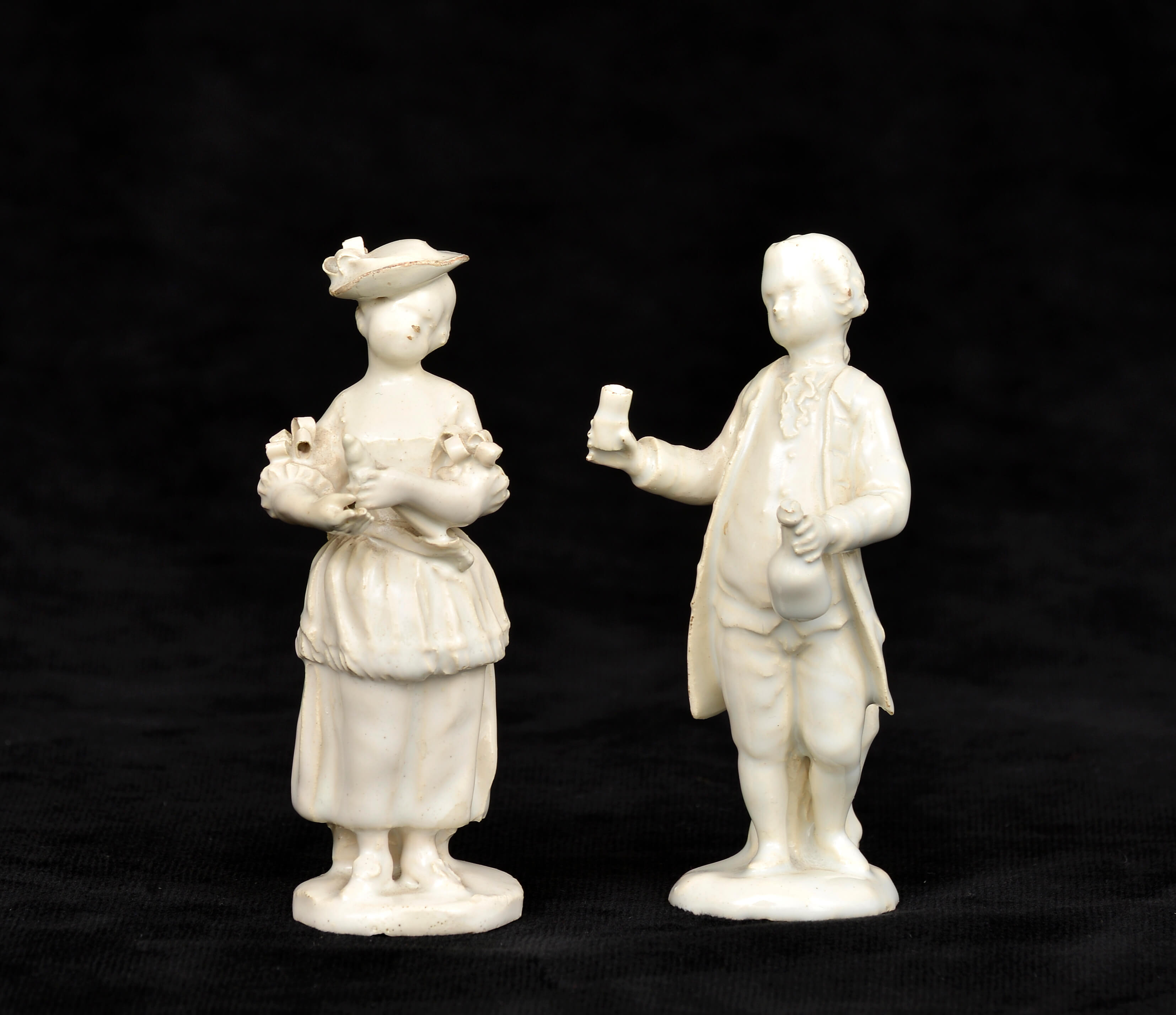 Pair of White Delft Figures of a Young Lady and a Gentleman
Every month we present a special object from the Aronson Antiquairs' collection. This month we would like to show you this lovely pair of white Delft figures of a young lady and a gentleman from circa 1775.
Over the centuries, Dutch Delftware has been produced in many different guises, from plain white to brilliantly polychrome. Art historians have during a long time considered White Delft or 'Delfts wit' as a functional product. The existence of delicate figures like this pair testifies that plain white faience could also have a decorative function. Not only figures of animals but also figures of people were produced by the Delft potters in the color of the white glaze without any additional colors applied on it. They would for example be displayed as table ornaments or in a cabinet where they would accompany other pieces of Delftware but also sometimes Chinese porcelain.
Although many white Delft figures were inspired by the Chinese blanc de chine porcelain that was imported to the Netherlands in the mid-seventeenth century onwards, the creation of this particular model was most likely influenced by the white figures made in the porcelain factories of Höchst, Frankenthal or Meissen. Although no direct prototype have been found for these figures, it is well-known that many white Delft rond de bosse figurines have been created after Hochst models.
This present pair bears similitudes to models that have been conceived by the Hochst master Johann Peter Melchior (1747-1825). His work, which is characterized by his graceful and sentimental figures, mainly drew its inspiration from the paintings of Boucher and the writings of Rousseau. Melchior was fond of ornamenting the hats and dresses of his figures of girls and ladies with bows of the type found on the present figure. As for the costume of the young man with its lace, jabot and long jacket, the style is much closer to the creations of Johann Johachim Kaendler (1706-1775), who worked at Meissen from 1731 until his death. Kaendler was one of the most talentuous modellers of the Meissen factory. Like Melchior, his work was celebrated for its refinement and sophistication.
Wether in porcelain or in faience, these remarkable figures are long lasting descendants of beautiful decorating sculptures formerly made of sugar paste and wax that were displayed on the dessert tables.
Pair of White Delft Figures of a Young Lady and a Gentleman
Delft, circa 1775
The young lady wearing a hat ornamented with a double bow repeated on the ruffle-edged sleeves of her bodice, and over her skirt an apron with a ruched edge and a double-bowknotted sash forming a pocket at the front supporting one end of the parasol (?) held in her left hand, her head slightly tilted to the left; the young man with his hair tied en queue, wearing a jabot at the neck of his waistcoat, and a coat over knee breeches, holding a tall glass in his right hand and a bottle in his left; and each standing on a low mound base.
Heights: 11.2 and 11 cm. ( 4 3/8 and 4 5/16 in.)