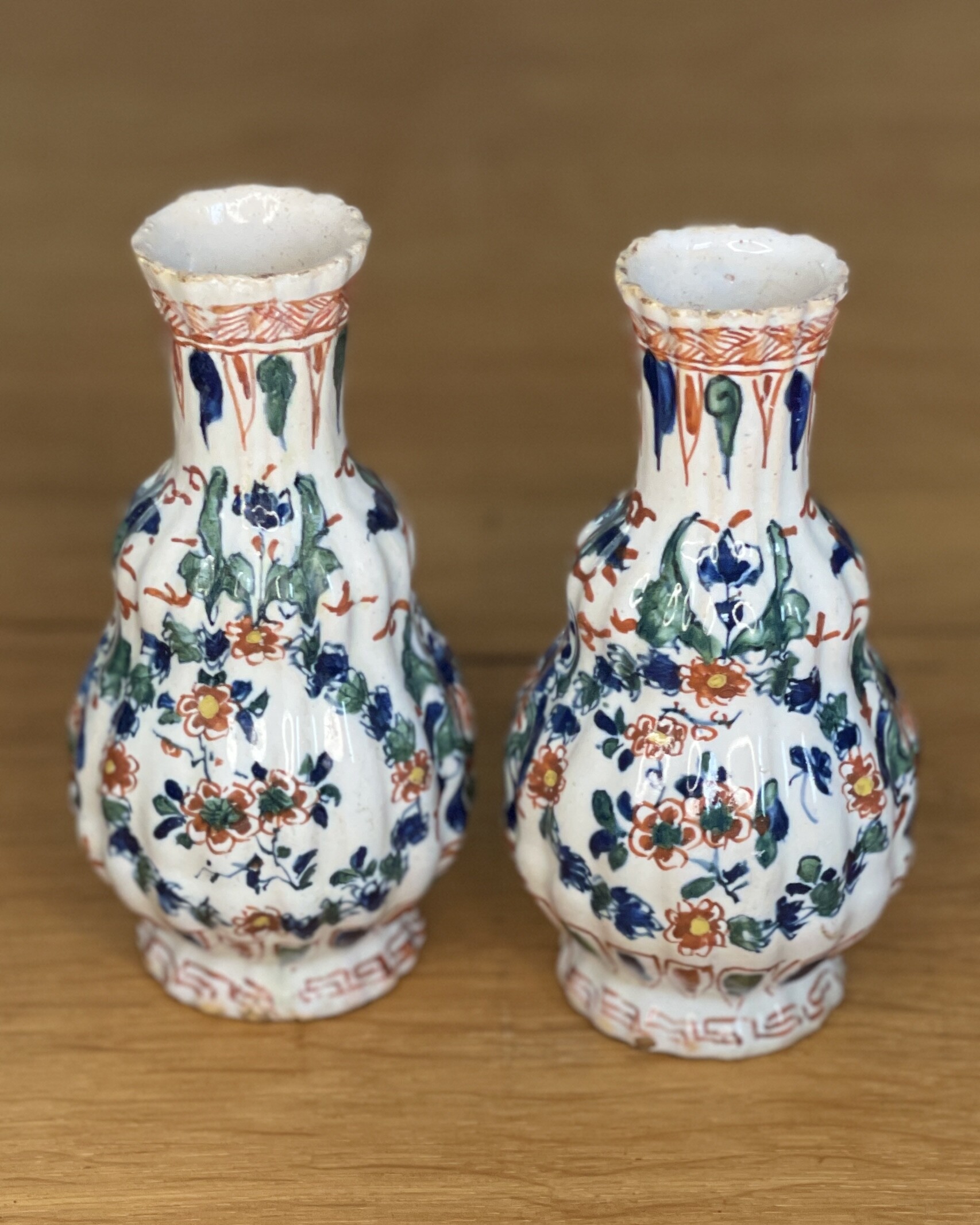 Pair of Polychrome Cashmere Reeded Vases
Every month we present a special object from the Aronson Antiquairs' collection. This month a beautiful pair of vases in a very rare palette!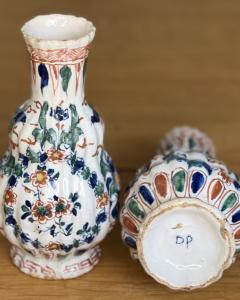 The delicate grand feu decoration on this pair of vases was in the middle of the 19th century given the descriptive title 'cashmere' for its likeness in color, and exotic, dense motifs to the fine woolen shawls that were imported from India and worn by high-class European ladies. As can be seen on the present vases, the earthenware of this category has a reeded surface with a color scheme of blue, red and green. Although the Delft pieces were named after the fashionable textiles, the Delft potters were in fact inspired by the Chinese famille verte porcelain wares of the Kangxi period (1662-1722), which arrived in Europe at the end of the seventeenth century. Delftware painters also looked beyond China for further inspiration in designing cashmere pieces.
One such design source was the French baroque style that reigned during the age of King Louis XIV. Characteristic for this is the delicate use of arabesques and whimsical grotesques that originally derived from the Renaissance, and the combination of foliage with human and animal forms that prefigured the Rococo movement. Moreover, multiple garlands of flowers, draperies, scrolls, and pendants were added in order to form magnificent embroidered motifs. Since the production of these elaborate reeded pieces was probably too expensive, the cashmere palette enjoyed a brief, yet widespread success during the first half of the eighteenth century.
The addition of yellow in this palette is rarely seen.
D1593. Pair of Cashmere Reeded Vases
Delft, circa 1700
Unidentified DP mark in blue on the bases both vases
The pear-shaped bodies painted with flowers on two sided within wraths.
Dimensions
Height: 13 cm. (5.1 in.)
Price: € 3.500 (export $ 4,000)
(Link to this pair Delftware cashmere vases in our webshop)