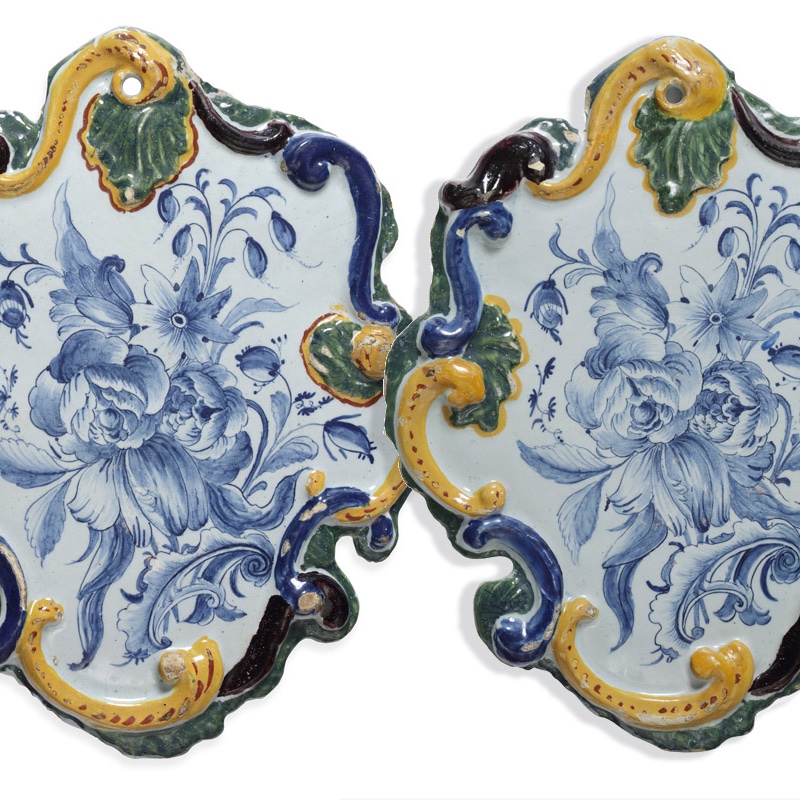 Pair of Polychrome Cartouche Shaped Plaques
Every month we present you a special object from the Aronson Antiquairs' collection. This month, we would like to show you this Pair of Polychrome Cartouche Shaped Plaques from circa 1790.
The "porcelain paintings," as they were referred to in household inventories, were intended to be admired as if they were paintings on panel, canvas or copper. The production of plaques started during the 17th century. By the end of the 17th century, Delftware plaques were marked by their refinement and creativity of design and decoration. The shapes of the pieces, whose contours were often cut out and moulded, became increasingly stylized. This pair of polychrome floral plaques illustrate the rise of the rocaille style in the 18th century with its rounded shape and scrolls.
The precise dating of Dutch Delft plaques, particularly those of this elaborate shape, which seems to have enjoyed an enduring popularity, has always been difficult and even slightly controversial. In an attempt to clarify the criteria for ascribing certain date ranges to the production of these plaques, a committee was assembled to examine without bias a group of plaques from various sources and of seemingly various dates. Based on the colors, especially the tones of blue; the eighteenth-century spontaneity vs. the slightly later-appearing stiffness; the quality of the glaze; and the compositional style of the scenes, a series of three date ranges emerged: circa 1780-1800, circa 1800-20 and circa 1820-40. It was surmised that very few, if any, Dutch Delft plaques were produced between about 1840 and 1850/55, after the closure of most of the factories and before the collecting of Delftware was revived.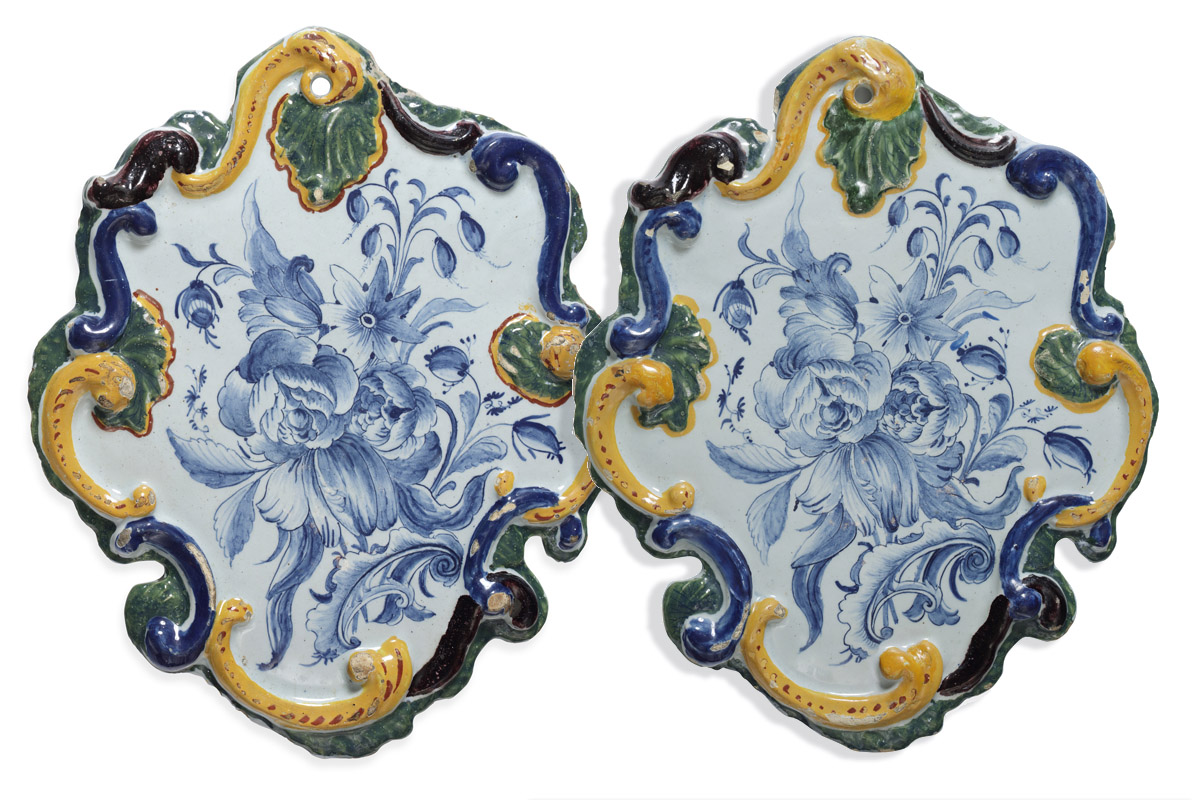 D2365
Pair of Polychrome Cartouche Shaped Plaques
Delft, circa 1790
Each painted in blue in the center with a lush bouquet of flowers, the edge molded with a green, blue, manganese, and iron-red-heightened yellow rocaillerie frame pierced at the top with a large hole for suspension, the reverse glazed.
Height: 33.3 cm. (13.1 in.)
Price: € 11.500 (US$ 11,500*)
(*) export prices denoted with shipment by us outside of the European Union, price including packing and shipping, please contact us for details.