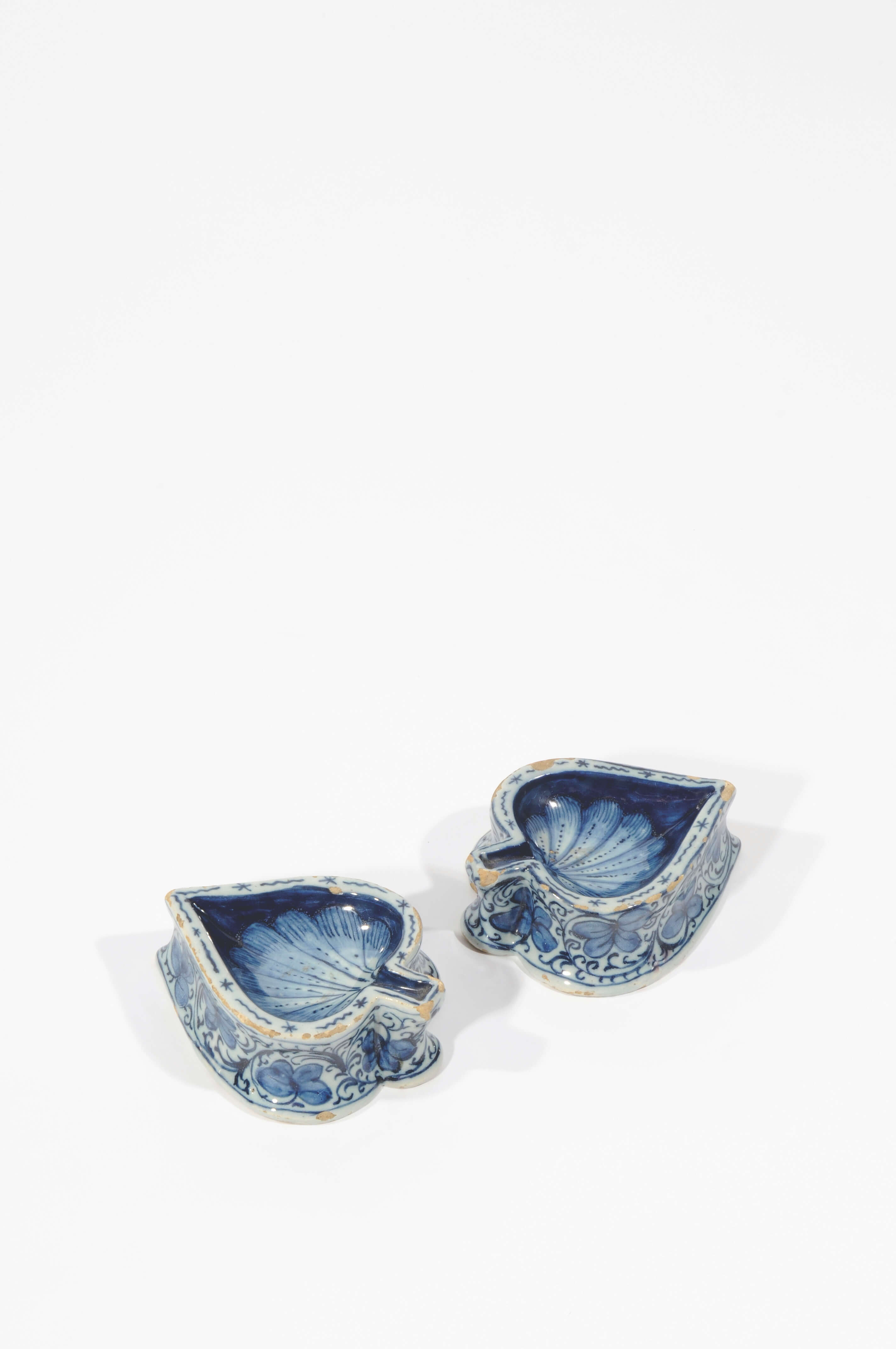 Pair of Leaf-Shaped Salt Cellars
Every month we present a special object from the Aronson Antiquairs' collection. Since this month's newsletter is dedicated to all kinds of objects on the dinner table, we would like to present a wonderful pair of blue and white leaf-shaped salt cellars, from circa 1765.
There is perhaps no natural substance upon which mankind has depended more significantly than salt. Salt has been used all throughout history and the use of salt cellars is documented as early as classical Rome. In the Netherlands the saltmaking and the trade in salt probably began in the Iron Age (0 – 500 A.D.). Especially in ancient times and the Middle Ages, salt was very expensive. For example, the value of one kilogram of salt was a half day's wage in the fourteenth century. Therefore the name 'the white gold' is not surprising at all.
Its ability to preserve and season food has been called "the foundation of civilization", and the early difficulty in obtaining it turned salt into an important commodity of trade and a form of international currency. Into modern history, salt has created and destroyed empires, and it was even the subject of biblical legend: in Genesis, Chapter 19, verse 6, Lot's wife is turned into a pillar of salt for disobeying the angels' warning and looking back at Sodom; and in New Testament metaphor: among the Beatitudes in the Sermon on the Mount, Jesus says to his Disciples, "You are the salt of the earth" (The Gospel According to St. Matthew, Chapter 5, verse 13). Over the centuries salt became more available, but through the seventeenth and into the eighteenth century it remained an important indicator of wealth and status on the dining table, and the vessels of its presentation were often sizeable and impressive.
The shape of these salt cellars often derived from typical Dutch silver salts of the middle of the seventeenth century. With the development of dinner services in the eighteenth century, including their array of various useful and often ornamental wares, such as candlesticks, cruet stands, sauceboats and every style of dish and plate, the salt cellars became smaller and more numerous on the table.
Pair of Blue and White Leaf-Shaped Salt Cellars
Delft, circa 1765
Each of spade shape, the well painted with a dotted and feathered palmette with a short stem forming a spoon rest, the upper edge with a border of squiggles and stars, and the slightly flaring sides decorated with a wide scrolling floral vine.
Length: 9.2 cm. (3 5/8 in.)
Provenance: Collection Mrs. M., New York State, U.S.A.