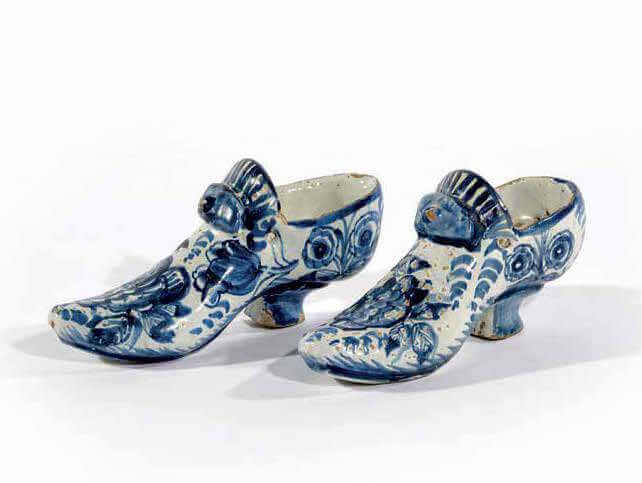 Pair of Blue and White Shoes
Every month we present a special object from the Aronson Antiquairs' collection. This month we would like to show you this pair of blue and white shoes. This pair of shoes was made around 1780 in the city of Bolsward in the province of Friesland.
The center of the earthenware industry in Friesland was Harlingen, a town on the coast of the Wadden Sea with a long history of fishing and shipping. Here, there were three large factories established. In 1737 in Bolsward a factory was founded that was mostly famous for its tile picture depicting a sectional drawing of a potter's kiln. In addition to tiles, the first products of the Frisian factories were mostly majolica dishes, plates and porringers in a variety of sizes. In the second half of the seventeenth century, but mostly in the eighteenth and nineteenth centuries, the production was expanded and the repertoire was enlarged to include more luxurious tin-glazed wares and other earthenwares serving solely as ornaments.
Miniature ceramic shoes like these were sold at annual fairs and markets. Although most examples are undated, some are dated and bear initials, indicating that they were offered as gifts on special occasions. Further, an erotic connotation associated with shoes in the seventeenth century suggests the pair may have been exchanged between lovers as a symbol of good luck in marriage.
Various models of miniature shoes were produced in both Delftware as Frisian ceramics, ranging from blue and white, to polychrome and petit feu examples. The shoes, which were always designed according to the latest fashions, were produced in a range of types and sizes, attesting to their popularity. Often, the shoes were painted to suggest the original materials. This miniature pair was formed in a mold and there was no distinction made between left and right shoes, which explains why they are identical.
Pair of Blue and White Shoes
Bolsward, circa 1780
Each painted on the front with a large blossom amidst dashes repeated on the upper edge above a stylized blue buckle, each between a pierced hole on either side, the sides with pairs of smaller blossoms, the back with a plain vertical band, and the heel washed in blue.
Lengths: 13.7 and 14 cm. (5 3/8 and 5 1/2 in.)
Provenance: Collection of Minze van den Akker, Fries Aardewerk Museum, Harlingen, inv. no. 0283207
Literature: Illustrated by M. van den Akker, Fries Aardewerk, Majolica, Faience, Kerfsnee, Harlinger Aardewerk Museum, Collectie Minze van den Akker, Meppel 2007, p. 299; Illustrated by P.J. Tichelaar and S. ten Hoeve, Fries Aardewerk II Bolsward, Leiden 2001, p. 170