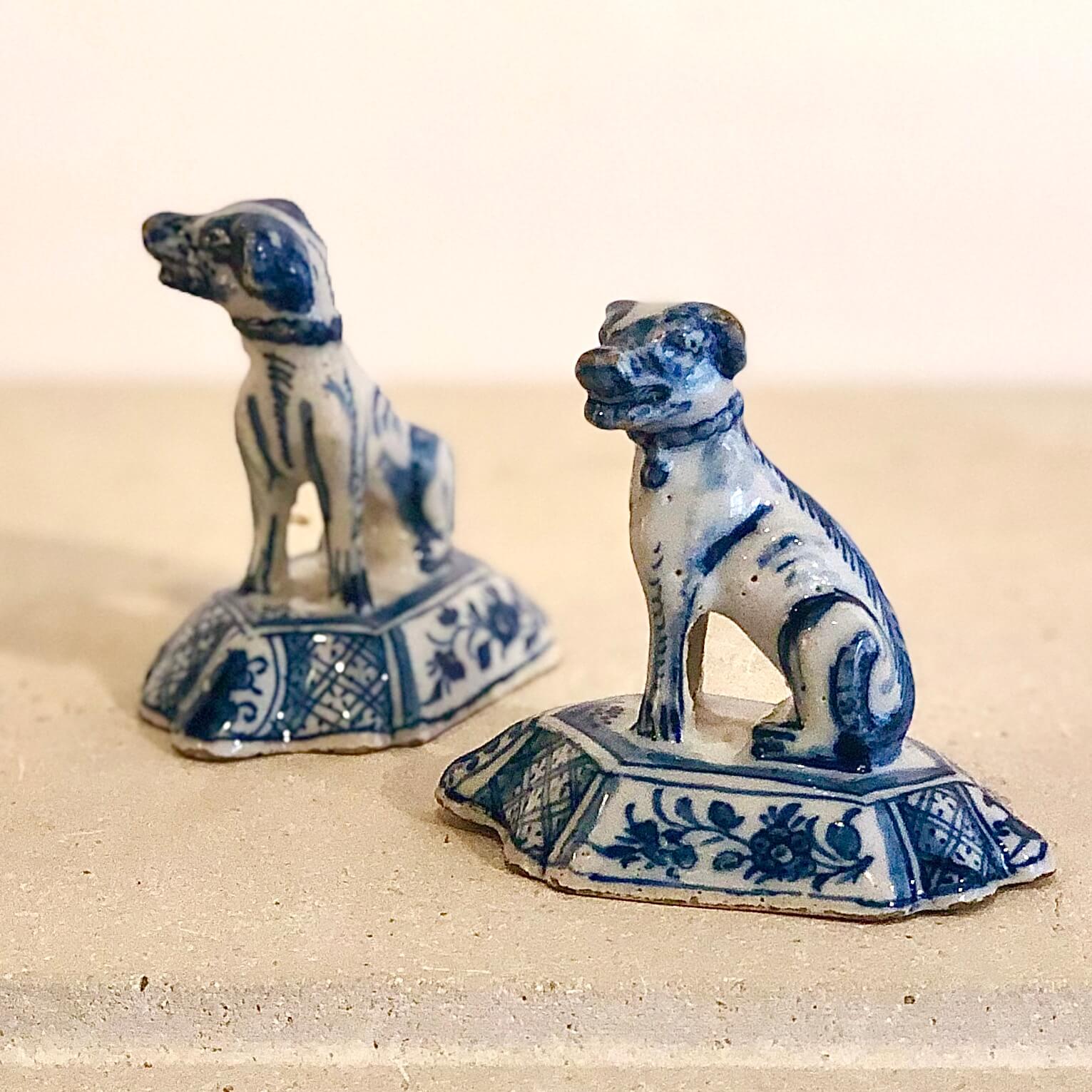 Pair of Blue and White Figures of Seated Dogs
Every month we present a special object from the Aronson Antiquairs' collection. This month we would like to show the Delft potter's interpretation of their beloved four-legged friends.
Dogs have been beloved human companions for thousands of years. In ancient Egypt, dogs were used for hunting, and they were domesticated over 10,000 years ago in the Far East. In the early modern period dogs assisted during the hunt, pulled carts, and were also kept as companions. Many contemporary paintings also show that several royal and noble families kept dogs as pets. For example, the pug, which is related to Far Eastern mastiffs, was introduced in Europe by the Dutch in the sixteenth century. Popularized by the House of Orange-Nassau, pugs quickly became the companion of kings and aristocracy. Therefore it is not surprising that the beloved animal also appears in and on Dutch Delftware.
This pair of blue and white figures of seated dogs, made around 1760, is delicately painted and shows the dog as a loyal pet with its collar affixed with a bell. Figures of dogs were produced in Delft from the eighteenth century. Purely ornamental objects, such as the present pair of dogs,  were placed on the mantelpiece, etageres, or inside the 'porcelain' cabinet. A 1779 inventory made after the death of a former Delftware factory owner mentions figures of dogs found on the dining room mantelpiece, and several more figures in the kitchen along with the more typical Delft plates and dishes.
In the eighteenth century, Holland was an agricultural region, a history that is often reflected in Delftware animals. Among the most prolifically produced were the farm and domestic animals. The representations of animals are famous: horses, cows, dogs and goats. Everyday life formed an important inspiration for the Delftware potters.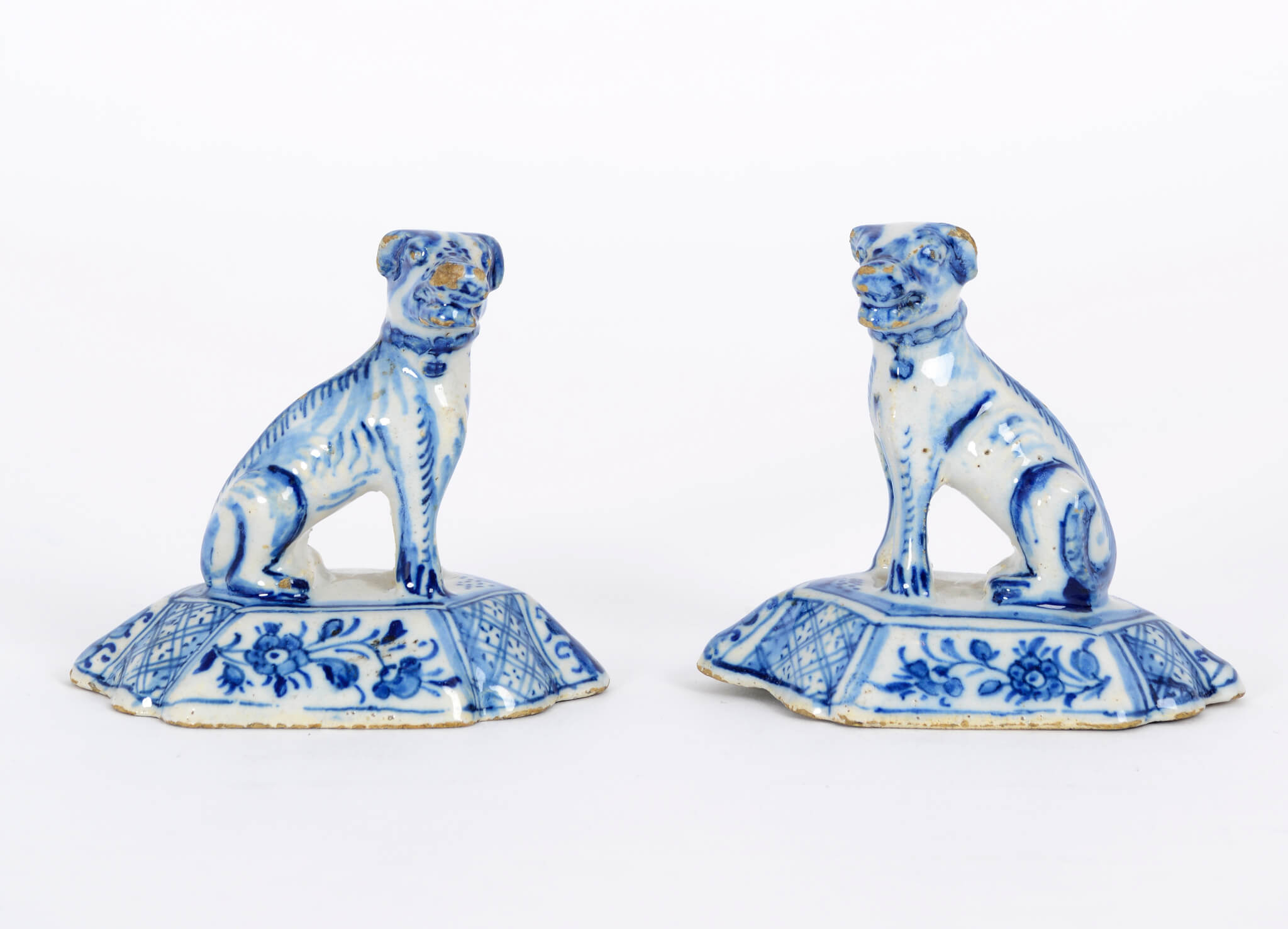 Pair of Blue and White Figures of Seated Dogs
Delft, circa 1760
Each painted with delineated hide and facial features, wearing a collar affixed with a bell and seated on a high lozenge-shaped base, its sides painted with panels with floral sprigs alternated by trellis diaper-work panels.
Height: 7.3 cm. (2.9 in.)
Price: € 6.500  (appr. GBP£ 5,800  or export US$ 6'900 )
[1]  The breed is indeed inextricably linked to the Royal Dutch family. Legend has it that William the Silent, Prince of Orange was saved by his pug (the so-called Pompey), who by his barking foiled an assassination attempt against his master. The pug became the official dog of the House of Orange-Nassau. Later, in 1689, when William III was named King of England, several pugs accompanied the Royal couple and attended the ceremony.
[2]   M.S. Van Aken-Fehmers. Delfts Aardewerk, Geschiedenis van een nationaal product, Volume II, Zwolle/Den Haag (Gemeentemuseum) 2001, p. 126.