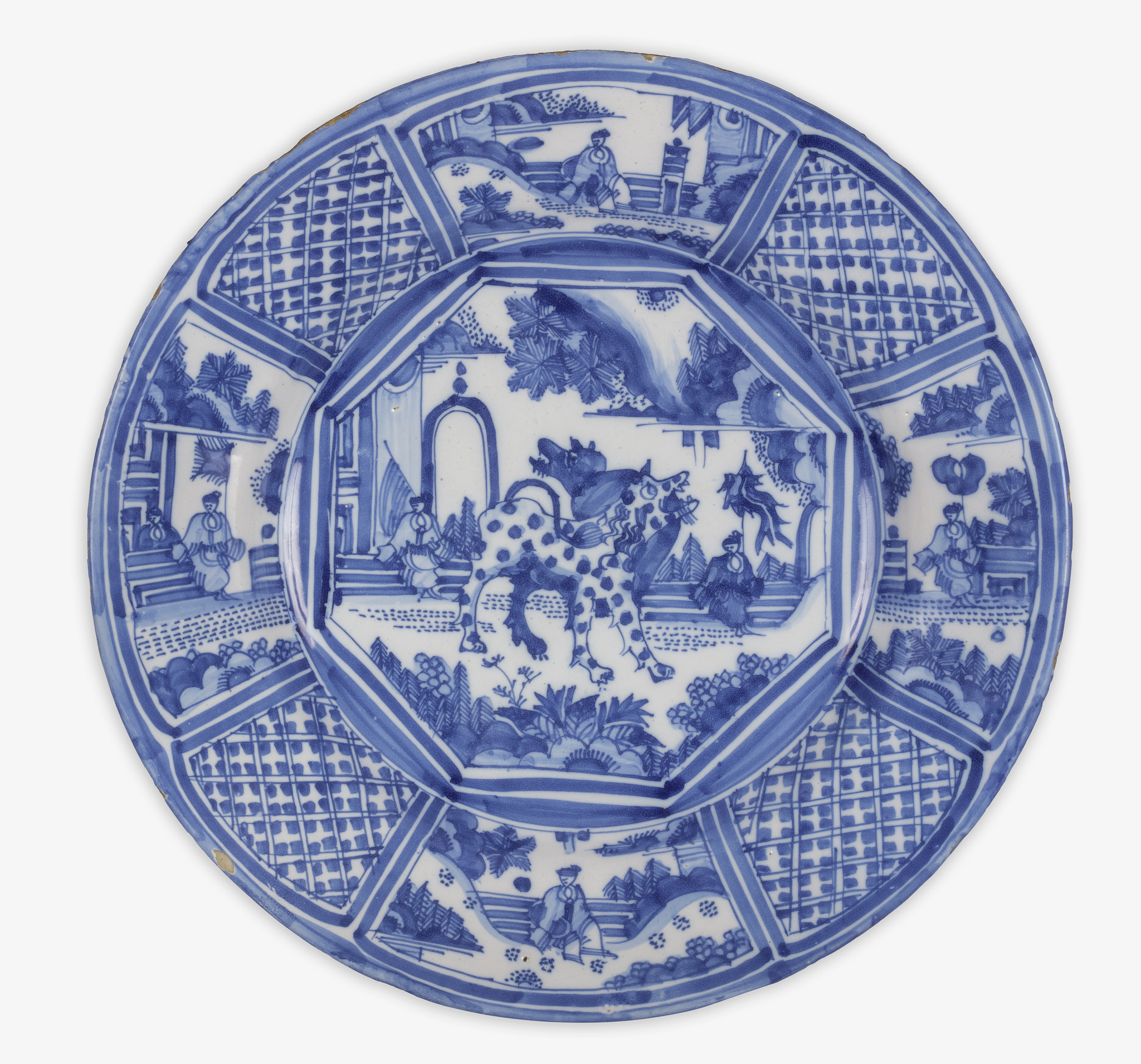 OBJECT
D2302. Blue and White Charger
Delft, circa 1670
Painted in the center with a fierced spotted leopard and another exotic beast being observed by two figures, each supporting a flag before a garden fence and building, in the background pine trees and shrubbery, the foreground with leafy plants, all within angular concentric lines, the cavetto and rim with a wide border of four fan-shaped panels depicting Chinese figures in a garden scene alternating with four diaper-work patterned fan-shaped panels.
DIMENSIONS
Diameter: 39 cm. (15.4 in.)
NOTE
The importation of Chinese porcelain was halted after civil unrest in China during approximately forty years, starting from 1644. This opened up a great opportunity for Delft potters, whose faithful reproductions of Chinese porcelain wares had a ready market. This dish is directly inspired by a Chinese Wanli Kraak dish, or Kraakporselein (Kraak- porcelain), which were the first pieces of Chinese porcelain to reach the Netherlands. The name Kraak is possibly derived from the Portuguese ships that were called caraccas on which the Chinese wares were shipped to the Netherlands.
The decoration on this dish is especially similar to the Chinese original forms, although the depiction of leopards and other exotic beasts is rare. Often Delftware Kraak-style chargers as the present are decorated with garden scenes of birds surrounded by shrubbery and large flowering branches of with the depiction of a flower basket. These designs were part of the standard repertoire used on Chinese porcelain wares from the second quarter of the seventeenth century. While the decoration is comparable, the Delft dish is slightly thicker and consequently heavier than its Chinese counterpart. Because the Delft potters had no access to the indispensable kaolin (China bone), it was impossible for them to create real porcelain. Delft potters had to invent new ways to imitate the sought after Chinese porcelain. According to Van Dam 2004, p. 35, these carefully painted Delft dishes in various sizes must have been made for table use and decorative purposes.
SIMILAR EXAMPLES
A blue and white charger with a similar design of a spotted leopard and another exotic beast, however with the addition of a second leopard and exotic beast, is in the collection of the Saint Louis Art Museum, St. Louis, and illustrated in Aronson 2014, ill. 6.