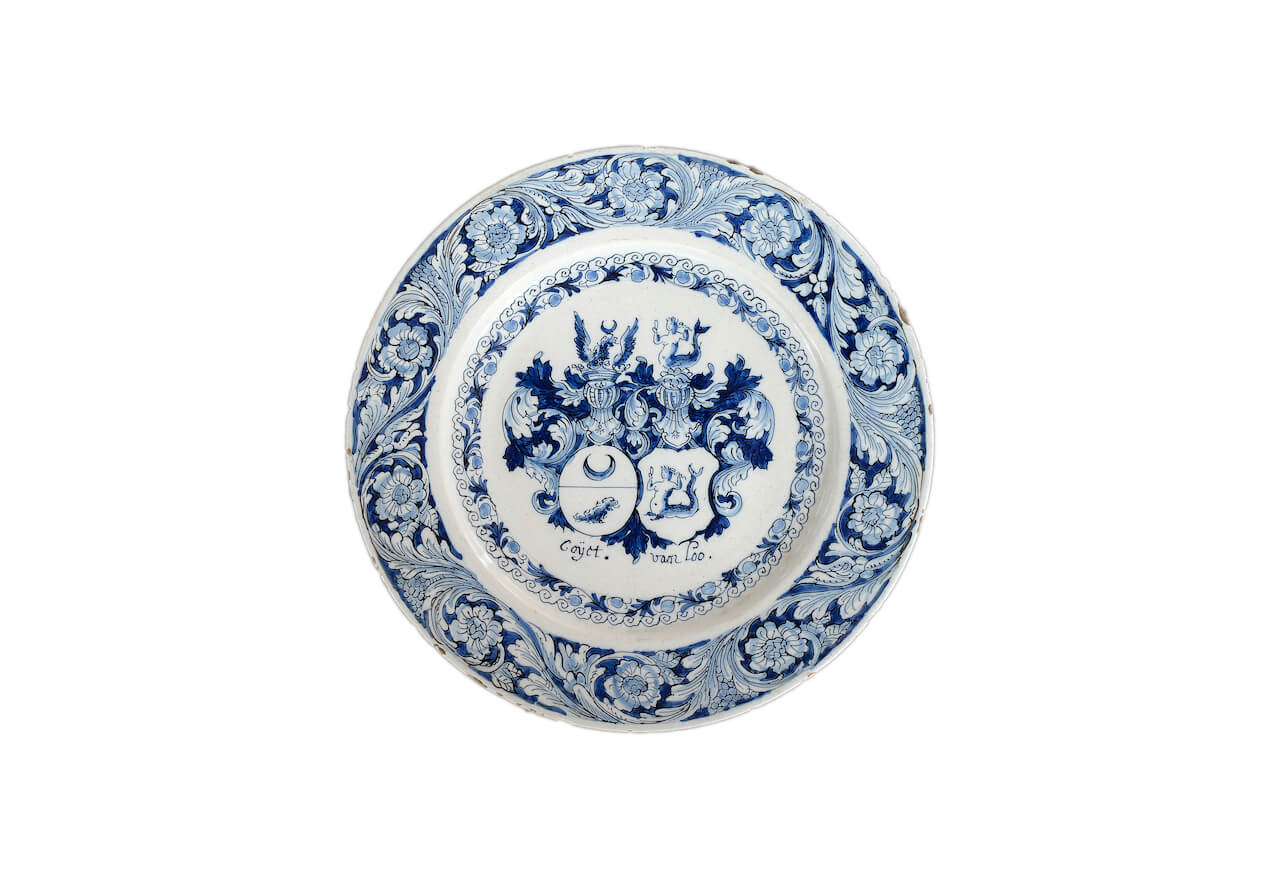 [popup_trigger id="13756″ tag="span"]

[/popup_trigger]
OBJECT
D2173. Blue and White Armorial Plate
Delft, circa 1710
Marked LVE 1 1 in blue for Lambertus van Eenhoorn, the owner of De Metaale Pot (The Metal Pot) factory from 1691 until 1721, or his widow Margaretha Teckmann until 1724
Painted in the center with two coats of arms, one with a half moon and a lion's head and neck, beneath a helmet and a crown surmounted by the crest of a lion's head and a half moon; the other with a mermaid beneath a helmet surmounted by a mermaid, issuing elaborate foliate mantling, below inscribed with the family names Coijet. and Van Loo, encircled by a foliate scroll work band, the rim with a blue-ground border reserved with floral scrollwork.
Diameters: 25.8 cm. (10.2 in.)
Note: Armorial plates were often commissioned to commemorate a special event, such as a wedding. In the present plate, the two coats of arms symbolize the wedding between the Van Loo and Coijet families. As written by J. De Kleyn, "Een blauw en wit Delftse schotel van omstreeks 1700 met de familiewapens van een Arnhems echtpaar" in Antiek, 1969, vol. 4, pp. 405 – 414, the Amsterdam marriage record books show that Everhart van Loo, 28 years old and from Arnhem married Suzanne Coijet, the 31-year-old widow of lieutenant Adriaen Schotel on February 5, 1678. The church wedding blessing later took place on February 27, 1678 in a church in Sloten (near Amsterdam). Although the Van Loo family originated from the Dutch hanseatic city of Elburg, Everhart was living in Arnhem shortly after his marriage in 1679. Van Loo became an important merchant, because in 1706 he is mentioned as a guild master of the Kramers or St. Nicolas guild in Arnhem. Although little is known about Suzanne, the Coijet family is well known since many family members were in service of the Dutch East India Company (VOC), especially her father, Frederik Coijet, who played an important role in the activities of the VOC. When Suzanne was born, her father was chief merchant at the Batavia Castle, the administration center of the Dutch East India Company's Asian trade empire in Jakarta. In early 1647, he was appointed governor in Japan and was also the governor of Dutch Formosa from 1656 to 1662. When Formosa was lost to the Chinese Ming loyalist Koxinga in 1662, he was accused of treason and was exiled to the Banda Islands for the rest of his life. However, in 1674 William III granted leave to Coijet and he was able to end his days in one of the United Provinces. Procuration books show that Everhart and Suzanne were a well-to-do couple who had the means to purchase goods beyond the basic necessities. In light of this, the couple probably commissioned several Delftware dishes with their coat of arms around 1700, because the LVE mark on the plates indicate that the earliest date of production is 1691.
Similar examples: A similar plate in the Evenepoël collection of the Musées royaux d'Art et d'Histoire in Brussels is illustrated in Helbig (no date), p. 54.