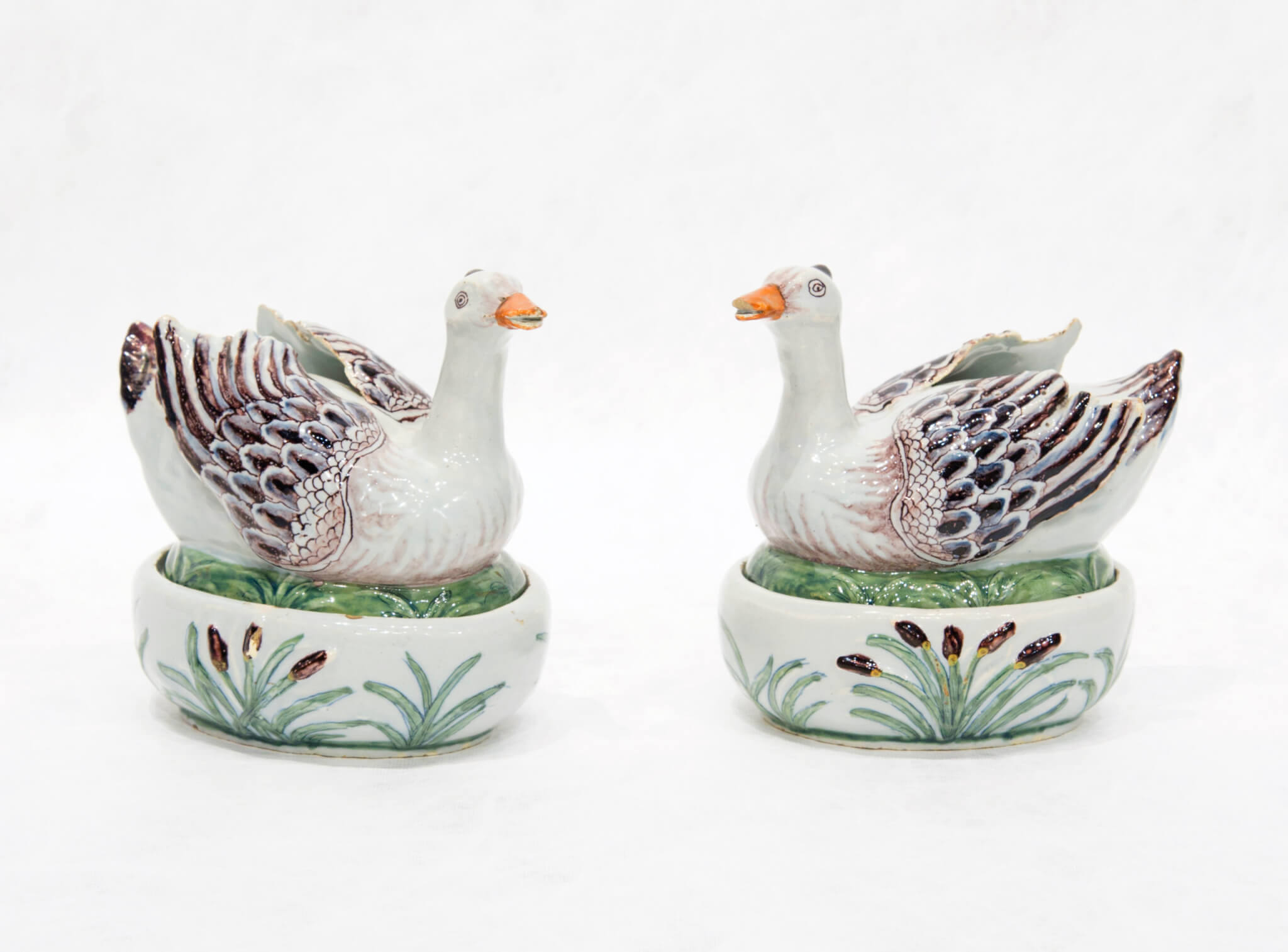 [popup_trigger id="13756″ tag="span"]

[/popup_trigger]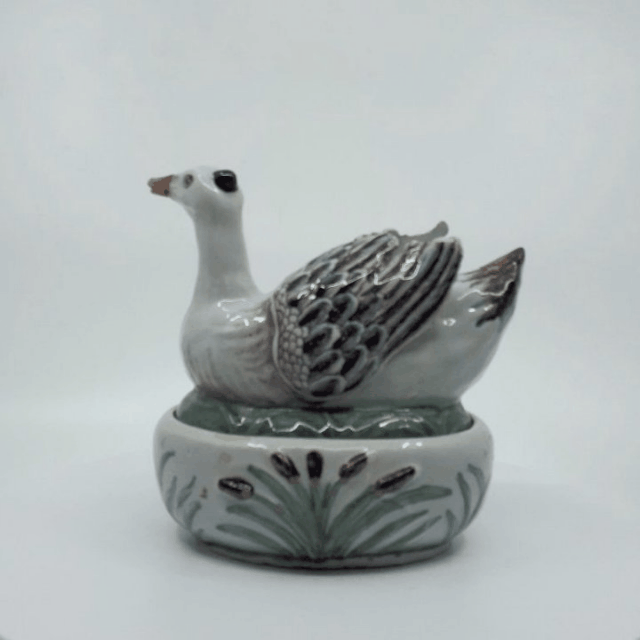 OBJECT
D2154. Pair of Polychrome Oval Duck Tureens and Covers
Delft, circa 1770
Each tureen and cover marked AK / * in blue for Albertus Kiell, the owner of De Witte Starre (The White Star) factory from 1762 to 1774
The covers modeled as a duck with slightly extended manganese-delineated wings, upswept tail, facial features and an iron-red beak seated on a green grassy mound, the tureens lightly molded and painted with green reeds and manganese plumes.
Dimensions
Lengths: 13 .8 cm. (5.4 in.)
Provenance
American Private Collection
Note
By the middle of the eighteenth century dining 'à la Française' was the fashion in Europe. Inspired by the French court of Louis XIV (1638-1715, reigned 1643-1715), the serving dishes were laid out on the table symmetrically and in a very ordered way for each course and guests would serve themselves from the platters, bowls or tureens within their reach. A 1790 Housekeeper's Instructor cited by Ann Eatwell (in P. Glanville and H. Young [eds.], Elegant Eating, Four Hundred Years of Dining in Style, London (Victoria and Albert Museum) 2002, p. 48) illustrates that a dinner 'à la Française' included three courses: the first of "soups, boiled poultry, fish and boiled meats", the second of "different kinds of game, high seasoned dishes, arts, jellies, etc.," and the third a dessert course of "fruits, and various kinds of ornamental pastries…".
Each course provided an opportunity to display and use a variety of tablewares: plates, serving vessels and a panoply of decorative objects. With this new fashion, the range of tableware expanded quickly and complete services with matching decoration began to be produced. The potteries in Delft quickly accommodated the new taste of the nobility and the wealthy bourgeoisie for adorning their tables with brightly colored table wares, such as butter tubs and tureens of various sizes and shapes. Amongst them were created true-to-life vessels, such as these zoomorphic tureens.
Similar examples
Although different in shape and decoration, a pair of manganese decorated duck tureens, marked for De Porceleyne Byl (The Porcelain Axe) factory, is
illustrated in Lavino 2002, p. 61.