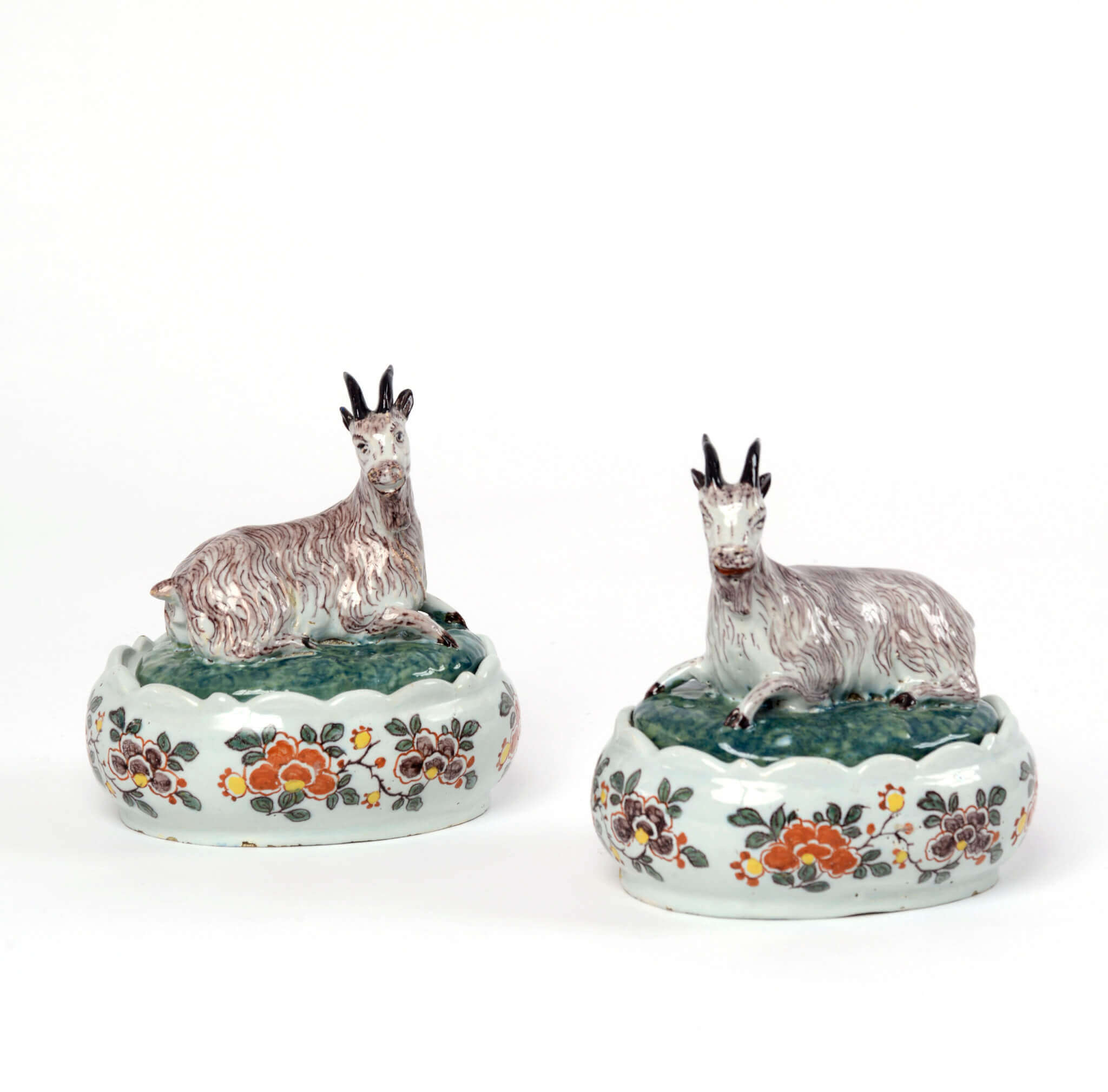 [popup_trigger id="13756″ tag="span"]

[/popup_trigger]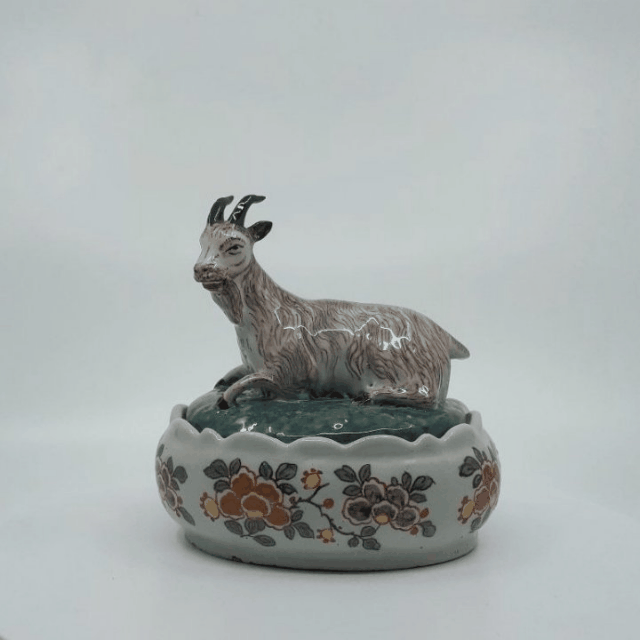 OBJECT
D2149. Pair of Polychrome Oval Butter Tubs and Recumbent Goat Covers
Delft, circa 1765
Marked on each piece AP in manganese for Anthonij Pennis, the owner of De Twee Scheepjes (The Two Little Ships) factory from 1764 to 1770, or his widow Pennis-Overgaauw, the owner of the factory from 1770 to 1782
Each tub painted around the exterior with four flowering peony branches beneath the scalloped and barbed rim, the low domed cover surmounted by a recumbent goat with a manganese-delineated pale manganese coat, and manganese horns, ears, eyes and hooves.
Dimensions
Heights: 13 cm. (5.1 in.)
Provenance
French Private Collection;
Aronson Antiquairs, Amsterdam, 2007;
Swiss Private Collection
Note
Farm and domestic animals, such as cows, horses and goats, were among the most prolific animal figures in both white and polychrome Delftware. Tureens like the present pair must have made imaginative centerpieces on a dinner table. It therefore must have been a special pleasure to be the guest at a dinner party given by a prosperous family in the eighteenth century. With the invitation came the anticipation of a veritable feast for the senses: a gustatory treat to taste the beautifully prepared and perhaps exotic foods, and a visual treat in their presentation and in the table setting itself.
Similar examples
A taller butter tub with a similar goat on the cover and with the mark of De 3 Vergulde Astonnekens (The Three Gilded Ash-Barrels) factory is illustrated by Van Aken-Fehmers, Vol. II, p. 220, who in fig. 1 also illustrates several other models of recumbent goats. Another pair of butter tubs with goat covers, marked for Albertus Kiell of De Witte Starre (The White Star) factory, is illustrated in Aronson 2013, p. 86, no. 49. Another pair, marked for De Dubbele 0Schenkkan (The Double Ewer) factory is illustrated in Aronson 2016, pp. 82-83, no. 36.