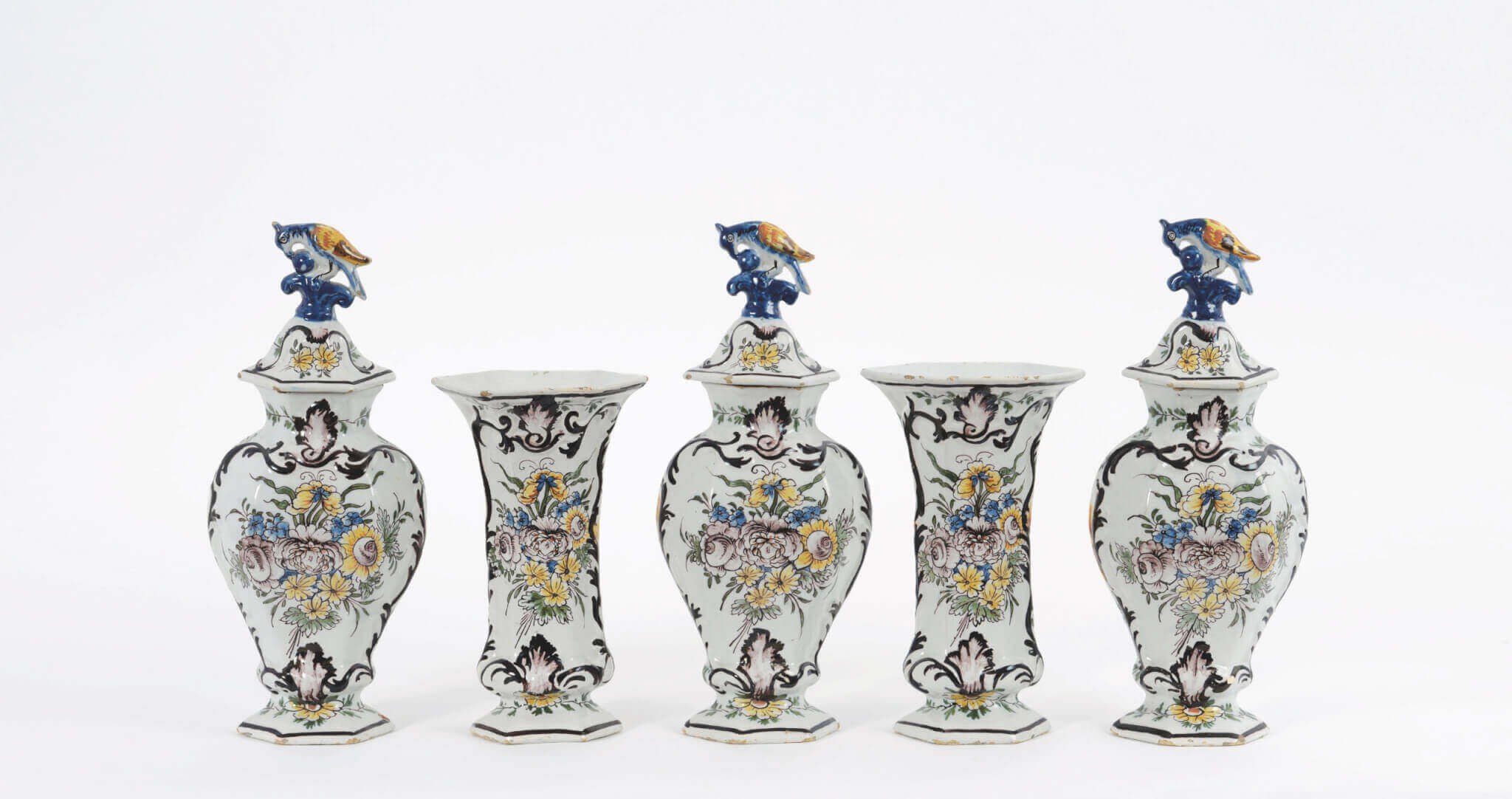 [popup_trigger id="13756″ tag="span"]

[/popup_trigger]
OBJECT
D2065. Polychrome Garniture
Delft, circa 1780
Marked A /DWS in manganese, for a currently unknown person, however unmistakably for De Grieksche A (The Greek A) factory
Comprising three baluster-form vases and covers and a pair of beaker vases, each of oval form and painted on the front with a lush bouquet of yellow, manganese and blue stylized flowers and green leaves within a molded cartouche, edged in manganese foliate scrolls issuing green leaf fronds and sprigs, the reverse with a leafy branch, and the covers similarly decorated, but with two yellow blossoms and small green leaves within the manganese cartouche, above the knop a blue parrot with orange delineated yellow wings, perched on a blue bifurcated scroll and pecking at a fruit.
Dimensions
Heights: 33 and 22.7 cm. (13 and 8.9 in.)
Note
The history of garnitures is closely linked to the overall development of ceramics as a central element within the decoration of interiors. Although some models were timeless, their design and decoration often followed the latest fashion. The beginning of their production corresponds to a general interest for Chinese motifs and designs. Over the following years, the Delft masters rivaled each other in inventiveness.
By the eighteenth century, the arrival of the rococo movement encouraged the creation of a wide range of garnitures. This polychrome garniture perfectly illustrates the rise of the rocaille style with its rounded shape, relief scrolls, lush bouquets and pastel colors. However, the finials shaped as a bird picking a cherry were oriental in design. Around the same time, interior designers transformed cabinet cornices from straight into serpentine. It was only logical that from about 1730-40, the next progression in this development would be the integration of wooden consoles into the cabinet cornices, the perfect stage for the presentation of a garnitures.
Similar examples
A polychrome garniture, of rather similar shape and decorated with lush bouquets and the cover with a bird pecking a fruit, but marked for De Vergulde Bloempot (The Gilt Flowerpot) factory, is illustrated in Aronson 2006, p. 111, ill. 81. Two other garnitures painted with a fl oral decoration in rococo cartouches and both marked for De Porceleyne Lampetkan (The Porcelain ewer) factory are illustrated in De Jonge 1947, p. 252, ill. 220 and De Jonge 1970, p. 134, ill. 139.