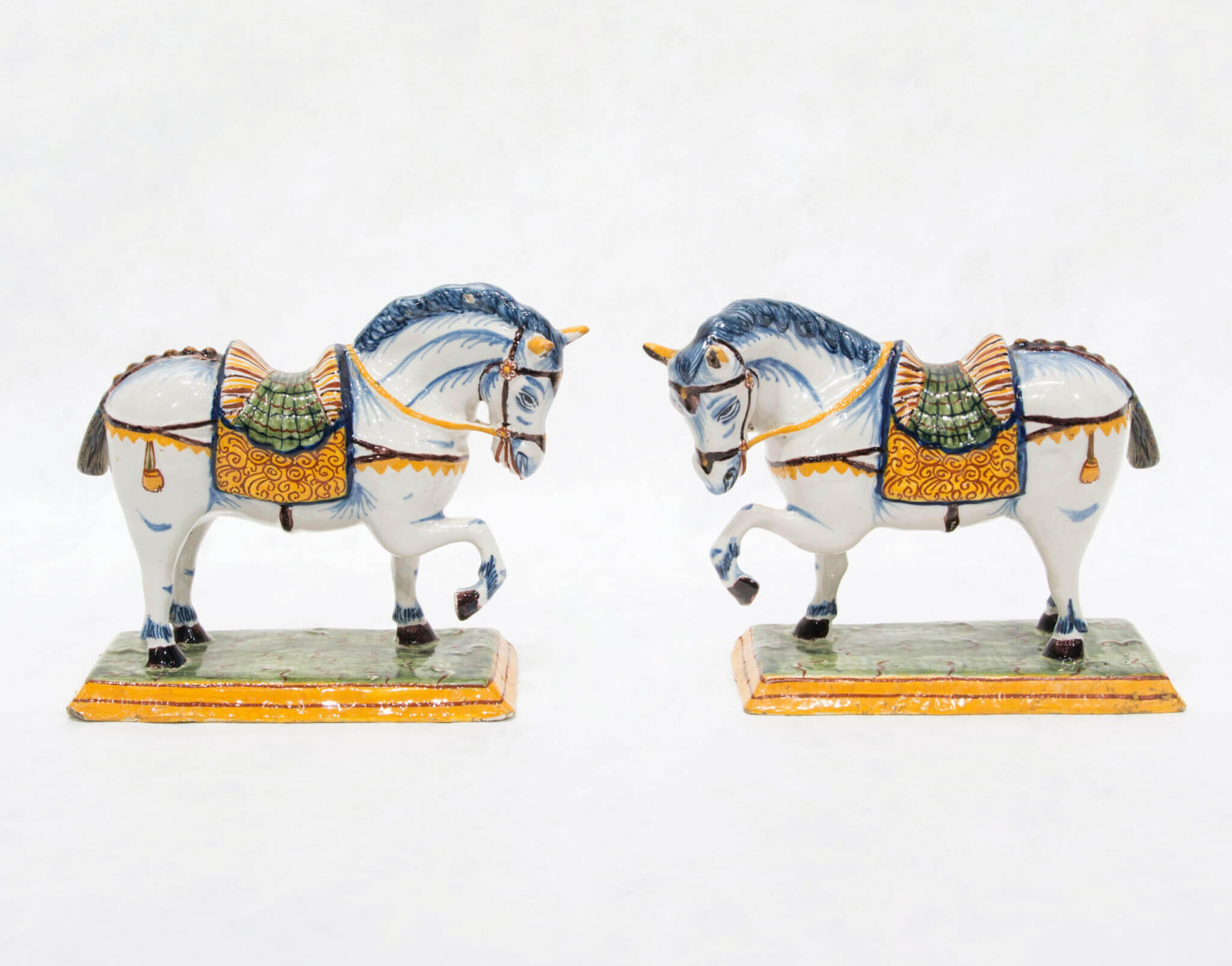 [popup_trigger id="13756″ tag="span"]

[/popup_trigger]
OBJECT
•D2054. Pair of Polychrome Models of Prancing Horses
Delft, circa 1760
Each marked P:V:M in iron-red possibly for Petrus van Marum, the owner of De Romeyn (The Roman) factory from 1754 to 1764
Each with a blue-delineated hide, facial features and manes, a manganese bobbed tail, the back of the horse colorfully trapped with a manganese, yellow and iron-red striped green saddle over a yellow saddle blanket patterned with iron-red foliate scrolls and tasseled straps, modeled affronté with one foreleg raised above the green top of the red striped yellow rectangular base.
Dimensions
Heights: 16.8 cm. (6.6 in.)
Provenance
American Private Collection
Note
Decorative objects, such as these horses and other figurines made in varying sizes, were intended to be displayed on etageres or in glass cabinets. The figurines were designed to accommodate the tastes of Delft clientele. This model relates to the arrival of the first modern circus in Holland, a novelty created by Philip Astley, an English sergeant who showcased his horse riding skills inside a large arena. In one of his most successful tricks, Astley circled the ring on horseback with swarms of bees covering his hands and arms like a muff. He eventually included singers, dancers, and clowns to his theatrical performance, receiving rave reviews. The popularity of the circus act swept throughout Europe and Delft potters enthusiastically adopted circus imagery into their repertoire, creating these beautiful, colorful horses.
Similar examples
An unmarked, similar pair, but with a cockade between the horses' ears, is illustrated in Aronson 2014, pp. 114-115, no. 57. Another pair of prancing horses of different shape and marked for De Porceleyne Lampetkan (The Porcelain Ewer) factory is illustrated in Aronson 2007, p. 77, no. 59, and another pair similar to the latter, but marked for De Klaauw (The Claw) factory is illustrated in Aronson 2013, pp. 78-79, no. 44. A further pair with a longer tail and fluted base, marked IVDW, is in the Musées Royaux d'Art et d'Histoire, Brussels, illustrated in Helbig, Vol. I, p. 168, fig. 122.