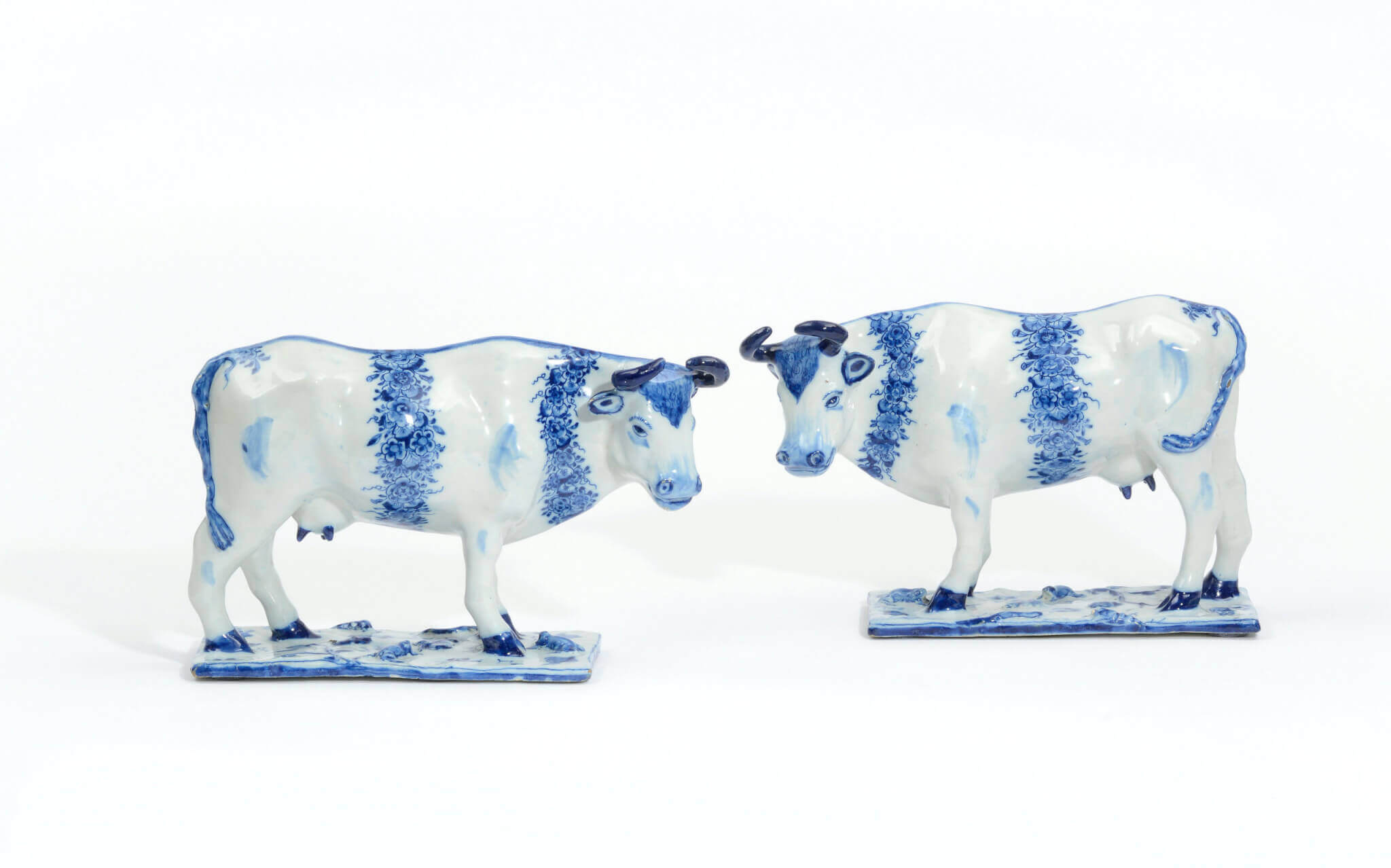 [popup_trigger id="13756″ tag="span"]

[/popup_trigger]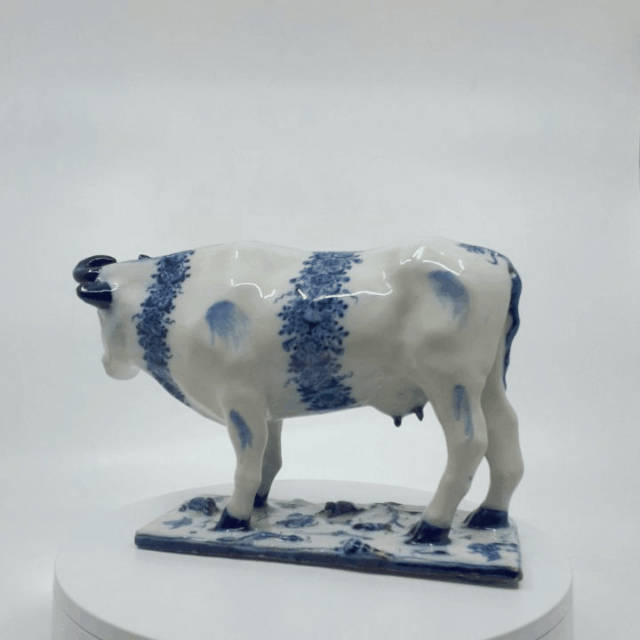 OBJECT
•D2049. Pair of Blue and White Figures of Cows
Delft, circa 1720
Each with a blue-streaked hide, a blue forelock, horns, hooves, muzzle, ear linings, spine and tail, wearing garlands of flowers encircling its back, neck and tail, modeled affronté, standing foursquare on a low blue-edged rectangular base molded on the top with frogs, snakes, floral twigs and leaves.
Dimensions
Heights: 15.5 cm. (6.1 in.)
Length: 23.5 cm. (9.3 in.)
Provenance
Aronson Antiquairs, Amsterdam, 2003;
The Van der Vorm Collection, The Netherlands
Note
The intriguing figure of a little frog or toad molded in the relief on the base of these groups appears on many of the various Delft models of cows, and it remains an elusive element. It may refer, without any particular meaning, to the famous painting from 1647 by Paulus Potter (1625-1654) of 'De Stier' or 'The Young Bull' (in the Mauritshuis, The Hague, inv. no. 136), in which Potter painted a frog or toad in the foreground. Alternatively, because the toad can be interpreted as an allegory of death, its inclusion in these bovine models perhaps emphasizes the probable brevity of this domestic beast's useful life.
Similar examples
Delftware figures of cows were popular in the eighteenth century and historically were mostly dated in the second half of the century. However, Delftware cows were also made in the first half of the eighteenth century. Similarly modeled cows as the present pair, but with a more elaborate decoration are in the Rijksmuseum, Amsterdam (inv. no. BKNM-12400-338/339), and other pairs are illustrated in Aronson 1990, 2009 and 2016. These figures of cows are dated between 1720 and 1730.
Another pair of blue and white cows, of the same model, currently in a private collection, is marked LVE for Lambertus van Eenhoorn, the owner of De Metaale Pot (The Metal Pot) factory from 1691 until 1721, or his widow Margaretha Teckmann until 1724, which makes a dating in the first quarter of the eighteenth century more viable.