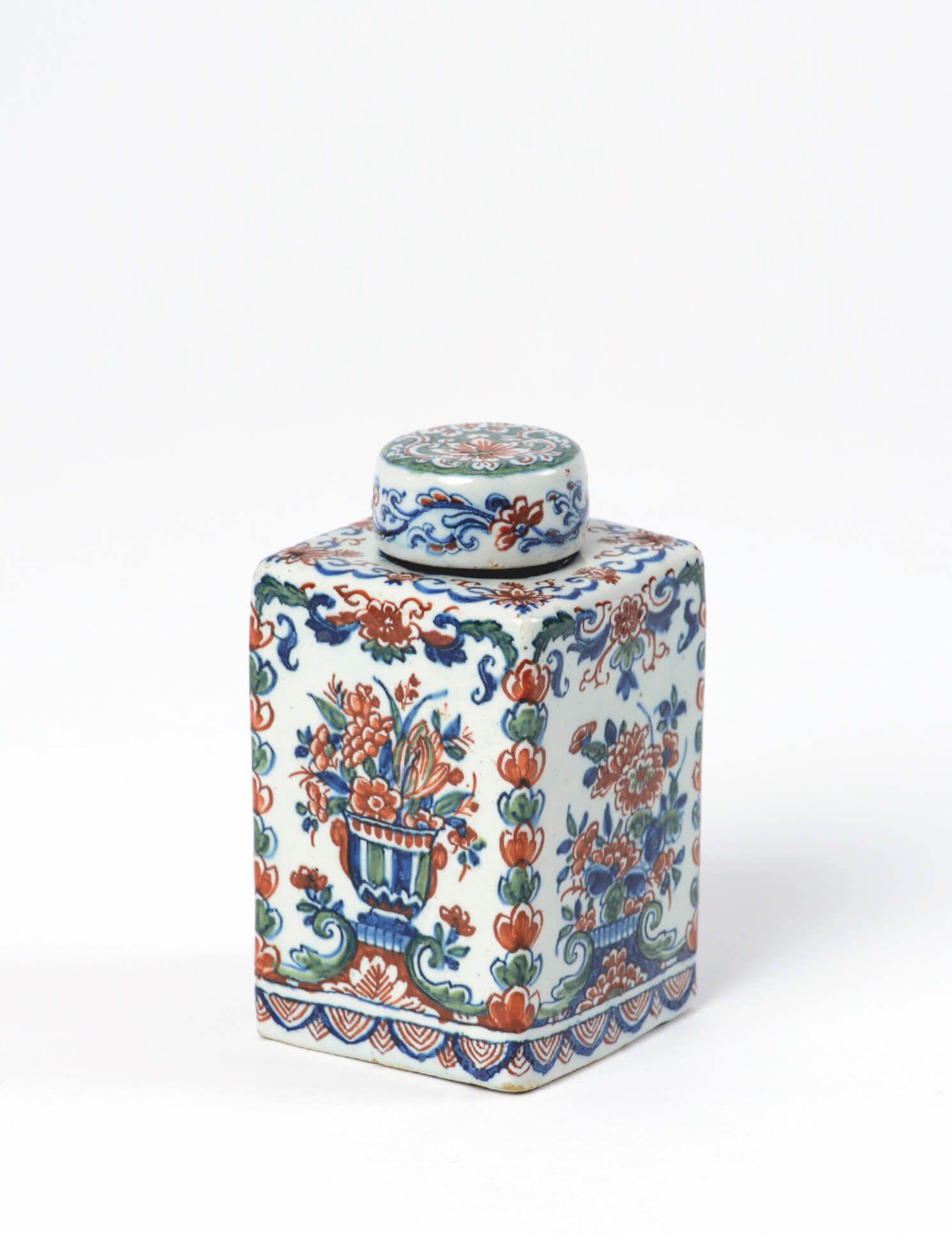 [popup_trigger id="13756″ tag="span"]

[/popup_trigger]
OBJECT
•D2022. Cashmere Palette Rectangular Tea Canister
Delft, circa 1710
Attributed to De Metaale Pot (The Metal Pot) factory, under ownership of Lambertus van Eenhoorn, from 1691 until 1721, or his widow Margaretha Teckmann until 1724
The square body painted on two sides in blue, green and iron-red with an urn filled with a lush bouquet of flowers, and on the other two sides with flowering foliage, all in between a flowering scroll device and a ruyi-head border, the flat shoulders with blossoms interlinked by scrolls, and the threaded circular neck enameled in blue; the cover with a threaded interior and its green top reserved with a red blossom and scroll device and its sides with a stylized flowering vine border.
Dimensions
Height: 10.4 cm. (4.1 in.)
Note
The delicate grand feu decoration of these colorful Delftware objects made between 1700 and 1720 was given the descriptive title 'cashmere' in the nineteenth century for their likeness in color, and exotic, dense motifs to the fine woolen shawls that were imported from India and worn by high class European ladies. The earthenware of this category has sometimes a reeded surface with a color scheme of blue, red and green.
Although the Delft pieces were named after the fashionable textiles, the Delft potters were in fact inspired by the Chinese Famille Verte porcelain wares of the Kangxi period (Wucai 1662- 1722), which arrived in Europe at the end of the seventeenth century. The Chinese designs inspired Delft potters to expand upon the grand feu technique; new shades appeared and the colors became more intense due to an additional layer of transparent lead glaze applied over the surface.
Delftware potters also looked beyond China for further inspiration in designing cashmere pieces. The cashmere decoration on Delftware presents many similarities with the French baroque style of Jean Berain, who was one of Louis XIV's official designers. His style is characterized by the delicate use of arabesques and whimsical grotesques that originally derived from the Renaissance. Using light floral patterns, Berain famously combined garlands of flowers, draperies, scrolls, and pendants. The taste for luxuriant decoration no doubt encouraged the painters to use a bright, if limited, palette, which gave the pieces great richness.
Although the cashmere palette enjoyed a brief, yet widespread success during the first half of the eighteenth century, the style remains one of the greatest achievements of the Dutch painter-potters, perfectly embodying the splendor of the Orient.