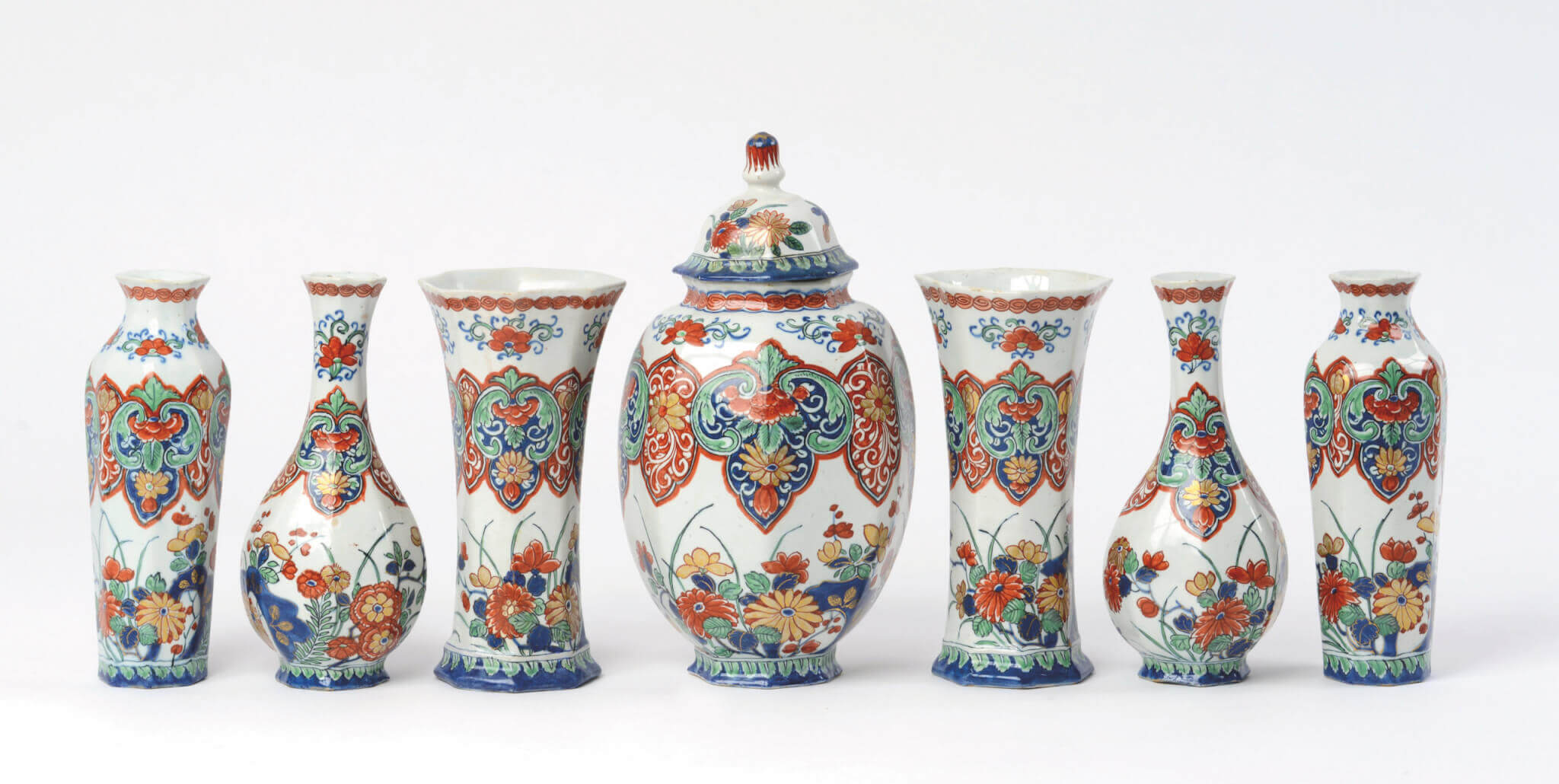 [popup_trigger id="13756″ tag="span"]

[/popup_trigger]
OBJECT
•D2018. Polychrome Petit Feu and Gilded Garniture
Delft, circa 1710
Each marked PAK, No 5 and further numerals in iron-red for Pieter Adriaensz. Kocx, the owner of De Grieksche A (The Greek A) factory from 1701 to 1703, or his widow Johanna van der Heul, the owner of the factory from 1703 to 1722
Comprising a pair of rouleau vases, a pair of bottle-shaped vases, a pair of beaker vases, and an ovoid vase, each of octagonal form, and painted in the Japanese  Kakiemon color palette of blue, green, iron-red, and gold with a border of floral lappets edged in foliate scrolls and connected by smaller panels above flowering branches and below flowering scroll motifs around the neck or shoulders, and the cover with flowering branches.
Dimensions
Heights: 17 to 23 cm. (6.7 to 9.1 in.)
Provenance
The Anton F. Philips (1874-1951) Collection, Eindhoven, and thence by family descent
Note
Colorful Imari and Kakiemon Japanese porcelain wares reached the Netherlands between 1660 and 1670. They were immensely popular in the Western market, yielding high prices and inspiring Delft potters to emulate the colorful designs. Delft potters were particularly driven to reproduce the delicate pastels of the Kakiemon porcelains, experimenting with various color and firing techniques to achieve the Japanese style.
The so-called petit feu firing was one technique that allowed Delft potters to expand their color palette, and was first used in the early eighteenth century. The technique requires three firings, allowing the potter to use colors that could not withstand high temperatures in the kiln during the second firing (grand feu). The gold and enamel paints were applied after the biscuit firing, followed by the tin glazing and the transparent glaze that added extra gloss. With the petit feu colors on top of the glaze, the objects were fired again at a lower temperature (about 600°C / 1100°F) in a smaller kiln known as the moffeloven (muffle kiln). The painted objects, such as the present garniture, were very colorful and delicate, however the additional firing made them expensive to produce and sell.
Similar examples
About half a dozen 7-piece garniture sets are known, decorated in blue and white, Imari and cashmere palette. Only one other set besides the present one seems to be decorated in the Kakiemon palette, but is of different shape with three ovoid covered vases, two beakers and two bottle-shaped vases and is illustrated in Lavino 2002 , p. 60, currently in the collection of the Kunstmuseum, The Hague. Another similar polychrome petit feu and gilded garniture of the same shape and height and marked for Pieter Adriaensz. Kocx, but lacking the pair of rouleau vases, is illustrated in Aronson 2018, pp. 54-55, no. 30, currently in a distinguished private collection.