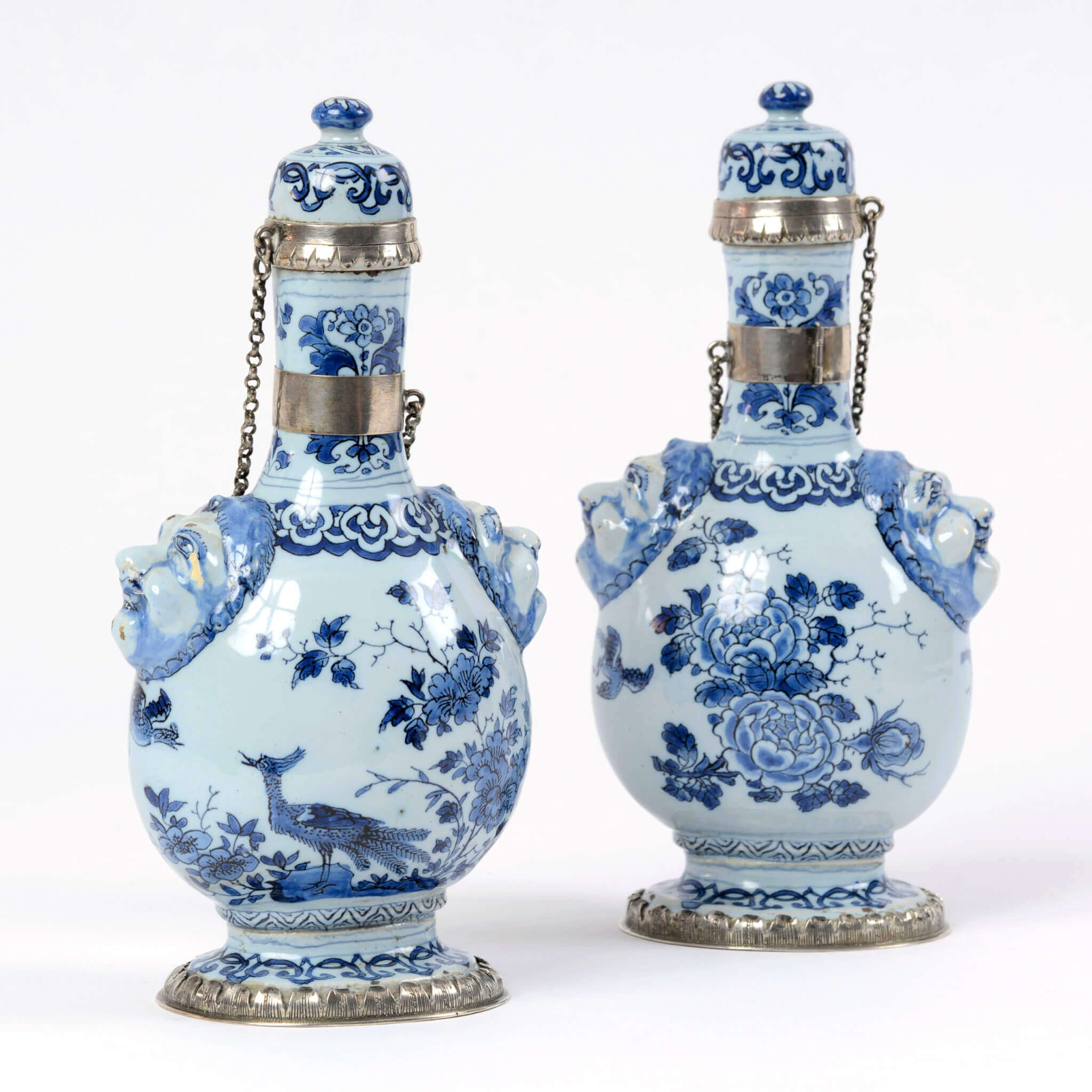 [popup_trigger id="13756″ tag="span"]

[/popup_trigger]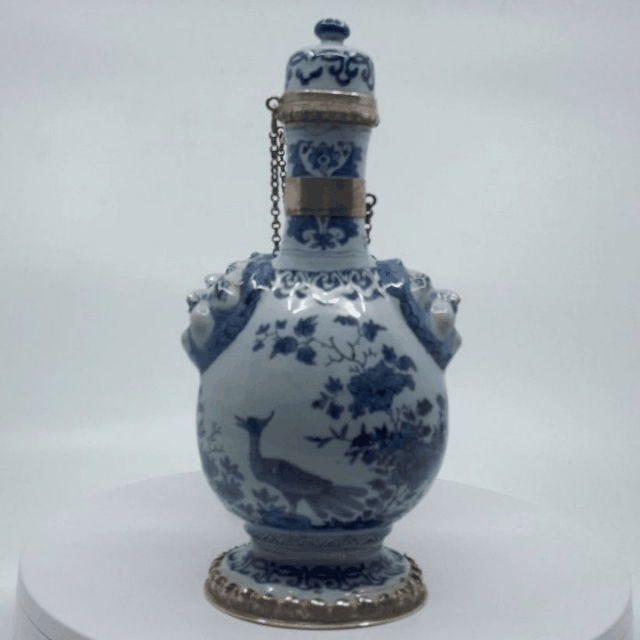 OBJECT
•D2004. Pair of Blue and White Small Pilgrim Bottles with Silver Mounts
Delft, circa 1680
Each marked and numbered II SVE 3 in blue for Samuel van Eenhoorn, the owner of De Grieksche A (The Greek A) factory from 1678 until 1685
Each molded on its oval body on either side with a grotesque mask and painted on the front with a chinoiserie scene of a bird in flight and a peacock near flowering plants, the reverse with a central branch with three large blossoms and a bird in flight, below a border of ruyi-heads, the oval foot with a border of demi-ruyi-heads, the tall cylindrical neck with stylized floral and foliate devices, the knopped covers with a demi-ruyi-head border, and the interior threaded to screw onto the bottle rims, the cover rim, neck and foot rim mounted in silver, and the cover and neck joined with a silver chain.
Dimensions
Heights: 12 cm. (4.7 in.)
Note
Pilgrim bottles date to ancient Roman times in the West and to seventh-century China in the East. They were made in a wide range of materials, such as earthenware, but also porcelain, silver, glass and leather. The vessels were originally carried by travelers on their journeys, but the surviving examples like the present pair were probably purely ornamental. If they were used, it must have been exclusively by the very wealthy. Many sumptuous pilgrim bottles were probably modeled after silver examples. In the last quarter of the seventeenth century, silver pilgrim bottles were considered a masterpiece of a royal silver buffet, and they were also gifted by the high nobility.
Similar examples
A single, but larger pilgrim bottle with chinoiserie decoration, also attributed to Samuel van Eenhoorn, is in the Rijksmuseum, Amsterdam (inv. no. BK-1980-31), illustrated in Van Dam 2004, p. 84, pl. 42, where it is suggested on p. 85 that this type of flask may have "been part of a table service. The flattened round shape has been borrowed from an originally mid 16th-century Italian idea," although rather than an Italian maiolica prototype, the Delft model "was most probably a flask made of silver. The designer in the factory took the leaves above the foot, so typical of the elaborate, often relief, decoration of the silver of this period, and reproduced them not by painting them but in relief, something that was highly unusual in 17th-century Delft earthenware… The satyr heads acquired the face of a 17th-century cherub
and the designer simply omitted the rings that were always present above the mask."