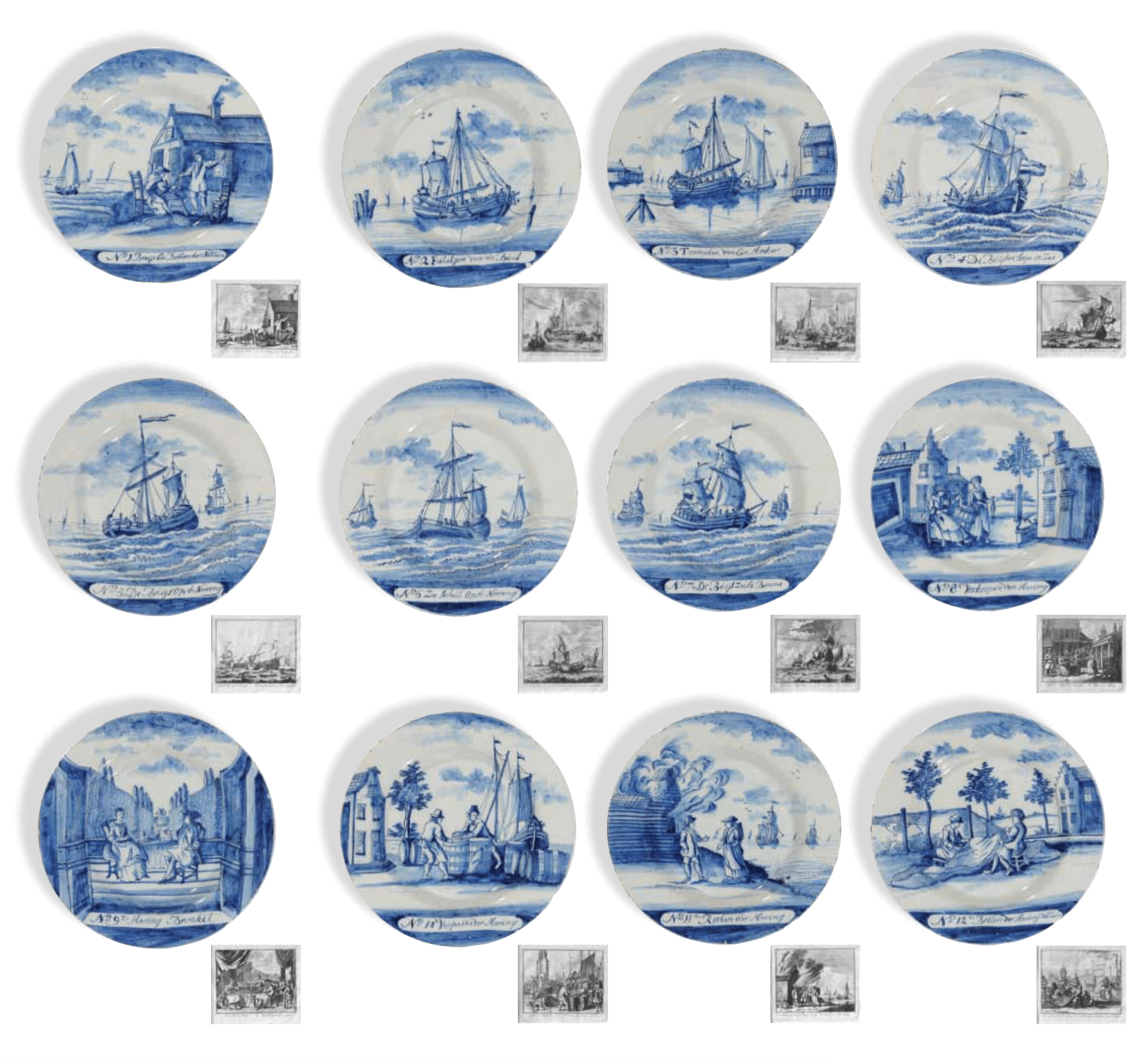 [popup_trigger id="13756″ tag="span"]

[/popup_trigger]
OBJECT
D1089. Set of Twelve Herring Fishery Dishes
Delft, circa 1775
Figurative mark in blue for De Porceleyne Byl (The Porcelain Axe) Factory
Each painted with a different scene of the herring trade above a numbered label inscribed with the activity depicted: No=1 Breije En Boeten der Netten (Knitting and repairing of the nets, print no. 2); No=2 Fictaljere van de Búis (Supplying the ship [Busse], print no. 4); No=3 Toemaken van Een Hoeker (Preparing of a ship [Hoy], print no. 5); No=4 De Búijsen loope in Zee (The ships set out to sea, print no. 11); No=5 De Búiijs Op d= Neering (The ship on the herring fishery place, print no. 7); No=6 Zee Schút Op,d= Neereng (Ditto, print no. 9); No=7 De Búijs Zeild Binne (The ship sails in [to harbor], print no. 10); No=8 t" Verkoopen van Haring (The selling of the herring, print no. 14); No=9 t" Haring Banket (The herring feast, print no. 13); No=10 t" Verpakke der Haring (The packing of the herring, print no. 12); No=11 t" Rooken der Haring (The smoking of the herring, print no. 16); No=12 t" Boeten der Haring Netten (The repairing of the nets, print no. 17)
Diameter: 23 to 23.5 cm. (9 1/16 to 9 1/4 in.)
Note:
The chronology of events as told in the Delft series is: before departure, the nets, of which over 100 are needed per ship, are knitted and repaired (1) and the ships (Buis and Hoeker) are loaded with provisions (victuals, fictaljere) (2) and prepared for departure (3). Once out at sea (4) the fishermen cast the nets (5/6). Upon returning to the harbor (7) the ship's herring catch is sold from barrels (8). The newly arrived catch also is cause for a celebratory feast at home, with the table set in front of a formal garden (9). The shipload is packed in barrels (10) and the herring smoked in the Bokkinghang (11) to create the preservable bokking (red herring). Finally the nets are repaired for the next departure (no. 12).
The series of twelve 'Herring Fishery' plates has a counterpart series of twelve 'Whaling Fishery' plates. Both series are decorated after the print series of the "Groote Visserij" ("Great Fishery") engraved by Adolf van der Laan (circa 1690-1742) from drawings by Sieuwert van der Meulen (before 1683-1730), and published by Petrus Schenk in Amsterdam around 1720. Whereas the two Delft series are limited to twelve plates each, both print series contain sixteen prints: the herring series numbered 2-17, with the title page as no. 1, and the whaling prints numbered 1-16.
Find out more about the Dutch tradition of eating raw herring.
Similar examples:
For similar series from De Porceleyne Byl Factory, see Gemeentemuseum Den Haag (Van Aken-Fehmers 2001, pp. 239-241, no. 65); Musées royaux d'Art et d'Histoire, Brussels (Helbig, Vol. I, p. 211, inv. no. Ev. 73 A-L; D.F. Lunsingh Scheurleer, 'Bordjes met de haringvaart', in: Oud-nieuws, 7 (1974) 5, pp. 26-39, ills. 2, 4-6, 9, 13, 15); and the Lavino Collection (Lavino, pp. 207-208). An example of a single plate (no. 7) marked for Johannes Hermanus Frerking, shopkeeper of 't Fortuyn (The Fortune) Factory, 1771-1784, was in the Benjamin F. Edwards III Collection, sold at Christie's New York, 26 January 2010, lot 300. Another (no. 6) is illustrated in Boyazoglu, De Neuville 1980, p. 241, ill. 57; and one (no. 8) marked for the previous owner of 't Fortuyn, widow van den Briel-Elling (1759-1771), in the Zuiderzeemuseum, Enkhuizen, is illustrated in Lunsingh Scheurleer, op. cit., p. 28, ill. 1 and p. 32 ill. 8).
Prints: A. van der Laan after S. van der Meulen, Groote Visserij, circa 1720, engravings © Visserij en Vlaardings Museum, Vlaardingen.